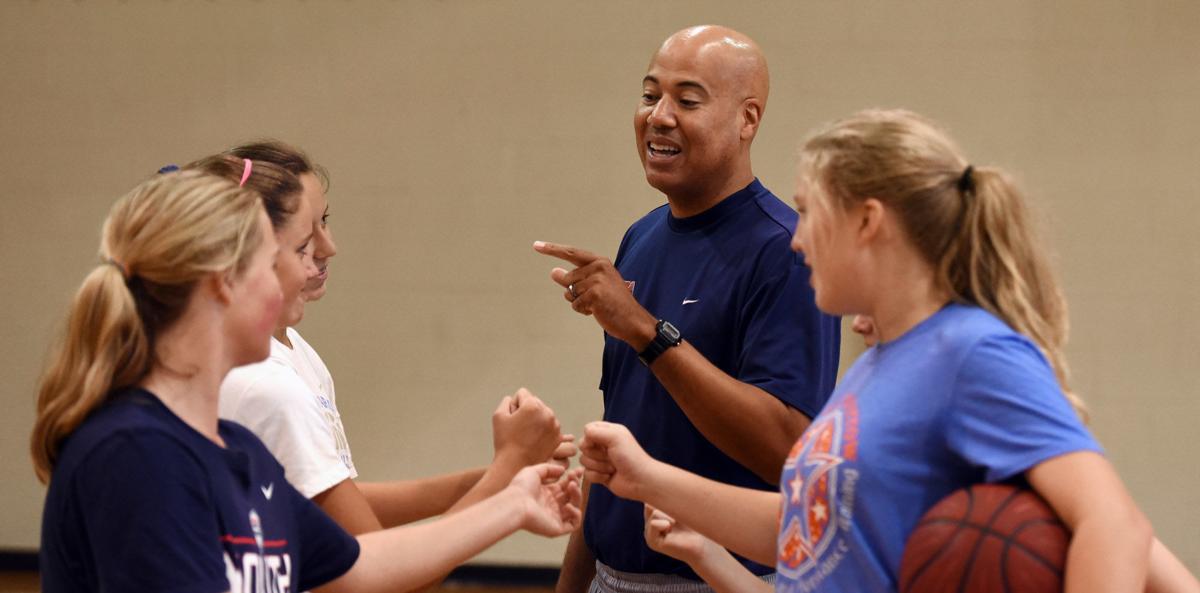 It's an August morning at the Gateway YWCA, and tucked away from the pickleball matches and the early-bird walkers, a small group of basketball players is working through drills.
Five teenagers are dribbling around, driving into the lane, working on pivot foots and taking jumpers from all over under the watchful eye of Brian Robinson.
Robinson, 47, is a native of Winston-Salem and started coaching boys basketball in the mid-'90s before taking over the girls team at Bishop McGuinness in 2002. He's won nine state championships with the Villains (consecutively from 2006 to 2014), and he's also been involved with USA Basketball since 2007.
The reason he's on the court this particular day is the Winston-Salem Stealers, a girls AAU team he started in 1996. Calling the Stealers, which fields multiple teams spanning ages 8 to 17, a passion project for Robinson understates what it's become.
"It seems like every year, we get more girls playing from around the area," Robinson said. "We have, like, 17 counties represented in our programs right now."
The Stealers have sent 148 players into college basketball, to places like North Carolina, N.C. State, Duke and a number of other colleges, big and small. More importantly, it's elevated play in local girls basketball throughout the Northwest. The program now has to go elsewhere as a side effect of a business transaction.
For the last five years, the Stealers have leased court space from the Gateway YWCA. But that agreement will end Dec. 31. In July, Elevation Church bought the Gateway YWCA, announcing later that the three basketball courts the Stealers have played on since 2014 will be converted into a church auditorium.
That change relocates Robinson and the Stealers, also taking away one of their main profit channels. It's caused a major shift in how the Stealers will function in the short term. The uncertainty is a major development for a program that's grown rapidly. But the program has had to adapt before, Robinson said, and it can again.
"It happens. I hate it happened for us," Robinson said about the relocation. "But we survived without the courts before, we survived with them, and we'll be fine without them."
Start of the Stealers
In 1996, Robinson was an assistant under Howard West for the boys basketball team at Reynolds High School. That year, during a basketball camp, a rising freshman girl talked with Robinson about the lack of a girls' AAU program in Winston-Salem.
Well, Robinson said to her, why not make one?
And, the Stealers were born.
Robinson, making his first step into coaching girls basketball, fielded a team. They were terrible, he remembers, and still needed time to adjust to the AAU scene. The Stealers played in April and May, and at that point, Robinson thought it was time to end it. But his first batch of players said they enjoyed the experience, even through the defeats, and wanted to keep it going.
Those players invited their friends, and those friends invited other friends.
"Next thing you know, we have a big ol' program on our hands," Robinson said.
For the first seven years, Robinson approached the AAU program with one thing in mind: winning. It was about getting the strong talent in the area together and making that group victorious. But Robinson thought the Stealers could serve a stronger purpose. And that's why he changed the program's entire mission, starting with the 2003 season.
"I realized it's a lot more than just winning basketball games," Robinson said. "It's trying to develop the young girl into a young woman.
"We went from a more elite program to a more skills-based program. ... We started going that route and said let's develop these kids into becoming good high school players, whatever high school they go to. That's when our program really started to grow."
Robinson saw the program's numbers balloon. As the Stealers formed more teams, Robinson needed to focus more on the organizational component of the AAU program. That's why he stopped coaching in 2004, moving strictly into managing. He used that opportunity to start developing the next wave of coaches — Robinson allowed some of the older players to coach the younger teams.
One such player was Brittany Cox Hudson, the fifth-year girls basketball coach at West Forsyth. She started playing with the Stealers as a sixth-grader. Hudson also knew she wanted to coach someday. As she entered high school, she partner- coached with a parent on the team.
"That's when Coach R gave me my first chance," Hudson said. "And he's done the same thing for several other players."
By 2013, the Stealers were huge. They were using courts all over the city to get practice in. Robinson was running out of space. Then he got a letter in his mailbox from the Gateway YWCA offering to talk with the Stealers about their three basketball courts. The two reached a lease agreement in August of 2014.
Making it sustainable
The Gateway YWCA offered a ton of benefits to the Stealers. First, the teams were all under one roof. But the YWCA also served as a good central location for a program that pulls players from an hour-plus radius.
On top of that, the Gateway YWCA was convenient for parents to bring their child in for practice and work out while they waited.
It made too much sense for the Stealers to be there, Robinson said. Plus, they were able to capitalize on the space financially. Part of the Stealers' lease agreement, Robinson said, allowed the program to rent out the courts to other organizations. Pretty soon, organizations like Twin City Youth Soccer Association, Twin City Volleyball Academy, Pro Skills Basketball and Nito Judo Cup were using the space, combined with the Stealers holding tournaments and camps on Saturdays. The Stealers also adopted the Triad Trackers wheelchair team, who stored their playing wheelchairs at Gateway.
Between Stealers practices and games, paired with all the other organizations, the gym remained full and the program stayed funded. Robinson said the Stealers made $9,520 per month leasing out the space, which added up to $123,760 per year. The profit they gained off of that, Robinson said, went into the Stealers scholarship program, which allowed the families who couldn't afford travel ball the ability to get their daughters involved.
So when the Gateway YWCA informed the Stealers that they had to be out by Dec. 31, Robinson began the process of finding another space while also letting the other organizations know they no longer had the space to rent, either.
Robinson, obviously, hoped the program could stay at Gateway YWCA and expand there. In April of 2018, heavy rains in the area flooded Gateway's pool. The next year, Gateway announced it would not reopen, converting the pool to a workout space. Robinson saw a chance to add more courts. Multi-court facilities are hard to come by, and Gateway could expand from three to six easily after Robinson measured off the pool area.
"I thought it would've been great for the community to do something like that because the communities that do have these, what kind of traffic they bring into their cities," Robinson said.
He assembled an investment group to make a bid on the space. Elevation Church won out. The three basketball courts, which were formerly named after former Journal reporter Mary Garber, will be turned into a worship space. The old pool area will become a new fitness area.
Now, the Stealers and the other organizations have to battle for the same court space around the greater city limits.
In an email with Robinson and the Journal, Christy Respess, the Gateway YWCA's CEO, said the Stealers were notified in early 2018 that Gateway was exploring the potential sale of the building or ownership of the building. She also said that the Stealers have "rented from other facilities in our community before you leased from us at Gateway. This is a shift back to other locations not a displacement of programs; however it may not be as convenient for families."
Robinson said that Respess helped in making some calls to find a new full-time spot for the Stealers. Robinson was floored by the amount of responses he received.
"The amount of people that's offered to give us space to practice or play has been more than I thought would ever happen," Robinson said. "It's been pretty incredible the last two weeks. Because I was sitting there concerned about where we would go next, and now we have a lot of options. It just depends on what's best for us."
Survival
Above the courts at the Gateway YWCA, hanging on the railing that runs around the walking track, are a set of banners.
There are 29, and each have a picture of a former player on them, listing their names and where they went to college. The different levels of competition — from Division 1 to NAIA — are represented by the players the Stealers have produced. One banner belongs to Chante Black, who went to Duke and played four seasons in the WNBA. Whitney Knight, another Stealers product, went to Florida Gulf Coast before a couple WNBA seasons.
For Robinson to think about the amount of players who've come through, from the pros to the ones who found success elsewhere following their time with the Stealers, is humbling. Especially considering where it started.
"(It was) just a conversation about five minutes, that if it didn't happen, none of this was going to happen," Robinson said, thinking the program's birth in 1996. "Instead, it happened, and next thing you know we had this monster on our hands. But it's a good monster. It really is."
Hudson, 28, went on to play at Pfeiffer College while they were still at the Division II level. And once her playing career ended, she hopped into coaching. She led West Forsyth to a Class 4-A state championship last season.
Hudson has continued to help coach with the Stealers program (she took a break last year while planning her wedding), most of which has to do with the culture Robinson has built.
"I really think Coach R is in it trying to help the kids, and help every kid, and find their fit and not get caught up in the hype of everything else that AAU might be," Hudson said. "And it's rare to find those people who will help a kid on every skill level find where they can fit."
Robinson gets countless updates from former players now — new job, getting married, having a child. It shows the impact Robinson and the Stealers made.
Just ask Dr. Nell Johnson, an OB-GYN with Lyndhurst Gynecological Associates in town. Nell Johnson is formerly Nell Pollard, the rising freshman Robinson said inspired the whole idea for the Winston-Salem Stealers in the first place.
Johnson, 38, said she doesn't know if she deserves credit as the program's starting point. She will say, however, that Robinson has helped advance the sport through his 20-plus years of support.
"He really just took on girls basketball," Johnson said. "He was just a champion for girls in a time, not to make it sound ancient, at a time when it wasn't your typical thing for a coach like Brian ... to say girls basketball is where I want to put my time and energy."
She's appreciated watching how the program has grown, and she's getting to see the generational expansion of the program: Her 11-year-old niece started with the Stealers this year.
For the next year, the Stealers have a plan. They will split time between using courts at Bishop McGuinness and Forsyth Country Day, as well as St. Peter's World Outreach Center. They will use those facilities the next year while having conversations about potentially building a facility in the area — whether it be Winston-Salem, Walkertown and Kernersville — as time moves along.
The Stealers have finished all their large-scale tournaments at Gateway, and only a few teams are left practicing as the seasons die down. Most of their old rental partners have moved on. The courts, Robinson said, will be mostly empty of Stealers' practices.
Whatever happens, Robinson's not worried about the future. The Stealers program supports roughly 125 girls per season, and that's not including the developmental program (age 5 to 6) and the satellite program in Asheboro.
This program will continue, whether the teams get under one roof again or are sprinkled throughout the city, Robinson said. And that will continue, even without the Gateway YWCA.
"I've been a part of this too long, both high school, USA, everything else, that when one thing closes, something better is going to open it," Robinson said. "It really is. And I really do believe something better's going to open up for us.
"When? I don't know. But I really do think that something down the road is coming because we've done too many good things for too long for something not to happen."