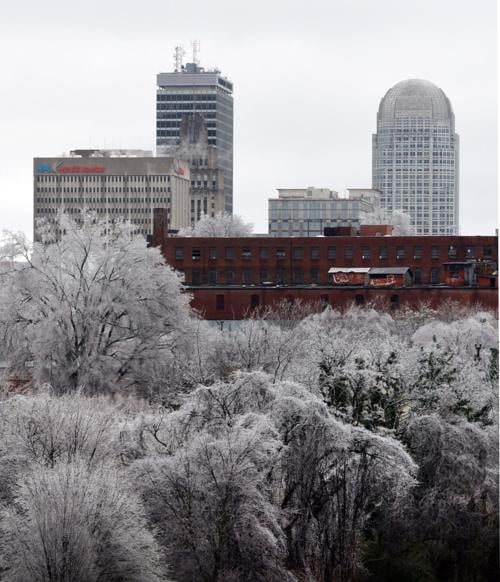 "Snowstorms, especially our bigger events, are not as common as they were 20 or 30 years ago, and there is a high likelihood that we'll continue to see fewer of them in the future," said Corey Davis, assistant state climatologist at the N.C. State Climate Office.
That's because warmer winters are expected to make snow-friendly conditions increasingly rare.
"Anyone who has lived in North Carolina long enough knows that the difference between snow, ice and plain rain is often just a degree or two," Davis noted. "If our temperatures continue to warm as expected, it will be tougher to get enough cold air throughout the lower atmosphere to support these all-snow events."
In the Triad, the annual average temperature in winter — commonly defined by weather scientists as December, January and February — has climbed 4.2 degrees over the past half-century, according to data from Climate Central, which collects and analyzes U.S. weather statistics down to the local level.
Year-round temperatures in North Carolina are expected rise 6-10 degrees by the end of this century, depending on the extent of emission-reduction efforts, according to the North Carolina Climate Science Report, a 2020 assessment of past and projected changes authored by 15 North Carolina climate scientists, including Davis' boss, State Climatologist Kathie Dello.
By the end of the century, snowfall will become rare in North Carolina except in mountain areas in the western part of the state, the report projects.
"Even in the mountains, the frequency of snowfall is projected to decrease substantially, with snowfall increasingly confined to the higher elevations," the assessment adds.
However, climate experts aren't sure about the future of what are often the Triad's most-disruptive winter weather events: ice storms.
"One reason is that warmer air a few thousand feet off the ground may become more common, which is exactly the sort of environmental setup in which we see freezing rain," Davis explained.
What happens in those situations is precipitation falls from the warmer atmosphere as rain instead of snow, then turns to ice when it hits the surface, where the temperature is below freezing.
"It wouldn't be at all surprising if the Triad, which is already considered the ice storm capital of the South, sees a similar number of those events, or even more of them in the future," Davis said. "Of course, they'd be happening instead of, and not in addition to, some of our snowfalls."
He added that February of 2021 offered a glimpse of what future Triad winters could look like.
"Not much snow, a couple of ice storms, and otherwise just a wet, muddy mess," is how he described it.
The Triad still could see rare months like December 2018, when nearly 13 inches of snow fell locally, Davis added.
"But snow lovers shouldn't bank on that sort of event every year, or even every few years," he cautioned.
John Deem covers climate change and the environment in the Triad and Northwest North Carolina. His work is funded by a grant from the 1Earth Fund and the Z. Smith Reynolds Foundation.
336-727-7204