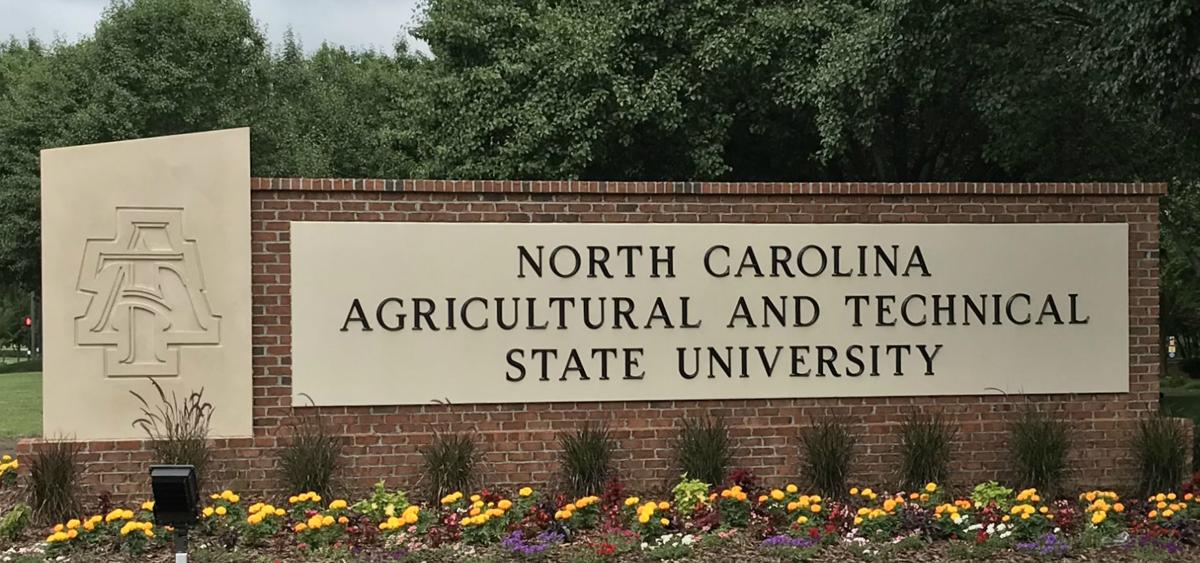 GREENSBORO — Two N.C. A&T police officers have been put on administrative leave after they were shown on video struggling to arrest the sophomore class president inside a university dorm.
The video shot by a student and posted on Twitter shortly before 2 a.m. Wednesday had been viewed more than 1 million times by 7 p.m. A petition urging that A&T drop charges against the student and demanding that the officers be disciplined gained nearly 5,000 signatures in about seven hours Wednesday.
Many A&T students on social media and some students who gathered in front of the university's police department Wednesday morning said the arrest is yet another example of campus authorities using excessive force. In September, a security guard employed by the university was filmed punching a student inside the student center.
In a statement issued Wednesday afternoon, A&T said the two officers are on administrative leave indefinitely while university leaders investigate what happened.
"University administrators are evaluating the matter in an effort to reach an appropriate resolution," the statement said. "Further, we have met with the individual student, as well as Student Government Association leadership, to understand their concerns.
"Be assured that the issue of campus safety is one of our top priorities and maintaining that safe environment requires the cooperation and understanding of every member of our community."
The arrest and its aftermath comes at a tense time on the A&T campus. In-person classes were canceled and moved online starting Monday as a precaution against COVID-19. On Tuesday, A&T and other UNC System schools announced that most students must leave university housing later this week. A&T gave its students until Sunday to move out of its residence halls and apartments. Students, meanwhile, are grumbling about having to take classes while having to pack and move home.
Late Wednesday, A&T announced that it has canceled all classes and labs for Thursday and Friday. Online instruction will resume Monday.
The 45-second video filmed Wednesday shows the arrest of Verdant Julius, a sophomore and president of the class of 2022. Todd Simmons, an A&T spokesman, said the incident happened about 1:30 a.m. Wednesday inside the Aggie Village residence hall complex on campus. Julius didn't respond to a Twitter message seeking comment.
The video shows two A&T police officers trying to handcuff Julius. One of the officers threatens to use chemical spray on the student. Julius replies: "You're honestly ridiculous."
Shortly after the student turns to face the officers, one officer puts a hand on the student's neck. Several seconds later, the second officer puts an arm around Julius' neck and pulls him to the floor. The video cuts off as the officers, now kneeling atop Julius as he lies on the floor, handcuff him. Off camera, a voice is heard urging Julius to relax.
A&T Police Chief Charles Wilson said Julius was charged with resist, delay or obstruct of a public officer and trespassing. Wilson said he was released on a written promise to appear in court. A&T did not immediately identify the two officers.
In an account posted on a petition website, A&T sophomore Mantryll Williams said the incident happened after the two students tried to return to their residence hall. He said campus police and a security guard turned away a third student who was with them because she didn't live in that dorm.
"This whole situation could have been avoidable, as everyone is in a rush to pack and evacuate campus due to the pandemic of Covid-19," wrote Williams, who filmed the encounter. "Police are here to protect and serve, (and) slamming to the ground should never be a 1st, 2nd or 3rd thought of a police officer to arrest someone not posing a threat and over an campus ID."
Contact John Newsom at 336-373-7312 and follow @JohnNewsomNR on Twitter.​