A series of three photographs—two of the same man—tell different stories about a day that will live in infamy.
The first snapshot shows Charles Donohoe, a now 33-year-old as a young man with chin and cheeks clean shaven so as to conform with military regulation.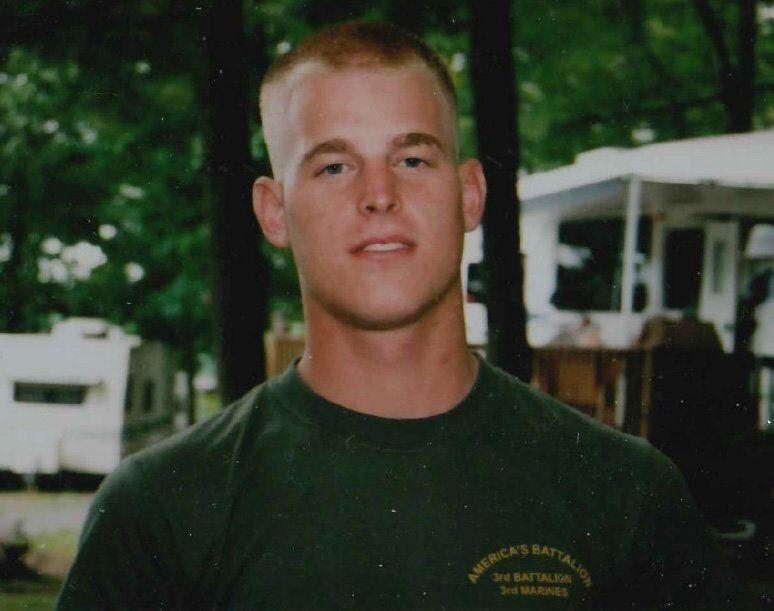 His face reflects the confidence of a young man filled with pride common to Marines, soldiers and sailors who've sworn to protect and defend the Constitution from all enemies foreign and domestic.
The second, a mugshot widely in distribution now that Donohoe has been charged in connection to the Jan. 6 insurrection at the Capitol, shows him a shaggier, older man, one who has lost sight of an oath taken to uphold ideals rather than any single individual.
The third photo, a screen grab from social media of one Matthew Wood, another local charged in connection with the riot, depicts a young man who claims to have been a follower rather than a leader standing inside the Capitol rotunda.
The photographs matter as they may well encapsulate attitudes at the heart of the government's case against Donohoe and other plotters who must decide in their own defense whether they were sheep or wolves.
Detention hearings
Donohoe, of Kernersville, is far from the only person charged in the uprising.
More than 300 others, including a half-dozen from North Carolina, face federal charges ranging from trespassing on the low end to conspiracy, obstruction of an official proceeding, destruction of government property and disorderly conduct in a restricted building for alleged organizers associated with such right-wing groups as the Oath Keepers and the Proud Boys.
Proving those charges to the point of conviction (and sentencing) will be another matter entirely, however.
Before we get there, though, there is the small matter of pretrial release. That was at its most vivid in a virtual hearing last week in which Donohoe, through his attorney Lisa Costner, argued unsuccessfully that he should be allowed to roam freely—within the confines of house arrest.
Federal magistrate Michael Harvey, after listening (and reading) hours of arguments made by federal prosecutors and Costner, decided that Donohoe needs to be locked up the same as other alleged ringleaders and members of the Proud Boys organization, a term used only in its loosest sense.
Costner noted that Donohoe doesn't pose much of a flight risk and has a stable home where he could stay pending trial.
She also (correctly) pointed out the difficulty the government will have in proving that Donohoe, president of a local Proud Boys chapter, was a Big Fish in a Tiny Pond who fomented enough unrest among the disillusioned and the unmoored as to provoke violent insurrection in which the Capitol was debauched and more than 100 peace officers assaulted.
Still, Harvey decided that local son Donohoe was senior enough to have played a central role and that he celebrated the riot afterward.
"Here, the danger posed by his release is that he will continue in the future, along with his co-conspirators, both indeed and unindicted, to engage in acts of political violence or to aid and abet those who do," Harvey said in making his ruling.
Picking a side
By keeping Donohoe and Ethan Nordean, of Auburn, Wash.; Joseph Biggs, of Ormond, Fla.; and Zachary Rehl of Philadelphia—fellow indicted co-conspirators and Big Fish Proud Boys—locked up Magistrate Michael and other federal officials have set up a dual-class system in dealing with the charged but presumed innocent.
And as luck would have it, another local man plays a role in that drama, too.
Wood, 23, of Reidsville was charged in March after admitting to the FBI that he was in the Capitol building on Jan. 6. He turned himself in after seeing his photograph on Facebook.
He also told investigators that he'd been pushed along at the front of an angry mob and only entered the Capitol to avoid being trampled.
Put another way, Wood's best defense could be that he is an easily led mope incapable of making his own big-boy decisions who only went to Washington to accompany his grandmother.
His own since-deleted social media posts tell a familiar, discredited story parroted by other "normies"—a term used by the Proud Boys to describe untrained yokels who could be whipped into an undisciplined frenzy to breach the Capitol.
"Our election was stolen," Wood wrote on Facebook, according to government filings. "The system is against us. I stood up to a tyrannical government. You can keep sitting or you can do something about it like we did today."
Yet, unlike Donohoe, Wood is not cooling his heels in a jail cell. He is free on an unsecured bond and must report to a federal probation officer. His attorney, David Freedman, says Wood has been cooperating with the FBI.
Those charged in connection with the assault on the Capitol so far are lining up in two camps: sheep or wolves.
The pretrial jockeying, particularly as it pertains to two native sons, is a but fascinating warm-up act to a looming drama.