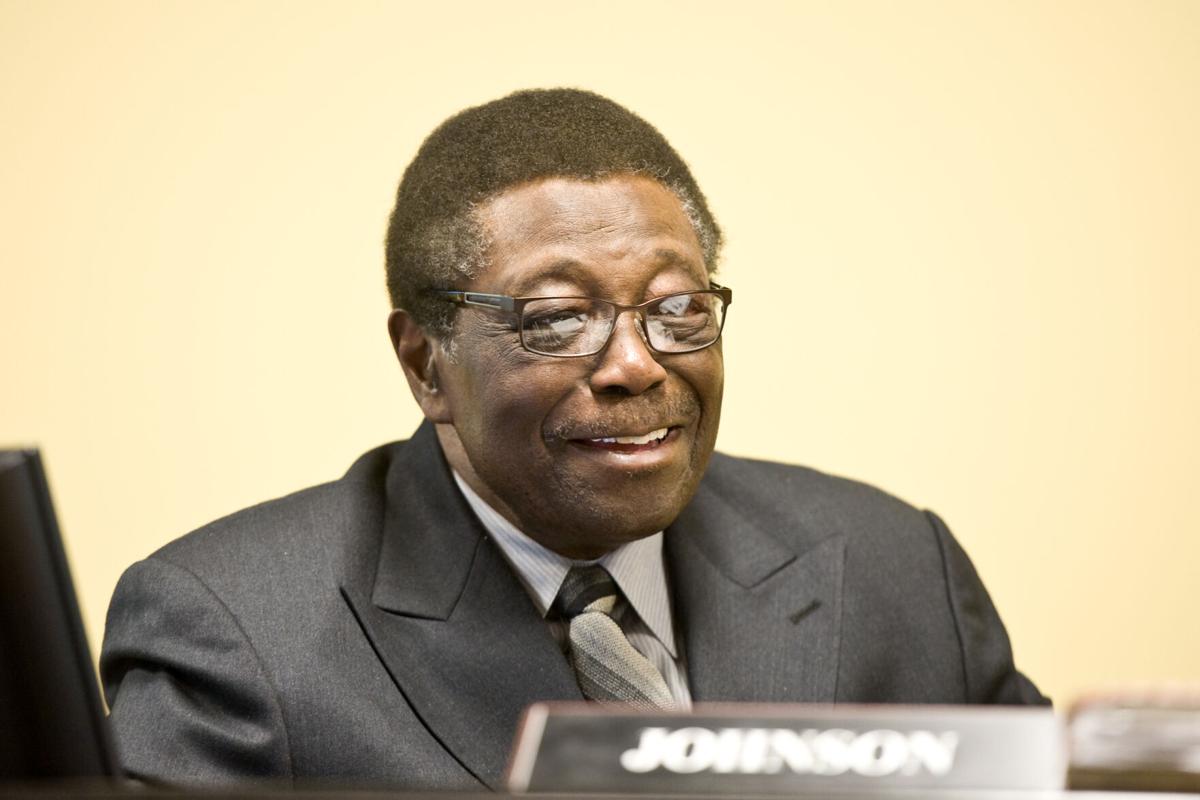 Victor "Vic" Johnson Jr., a social activist and former teacher, school administrator and member of the Winston-Salem/Forsyth County Board of Education, died Wednesday night of COVID-19 at Forsyth Medical Center. He was 85.
Constance Johnson, Vic's wife, said Thursday that she, her husband and their daughter, LaTanya "Kim" Johnson, were recently infected with the coronavirus, and they were treated at the hospital. Constance Johnson said she and her daughter have recovered from the virus.
"Fortunately, we were able to come home, but he wasn't," Constance Johnson said. "With his age and other underlying conditions he (had), it was just too much for him to recover from."
Vic Johnson was "very, very afraid of catching it," Constance Johnson said of her husband. "He stayed in the house and wore his mask."
The Johnsons took the pandemic seriously by maintaining social distance, using sanitizer and wearing masks, she said. 
Vic Johnson's legacy will be "his commitment to the education of children in this community," his wife said. 
Virginia Newell, a former educator and a member of what was then the Winston-Salem Board of Aldermen, said she was saddened about Johnson's death.
"Vic was my friend, and a great guy," Newell said. "He was a great teacher, a great mentor and a great man."
A native of Winston-Salem, Johnson attended Kimberly Park Elementary School and later Atkins High School.
Johnson played both offense and defense on the football team for four years at Winston-Salem State Teachers College, now known as Winston-Salem State University.
Johnson had served three years in the U.S. Army before he went to college.
On Feb. 23, 1960, Johnson, then age 24, joined a group of black and white students from Winston-Salem State Teachers College and Wake Forest College, now Wake Forest University, who sat down at the whites-only lunch counter at the Woolworth's store on North Liberty Street in Winston-Salem.
The students were arrested, but their efforts weren't in vain. In May 1960, Winston-Salem became the first Southern city to voluntarily desegregate its lunch counters.
"I think he was a drum major for justice," Constance Johnson said of her husband. 
Vic Johnson and the other city students were honored at a ceremony on Feb. 23, 2020 in downtown Winston-Salem.
The Rev. John Mendez, the retired pastor at Emmanuel Baptist Church in Winston-Salem, said that Johnson was a community leader.
"He was an importance voice in this community in his own way," Mendez said. "He did what he knew to try to make a difference."
Johnson joined other Black and white city residents who protested against segregation in the 1960s, Mendez said.
"At that time, the walls of segregation had to be challenged and eradicated," Mendez said. "They did just that, and he did his part. He did what he had to do."
Johnson graduated in 1960 at WSTC and then received a master's degree education at N.C. A&T State University.
Johnson then landed a job as a teacher at Paisley Middle School, where he also coached football and basketball from 1960 to 1971. Johnson was reassigned to North Forsyth High School in 1971, where he taught and was an administrative intern until 1983.
Johnson served an assistant principal at Carver High School until 1993. In the fall of 1996, he worked for six weeks as the interim principal at North Forsyth High School.
Johnson was appointed to the school board in March 1997 and served through November 2018.
When Johnson joined the school board, he said: "It's a crisis period in education, especially for the black male. We're steadily pushing our young people out of school. If the average young person doesn't get an education, he becomes a liability."
Don Martin, a Forsyth County commissioner and a former superintendent of the Winston-Salem/Forsyth Schools, said he and Vic Johnson became friends during their work within the school system.
Martin said he will remember Johnson as a giving man who wasn't concerned about getting credit for his accomplishments.
"That's why he was on the school board," Martin said of Johnson. "I had the utmost respect for him."
Parents often took their concerns about their children to Johnson when those students got into trouble at various schools, Martin said. 
As a member of the board's grievance committee, Johnson would talk to the children's principals, the students themselves and their parents and tried to get the best outcomes for the students, Martin said.
Johnson also kept up with the academic progress of the students whom he taught and met in other settings, Newell and Martin said. On occasion, Johnson would give $5 to a fourth-grader at Diggs Elementary School who had good grades there, Martin said.
As a school-board member, Johnson pushed school officials to return high-school classes at the previous Atkins High School at 1215 N. Cameron Ave. The district eventually placed Winston-Salem Prep Academy at that site in 2004, Martin said.
"That's why there are high-school kids there now," Martin said.
Johnson also served five years as a member of the WSSU board of trustees, but his service on that board ended in controversy.
The UNC board of governors voted unanimously to remove Johnson as a WSSU trustee in December 2014 after he refused to resign over an alleged breach of confidentiality during WSSU's search for a new chancellor. At that time, Johnson said he did nothing wrong.
Johnson was accused of leaking to the public the names of the finalists in the school's search to replace retiring Chancellor Donald Reaves. 
The Winston-Salem/Forsyth County Schools will honor Johnson when the school board meets on Tuesday.
"There are few people like Mr. Johnson," Malishai Woodbury, the chairwoman of the school board, said in a statement Thursday night. "He was a teacher, an administrator, an advocate, a mentor, and a friend.
"This community is a better place because of his life's work fighting for basic human rights," Woodbury said. " As a board member for many years, he supported students, he stood alongside teachers, and did everything he could to make public education in our district the best it could be for all students. Our district has lost a true leader and friend."