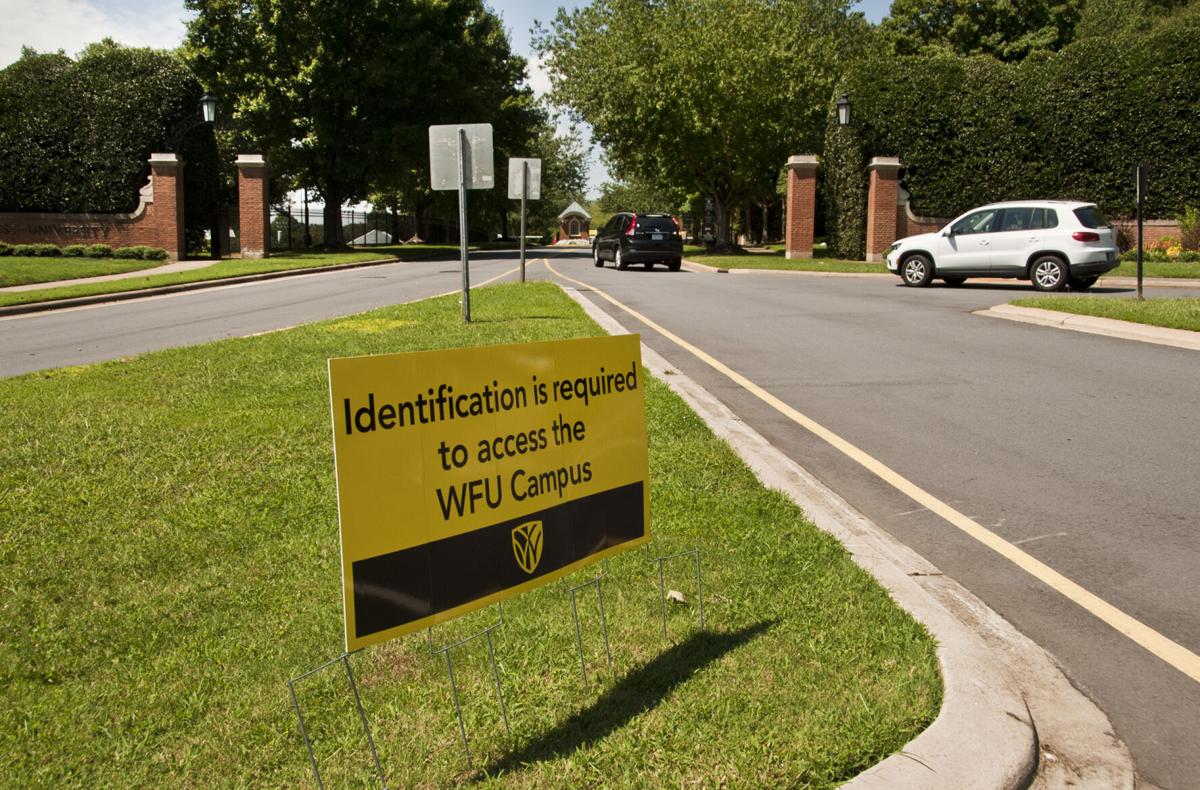 A month into the fall semester, Wake Forest University's president is "confident" that students will be able to stay on campus through Thanksgiving
President Nathan Hatch, in a message Monday to faculty and staff, said the private university's progress during the COVID-19 pandemic "so far has been very encouraging, and I believe that we can sustain it. ...
"I believe that if the first four weeks are any indication, I am confident that we have the ability to remain on campus to Thanksgiving," Hatch said. "Students want to be here, and we want them here."
Like many universities in the Triad and nationwide, Wake Forest will end in-person instruction at the Thanksgiving holiday as the weather turns colder and the cold and flu season begins. After the late November break, students will finish their fall semester classes remotely and take exams online in mid-December.
Wake Forest opened its fall semester last month with a mix of online, hybrid and face-to-face instruction. Hybrid classes blend both in-person and remote components.
Three North Carolina universities — UNC-Chapel Hill, N.C. State and East Carolina — began the new academic year in similar fashion but moved all instruction online within two weeks after sudden rises in COVID-19 cases on their campus. Other N.C. colleges and universities have reported coronavirus cases on their campuses but, like Wake Forest, are sticking with their fall semester plans.
As of Tuesday, Wake Forest has reported 58 COVID-19 cases over the past two weeks and 121 since mid-August, according to the university's online dashboard. The university recorded 12 cases on Sept. 11 — the highest one-day total since most students returned to campus last month. Since then, Wake Forest has seen an average of 2.5 new cases per day.
Wake Forest continues to be under Condition Yellow: New Normal Campus Operations. It's the second-lowest of five campus alert levels.
The relatively small number of new campus cases within the past two weeks are "well within the expected range I would have predicted when campus first reopened," said Dr. Christopher Ohl, a professor of infectious diseases at Wake Forest School of Medicine who has been advising the university during the pandemic.
Recent case increases have been small, and the university's response has been managed well, Ohl said in a video message last week. Here's another good sign, he added: The positive rates on random weekly surveillance tests over the past three weeks have been less than 1%.
There is no magic number that would cause Wake Forest to close campus and pivot to online-only instruction, said Ohl, who added that the overall number of cases is not necessarily the best measure of a school's ability to manage COVID-19.
"It really comes down to, is there control?" Ohl said. "Do we know how to continue to keep cases low and mitigated?"
Ohl and Hatch both encouraged Wake Forest students and employees to continue to wear face coverings around other people and avoid large gatherings.
"It will take our continued and concerted effort to adhere to public health guidelines," Hatch said, "and while it may grow tiresome, we have to remind ourselves and our students to wear masks, stay six feet apart, gather in small groups and wash hands. These are the practices that are making it possible for us to be here; this is working."
Current cases
Here are COVID-19 numbers at other area colleges and universities as of midday Tuesday. Click on each school's name for a link to their online dashboards: 
Winston-Salem State: 1 new case (on-campus student) in the 24 hours preceding Sept. 21; 41 cases total since March 1.
UNCG: 17 cases (15 among students) reported Sept. 14-20 and one new case (student) reported this week; 87 total cases (77 among students) reported since July 1.
N.C. A&T: 8 positive tests (five among students) reported Sept. 11-17; 62 cases reported (40 among students) since July 1.
High Point University: 136 active cases (129 among students), which is 2.06% of the university's population of students and employees.
Greensboro College: 4 active cases (three students, one contractor); 12 total cases (seven among students) since March.
Bennett College and Salem College are both conducting their fall semesters remotely. GTCC does not maintain an online COVID-19 dashboard.
(336) 373-3712
@JohnNewsomNR
Concerned about COVID-19?
Sign up now to get the most recent coronavirus headlines and other important local and national news sent to your email inbox daily.