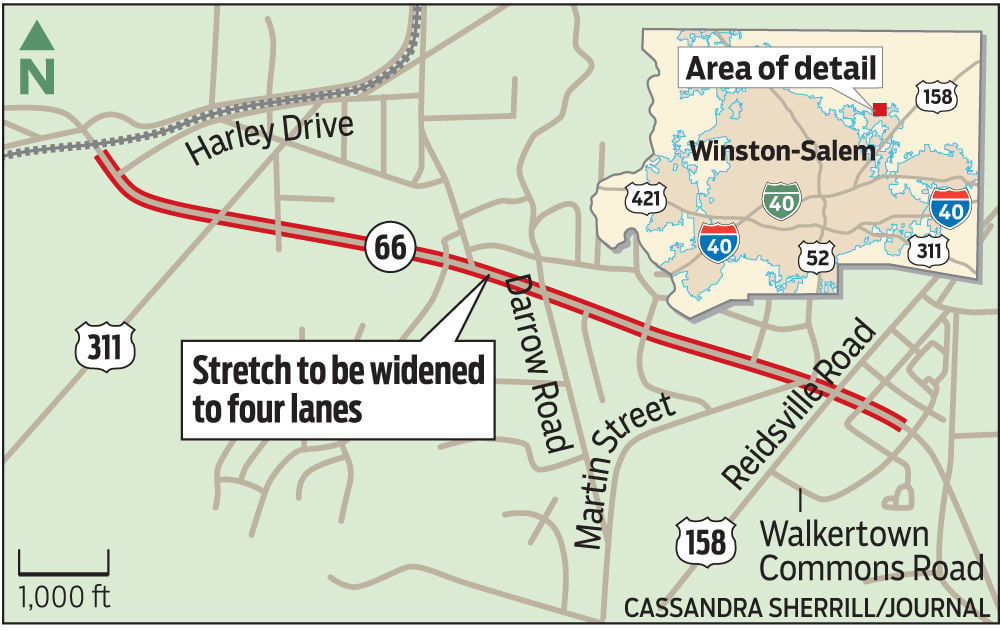 WALKERTOWN — People who live and work on Old Hollow Road in Walkertown were peering closely at maps on Thursday, trying to figure out whether a proposed four-laning of the road would take out a favorite shade tree or the corner of a house.
And while exact answers were sometimes hard to come by, people could at least tell that their daily routines will be different when Old Hollow Road gets wider.
"I think it is a good plan for the community," said Dr. David Heath, a dentist whose office will have to be demolished for the widening. "I am sad that I am so severely affected by this."
Heath said he's 62 and will have to decide whether to build anew or retire by the time the road work rolls around in 2022.
Heath was among more than a hundred people who crowded into the fellowship hall at Morris Chapel United Methodist Church to take a look at the state plans, which call for widening N.C. 66 — Old Hollow Road — between the Reidsville Road intersection and the Norfolk Southern railroad tracks near Harley Drive.
The overloaded road is basically a two-lane road currently, although there are left-turn lanes in places and stretches with a central turning lane.
When finished, the road will have two lanes in each direction divided by a median, and curbs, gutters and sidewalks on both sides. The N.C. Department of Transportation plans to start buying right-of-way in 2020 and begin construction in 2022.
Because the plans are preliminary at this point, a lot of exact answers were hard to come by, resident Sherri Miller found.
"I'm getting things answered but it still concerns me about the easement, that they are going to take my trees," Miller said, referring to oak shade trees in her front yard that are in the path of a temporary construction easement. "I'm not angry about it, I am just a little worried that the road will be so close to the house."
Highway officials explained to residents that the easements shown on the plans were deliberately drawn to represent a "worst-case" scenario, and that it may be possible to save a tree or make other adjustments once the plans are refined.
On the other hand, the officials also explained that the plans don't take into account any additional easements needed for power pole realignment.
Pat Ivey, the division engineer for the N.C. Department of Transportation in Forsyth County, said that the final alignment of the widened road should be determined later this year, after officials have had a chance to go through the public comments and make any changes that seem appropriate.
One adjustment that people will have to make post-construction centers on how they make left turns: Because of the presence of the median, many people will have to make a left turn by turning right and then doing a U-turn at the next intersection.
"People are used to turning left instead of turning right and doing a U-turn," said Peggy Leight, a member of the Walkertown Town Council who came to the meeting. "The turn lanes will be the most difficult for people who live on the road."
Vicky Weatherman's house is at a spot where the road will be widened by an extra amount on her side, so that people making a U-turn have room to complete the move.
Weatherman said she hopes the state will simply take her entire property rather than leave her with a greatly reduced yard.
"I don't like it," Weatherman said. "I don't want to stay here. If they are going to take that much, take the whole house."
Linda Whicker, who lives on a side street feeding into Old Hollow Road, said she already finds it very hard to make a left turn onto Old Hollow Road.
Whicker called the planned widening "probably about the best they can do."