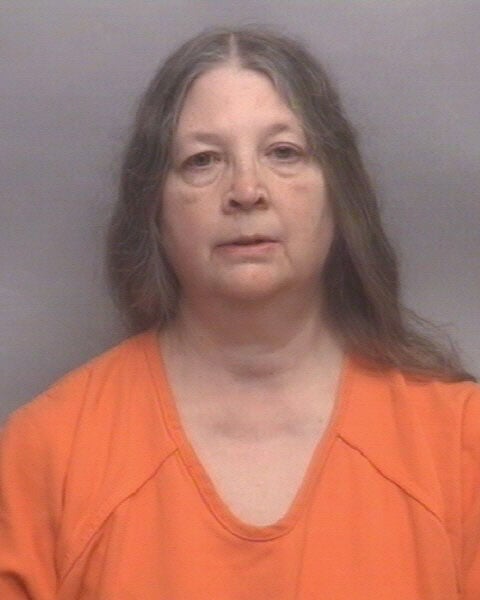 Two days after he was arrested on child sex-abuse charges, former Stokes County elections-board member Harold Lester Mabe Jr. called his wife, Jacqueline Walters Mabe and asked her to throw away any evidence against him, including underwear in one of their vans and any electronics. 
Assistant District Attorney Quentin Harris said she did just as she was asked, even after her husband admitted to her that he was guilty of molesting three young girls at different times over a seven-year period. And when law-enforcement officers searched their house in King a second time after getting a recording of that Aug. 14 call between Harold Mabe and his wife, they found nothing but a letter on a table that Jacqueline Mabe had written to her husband, telling him she had done what he had asked. Harris said there was no evidence that she knew of the sexual abuse before the jail call.
On Monday, Jacqueline Walters Mabe, 58, pleaded guilty to one count of obstruction of justice. Judge Angela Puckett of Stokes Superior Court gave her a suspended sentence of 6 to 17 months and placed her on supervised probation for a period of three years. 
Her guilty plea came more than a week after her husband, Harold Mabe, 63, pleaded guilty to 14 counts of statutory sex offenses in connection to allegations that he sexually abused three different girls between 2013 and 2020. The girls were all under 13 at the time of the time of the incidents.
Harold Mabe had been appointed to the Stokes County Board of Elections in January of this year. After his arrest on Aug. 12, he resigned. He also had run unsuccessfully for a seat on the Stokes County Board of Commissioners several times over the years. He is serving a sentence of 25 years to 35 years in prison. 
A part of Harold Mabe's plea arrangement required Stokes County prosecutors to offer Jacqueline Mabe the option of pleading guilty to obstruction of justice, a lesser charge than the one she was initially facing — accessory after the fact. She also was facing a charge of resisting a public officer. As part of her plea arrangement, Stokes County prosecutors voluntarily dismissed the resisting a public officer charge. 
The investigation into Harold Mabe started in August. He was arrested Aug. 12 on 12 counts of statutory sex offenses with a child (he would be later charged with an additional two counts of statutory sex offenses). On Aug. 14, Harold Mabe called his wife. 
Harris played a 15-minute portion of that call in Stokes Superior Court on Monday morning. Puckett asked to hear the recording again in chambers before she decided on sentencing. 
During the recording, Harold Mabe tells his wife that she must throw away certain evidence against him. That includes underwear in the passenger seat of a gray van that the couple owned. Harris said that Harold Mabe sexually abused the girls in the van, which had a bed. When he was arrested, agents with the State Bureau of Investigation seized Harold Mabe's phone. While he was getting arrested, Harold Mabe was able to get access to the phone twice, and when SBI agents finally took the phone, he had a picture pulled up, Harris said. 
Harold Mabe also told his wife to get rid of any electronics on the night stand and in a room in the basement, indicating that he may have recorded some of the alleged sexual abuse, according to Harris. 
He told his wife that he was not coming home and that he was guilty. 
"I'm not lying," he said. "I'm going to plead no contest and plead for mercy from the state. I'm just trying to be as honorable as I can."
Jacqueline Mabe said in the recorded call that she loved her husband and protested when he said she should find another man to take care of her since he's never coming home.
"They got the evidence," he said. "It's there on my phone."
SBI agents had searched the house belonging to the Mabes in early August. Based on the jail call, they obtained a second search warrant and attempted to execute it at 9:30 a.m. on Aug. 27, SBI Agent J. Campbell said in court Monday. 
Jacqueline Mabe would not answer the door when they knocked. They heard music coming from the house. Campbell said he called Jacqueline Mabe's number six times and left messages. He then called one of her sons for a key and agents entered. Jacqueline Mabe would not come into the living room.
Campbell said agents knew there were guns in the back of the house, and agents called another agent in Greensboro to get a remote-controlled robot with a camera. Agents eventually found, through the robot, that Jacqueline Wade was kneeling as if in prayer in the bedroom. A .380-caliber gun was nearby, though Campbell said it didn't appear she was going to use it. 
She eventually came out and cooperated with the search of the house. On the table was a letter she had written to her husband but had not mailed. The letter had indicated that she had thrown away the evidence.
SBI agents didn't find any electronics on the nightstand or in the room downstairs and they did not find underwear in the gray van, Campbell said.
The search warrants are both sealed. 
Clark Fischer, attorney for Jacqueline Mabe, said his client is a religious woman who believes in submitting to her husband. She was misled by him, and though not on the same level as the girls he was convicted of abusing, Jacqueline Mabe is as much of a victim as well, he said. He said her life is now shattered.
"There is no reason why this woman needs to do any more time," he said. 
Puckett had closed the plea hearing for Harold Mabe, after Harris made a request. Harris said that the hearing had to be closed to protect the privacy of the minor victims. A transcript of the plea hearing was not available because the hearing was closed. 
On Monday, Puckett ruled to keep the hearing open to the public for Jacqueline Mabe's case. She ordered the Winston-Salem Journal not to identify the victims in the case or their relationship to Harold Mabe. The Winston-Salem Journal typically does not identify the alleged victims of sexual abuse.
Amanda Martin, counsel for the N.C. Press Association, said the state constitution has two separate provisions that make clear that criminal judicial proceedings must take place in open courtrooms, and there is also another statute that says a judge is entirely without authority to order anyone not to publish, or to limit publication, of anything that happens in open court. The law, she said, says such an order is "null and void and of no effect."
"As I understand it, Judge Puckett's order prohibiting publication of victims' names or relationship to the defendant violates our state law," she said. "Certainly, a newspaper or television station may make the editorial choice not to publish the names of juveniles or crime victims or anyone else, but courts may not order them to do so."
Get local news delivered to your inbox!
Subscribe to our Daily Headlines newsletter.