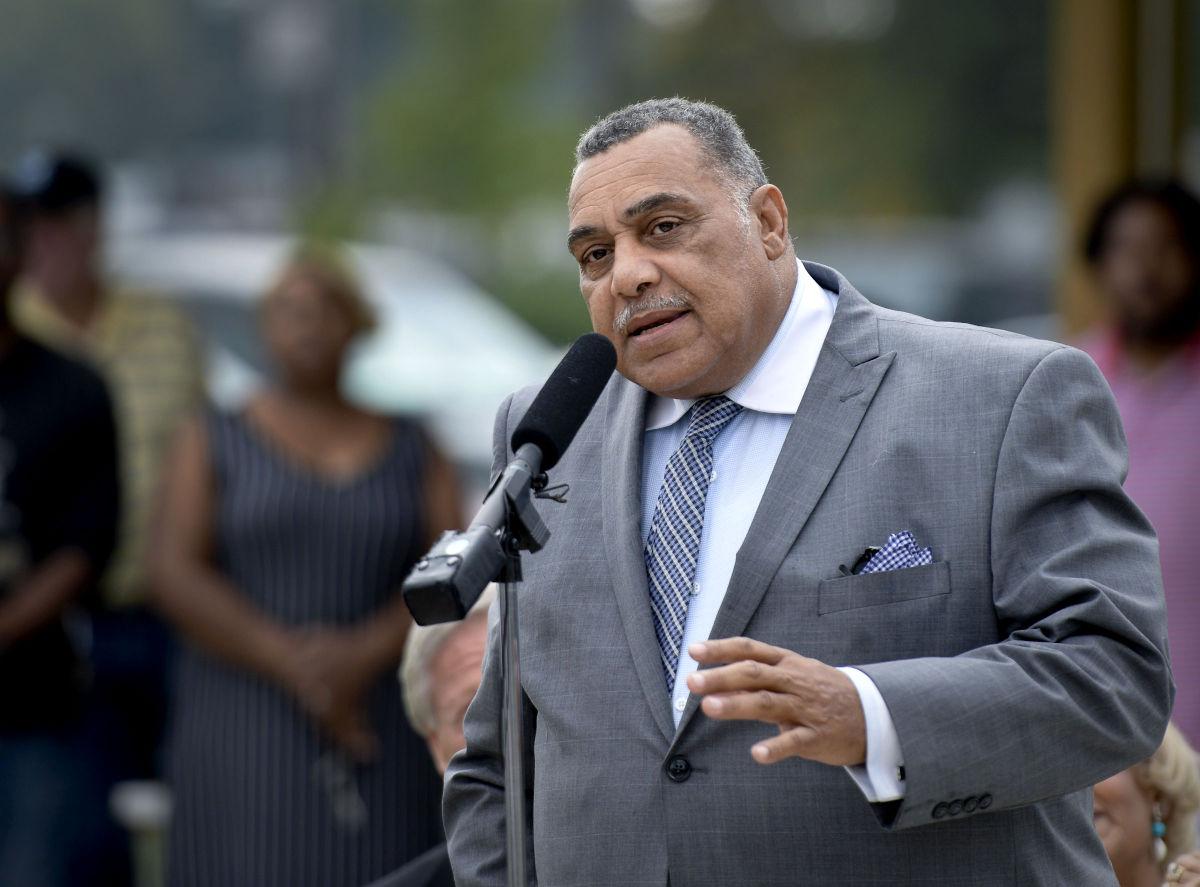 Inspiring. Consoling. Serving.
Those are some of the words people were using last week to describe Jerry Gilmore III, the owner of Gilmore Memorial Funeral Service, who died unexpectedly Aug. 27 at the age of 75.
Gilmore was a star athlete in high school who went on to follow in the footsteps of his father, who founded the funeral home that will remain in family hands as the third generation of Gilmores carries on.
"He was a family man with a great big heart," said his daughter Donna Gilmore. "He enjoyed spending time with his family and enjoying his grandchildren. And he loved, loved, loved his community."
Bishop Sir Walter Mack of Union Baptist Church said Jerry Gilmore led a family that not only built a successful Black business, but also wove themselves "into the fabric and tapestry of Winston-Salem."
"Their business extended beyond funeral service," Mack said. "They showed care and concern for people of all walks of life. They did many humanitarian things that people did not know about. They would do feeding projects. The Easter sunrise service was steered by Jerry Gilmore and the Gilmore family."
Mack said Gilmore would drive around the community, checking to see that everything was "safe and intact."
"He was the one who looked out for us and we didn't even realize it," said Mack. "He did not see people as potential clients. He saw people with potential. That wraps him up right there."
From the porch of the funeral home on Liberty Street, Gilmore, like his father before him, would wave at people driving past in their cars.
"That was his way of connecting with the community," Mack said.
Mack said that when he was a college student in the 1980s, he worked at WAAA, the Black-owned radio station that formerly operated at 980 on the AM dial. Gilmore had a Sunday morning broadcast.
"He had a gift," Mack said. "He would sit down in that chair, close his eyes and go into a meditation zone. He would give words of inspiration and have a song ready to play behind the words. He would minister to families of people he had buried throughout the week. I would see that man sit in the booth and literally cry for people."
People loved to hear her father speak, Donna Gilmore said, and he had a gift for being able to speak without advance preparation. He could carry on a conversation with anyone, she said, whether it was on an intellectual level or giving comfort to someone who was despondent.
"He was lovable to all and made no discrimination against anyone," she said. "If he had a dollar in his pocket and you said, 'Hey, Mr. Gilmore, I need that dollar,' you got it. He was a genuine man who did not mind at any time putting himself last to help someone else."
Mütter Evans, who owned WAAA when Gilmore worked there, said Gilmore had a soft voice that gave him natural ease in dealing with grieving families.
"His demeanor was both informative and consoling, all the time," she said. "I never recall him raising his voice, though he could get excited. It was not in his voice, but in his eyes and his smile. Jerry was an excellent listener. You could talk with him about things and you could see it ticking as he processed it. He didn't just talk off the cuff."
Donna Gilmore said her father grew up in the funeral home business that his father founded. From the time he was 6 years old, she said, he was being groomed to one day take over the business.
At the former Atkins High School on Cameron Avenue, Jerry Gilmore was a football star who was named all-conference center and linebacker by the Winston-Salem/Forsyth County High School Sports Hall of Fame. He attended Winston-Salem State University, but left to attend John A. Gupton College in Tennessee, where he learned mortuary science and graduated in 1966.
"He was most noted for being a master embalmer," Donna Gilmore said. "He had gifted hands, and was able to do things that were not even thought of."
Gilmore was a member of New Bethel Baptist Church, where his grandfather was pastor until his retirement in 1944. Gilmore himself served as a trustee for over 30 years. The Rev. Kendall Jones, the current pastor of the church, said Gilmore was "a preacher's friend and a good man."
"He would always pull me to the side and give me some encouraging words," Jones said. "He said he appreciated preachers and knew what they went through. He knew the joys and struggles of being a pastor, and he wanted to let me know I had his support."
Jones, like others, witnessed how Gilmore would help people who could not afford a funeral.
"He saw his business as a ministry," Jones said. "He often helped those who did not have the financial resources to do the kinds of things that other funeral homes would do. He would lower costs to his own detriment at times to help other people. When people could not afford a funeral, I would refer them to brother Gilmore because I knew he was a man who would make it happen in a very dignified and professional way."
Gilmore served as board chairman of state and national funeral directors' associations, and served on the board of Gupton College, his daughter said, adding that he was also organizer of the booster club at Winston-Salem State University. He served on the City-County Planning Board for eight years and held other posts.
Gilmore's wife, Jeanette, now retired, was a funeral director at the family business as well. Meanwhile the next generation, Donna, Monica and Jerry IV, are taking the business to a third generation.
Jerry Gilmore remained an avid football fan all his days, Donna Gilmore said.
"What he enjoyed most was watching the young players play Pop Warner football," she said. "He liked to watch high school football and Sunday football. He loved to read and keep up with current events. He wanted violence stopped — any type of violence. He wanted to see the younger generation stop the senseless killing and carry on.
Bishop Freddie Marshall, pastor of Christ Cathedral of the Triad in Greensboro (formerly in Winston-Salem) called Gilmore a mentor. Some 20 years younger than Gilmore, Marshall said Gilmore was a big influence on him as he made his way toward ministry.
"Jerry was a great conversationalist," he said. "When he relaxed, you would often hear from him his take on Winston-Salem and the evolution of the city. He was very much committed to East Winston and the Liberty Street corridor and what it had the potential to become."
When the 2020 protests were occurring, Marshall said, Gilmore was a voice of calm: He encouraged people to make their voices heard, he said, but he also wanted to make sure the city didn't neglect East Winston.
"I watched Mr. Gilmore give back to our community in ways that most people would not begin to understand," he said.