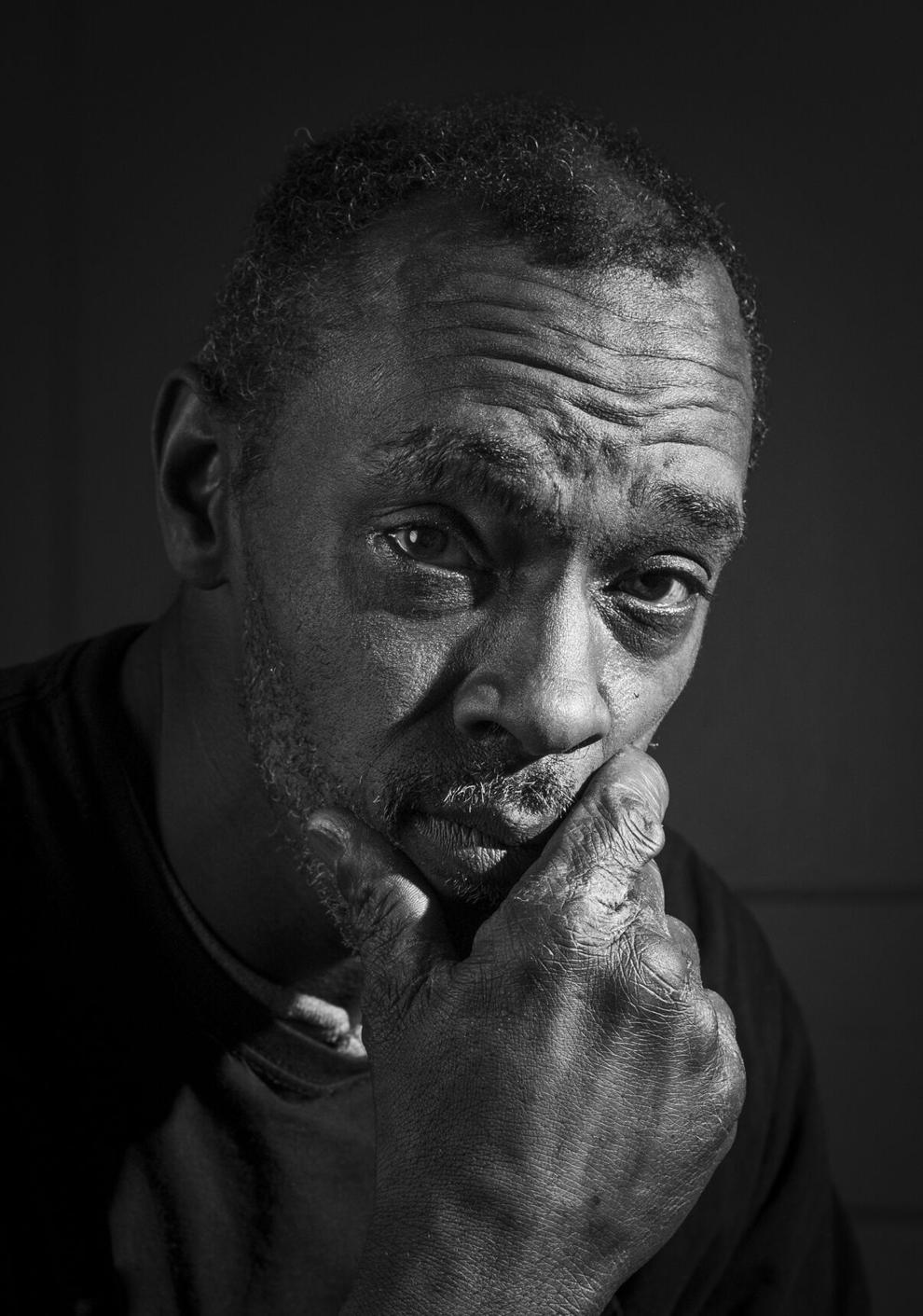 Cellphone video shows a Winston-Salem police officer using his Taser on a man who is already on the ground during a tense confrontation at a gas station last year.
The officer, Logan Keith Frankland, who has since resigned, was found to have violated departmental policies and procedures during the incident, which occurred March 2, 2020, at the Liberty Street Citgo on North Liberty Street.
And the man, John Mackey Jr., says Frankland called him a racial slur before the incident and then later punched him and put his forearm to his throat.
Ten months later, Mackey received a letter from Winston-Salem Police Chief Catrina Thompson, telling him that the police department took appropriate action in responding to his complaint. Frankland claimed in an incident report that he had to use force because Mackey hit him first and resisted arrest. 
City officials say they cannot disclose what policy or procedure Frankland violated or what disciplinary action was taken against him, citing the state's personnel privacy laws. All that is publicly known is that Frankland's annual salary decreased by about $2,200 on June 2, 2020. Frankland resigned on Oct. 8, 2020.
Mackey alleges that another officer who responded to the scene, Caleb Gray, also assaulted him that night and that the officers' supervisor, Jared Stump, did nothing when Mackey was tasered.
It's not clear whether police officials investigated the role of Gray and Stump in the incident, but Gray's annual salary also decreased by $2,300 on June 2, 2020. Gray remains on the force and got a nearly $500 bump in salary at the beginning of the year. Stump has an annual salary of $63,130 and has been promoted twice, first to corporal in 2014 and then to sergeant in 2019. It was not immediately clear whether Stump, who has been with the police department since 2001, has had any decreases in salary. 
Last week, Mackey accepted a $10,500 settlement from the city's Risk Management division, which handles such claims for the city. Risk Manager Nick Webster offered the $500 to refund Mackey for 10 percent of the $5,000 bond he paid, according to a recording of a call between Mackey and Webster on Feb. 12. Mackey allowed a Journal reporter to listen to the call and record it.
Mackey faced charges of assault on a law-enforcement officer, resisting an officer and noise ordinance violations, but Forsyth County prosecutors dismissed all those charges in November "in the interests of justice," according to records in the Forsyth County courthouse's computer system. 
The settlement means Mackey cannot pursue a civil lawsuit, but he wants criminal charges filed against the officers. 
When asked by the Journal for comment on Mackey's case, Thompson declined through City Attorney Angela Carmon.
Thompson said in the Jan. 12 letter to Mackey that she takes seriously allegations of misconduct lodged against officers. She said that the Professional Standards Division conducted a thorough investigation of Mackey's complaint, including interviewing him and the officers involved and reviewing incident reports and body-camera footage. 
Gray declined comment on Tuesday. Frankland did not immediately respond to a request for comment that was sent to his email. 
Stump could not be reached for comment.
"I'm just fed up," Mackey said. "I'm not letting Winston-Salem get away with this. Period. I will take this all the way to the grave."
Loud music
Mackey said he has a business cutting yards and doing roofing and other construction work. He also does those kinds of jobs for a pair of gas stations on Liberty. On the night of March 2, 2020, he was preparing to do similar work at the Liberty Citgo gas station at 1522 N. Liberty St.
Mackey said he was sitting in his truck waiting for the owner to come. Mackey said he was playing music at the time. 
Frankland was driving down 16th Street, and stopped his patrol car, telling Mackey that his music was too loud and that he needed to turn it down. Mackey said he turned his stereo off.
"If I go down the street and come back and hear your f****** music, I'm taking your black ass to jail," Frankland said, according to Mackey. Mackey asked for Frankland's name and badge number. 
In his incident report, Frankland said Mackey cursed and yelled at him. Either way, after the exchange, Frankland pulled his patrol car into the parking lot. At that point, Mackey was standing outside his truck. He said his keys and his phone were in the truck and he was unarmed. 
Mackey said Frankland told him he was under arrest and then punched him on the right side of his face several times and placed his forearm on Mackey's throat. In his complaint with the city's police department, he said that Frankland had his forearm to his throat for about three minutes. 
Frankland said that Mackey hit first and resisted arrest. Everything he did was to get Mackey under control and take him into custody, Frankland said in his incident report. 
Frankland acknowledges in the report that he placed his forearm to Mackey's throat but stopped because of the "potential appearance that I was choking Mr. Mackey."
Mackey was able to get away, and ran toward a car parked at a gas pump. 
At that point, a bystander, Rhanda Leigh Thomas, started shooting video on her cellphone. Thomas, who has known Mackey for about five years, said she was about to walk away when she heard yelling. She then saw an officer taser Mackey, who was on the ground, a moment she captured in the video. She also captured an officer with his knee in Mackey's back as he lay on the pavement. 
"It was crazy," she said. 
The footage shows Frankland chasing Mackey around a car. Mackey repeatedly tells Frankland to get away from him. Mackey yells that Frankland punched him and he's afraid to let Frankland get near him. He also asks Frankland to call his supervisor, in this case, Stump.
"Over some music?" shouts Mackey at one point. As Frankland moves closer, Mackey goes the other way around the car and asks for his keys. 
"I did exactly what you asked me to do," Mackey tells Frankland. "You had no right to put your hands on me."
About that time, Thomas and another witness tell Mackey they have gotten his keys and phone from his truck. 
Once he gets his keys, Mackey runs to another car with Frankland chasing him. Thomas says she is walking away. 
Then yelling can be heard, and Thomas starts walking back, still recording. Frankland tells Mackey to get on the ground and as the camera turns toward them, Frankland has hold of one of Mackey's legs and pulls him to the ground. Frankland tackles him and puts his knee on Mackey's back. Mackey is flat on the ground, near the entrance to the store. 
As this is happening, bystanders try to reassure Mackey. They also tell him the incident is being recorded.
One man chants, "Jehovah" over and over again. 
By that time, Gray arrives. Frankland tells Mackey, who is already on the ground, to get on the ground.
Both officers then taser Mackey, who is face-down. Mackey screams and his body twitches. 
A man yells, "That's f***** up!" at the officers. 
Frankland and Clay said in their reports that they used their Tasers on Mackey because he continued to resist and assault them. 
Frankland said in his report that Mackey refused medical treatment, and Gray and Stump both said Mackey was noncompliant, uncooperative and resistant. Mackey said he declined to go to the hospital because he had to work that morning. 
Mackey said Stump didn't do anything to intervene and that Gray also assaulted him. 
Mackey said he has not seen the body-camera footage, despite numerous requests for it.
His criminal defense attorney, Ashley DiMuzio, also never saw the footage before prosecutors dropped the charges against Mackey in November. DiMuzio could not be reached for comment. Mackey said city officials told him he could not see the footage because of the investigation. Carmon said there is a process by which Mackey can request to see the footage. Under state law, Mackey can request the body-camera footage from the Winston-Salem Police Department. The department has discretion on whether to grant the request, though, and if the police department says no, Mackey can appeal to the court system. 
The Journal plans to file a petition to have the video made public.
City response
The day after the incident, Mackey filed a complaint with the Winston-Salem Police Department's Professional Standards Division.
Complaints filed with that division are investigated by the Internal Affairs Section and the findings are forwarded to the police chief. The chief sends the person who filed the complaint a letter once the investigation is completed. The letter says whether the allegations were found to be accurate, false or unable to prove. The letter will not tell the person specifically what the officer did wrong, though. Nor will it say what actions, if any, were taken against the officer. 
According to the city's website, the chief "cannot provide you with specific information regarding disciplinary actions taken against an employee."
In this case, Mackey received a letter on Jan. 12, 10 months after the incident.
"The investigation revealed that Officer Frankland did not operate within the guidelines of established departmental policies and procedures," Thompson wrote. She said as a consequence, appropriate action was taken.
In a response to questions from the Journal, Assistant City Attorney Lori Sykes provided information showing that Frankland did not have any demotions during his time as a Winston-Salem police officer. Neither did Gray. Frankland was hired in 2017; Gray in 2018.
Sykes did not provide any more information, citing the state's personnel privacy laws.
She would not say whether any of the officers were placed on administrative duty during the investigation. 
Assistant District Attorney Kevin Olsen dismissed the charges against Mackey in November. Mackey didn't find out about the dropped charges until January.
Court documents don't say why the charges were dismissed. In the court's computer system, it says that the charges were dismissed "in the interests of justice."
Took everything away
On Friday, Feb. 12, Mackey sat in his home with his fiancée, Anita Beatty. 
His voice still cracks with anger months after the incident, his voice rising as he recounts what happened to him.
Mackey admits he's been in trouble in the past. But he's been out of prison since 2013 and he said he's been trying to get his life together. 
That's why he started his business cutting lawns and doing roofing and other construction work. But now, he said, he can't work due to back injuries from the incident. 
Mackey said he feels a kinship with George Floyd, who died two months after Mackey's incident. Floyd died after a white police officer placed his knee on Floyd's neck for nearly nine minutes. Floyd's death prompted protests in Winston-Salem and around the country. 
Twice on Feb. 12, he talked with Webster, from the city's Risk Management department. 
"What about my bond money?" Mackey asked at one point in the call recorded by the Journal. 
"Five-hundred dollars? $10,500. If that's what you want, we'll pay you $10,500 and call it a day," Webster responded. 
Last week, Mackey said even though he cannot file a lawsuit due to the settlement, he still wants to pursue criminal charges. According to a letter from Capt. Jose Gomez of the Professional Standards Division, Mackey would have to contact the State Bureau of Investigation to pursue a criminal investigation. 
People not satisfied with the police chief's decision in cases such as Mackey's can appeal to the police department's Citizens Police Review Board, a fact-finding body established in 1993. The board must first determine if a hearing should be held. If it holds a hearing, the board can hear testimony and review a summary of internal and external complaints against an officer. The board will then send its findings to the city manager, who will either uphold the police chief's decision or overturn it. The board's hearings are not public. 
Mackey has appealed the ruling to the review board. Carmon could not immediately say whether a settlement, in general, would affect a complainant's ability to appeal to the Citizens Police Review Board. 
And Thompson has not called him, Mackey said, though he said he's left messages. 
"It seems like everything I built ... this man (Frankland) took it all away from me," he said. 
Mackey also tells a story about something else he says happened March 2, 2020. When Mackey was at the magistrate's office that night, he asked an officer why he was being arrested.
The officer, Mackey said, told him police could do whatever they wanted.
"They're supposed to be serving and protecting, not arresting me on false pretenses," he said. "He is supposed to be upholding the law. How are you upholding the law?"