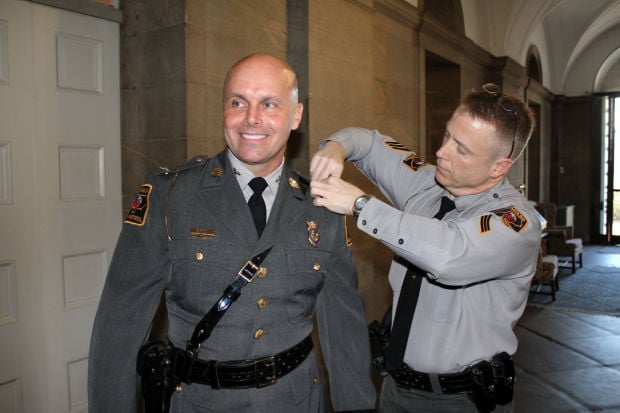 Gov. Pat McCrory named Col. William J. Grey Thursday as commander of the North Carolina Highway Patrol. He is a 22-year veteran of the agency.
Grey, 52, a 1979 graduate of Parkland High School in Winston-Salem, was sworn in during a ceremony in the old Capitol in Raleigh. He immediately took over command of the highway patrol, which has a budget of $184 million and 1,450 sworn troopers.
McCrory also appointed Gregory K. Baker of Raleigh as the director of the N.C. Alcohol Law Enforcement division and Glen B. Allen as chief of the State Capitol Police.
"These men have compiled exemplary records in law enforcement and are well equipped to carry out their new responsibilities," McCrory said in a statement.
Grey, of Cary, said he appreciated that McCrory appointed him to the post, making him the 26th commander of the high way patrol. He replaces former Col. Michael Gilchrist, who retired in February.
"As a team, the men and women of the N.C. Highway Patrol will continue to move forward and provide excellent service to the people of North Carolina and look after each other," Grey said.
A native of Orlando, Fla., Grey said that his family lived in Wallburg in northern Davidson County. He attended Philo Middle School, Hill High School and then Parkland High School. His wife and two adult children live in Clemmons.
After serving for 10 years in the U.S. Marine Corps, Grey joined the highway patrol in 1991. He was initially stationed at its office in Winston-Salem and he later joined the patrol's interstate interdiction team. He was promoted to the rank of sergeant in 1998 and steadily rose through the ranks as he also served in Greensboro, High Point, Cary and most recently in Raleigh.
Grey received a bachelor's degree in criminal justice from Guilford College in Greensboro in 2008.
Trooper Lester Burns, a 28-year veteran and a former colleague of Grey in the patrol's Winston-Salem office, said Thursday that Grey was an effective trooper.
"He's hard charger and uses his talents from the Marine Corps to establish good relations with his fellow troopers and the public," Burns said. "He's a motivator. He is going to bring a lot discipline to the N.C. Highway Patrol, and the public will recognize him as true leader in this position."
Burns said that Grey will work to restore the public trust in the agency, which has endured several scandals over the past decade involving some of its troopers and administrators.
"He (Grey) never had disagreement with any trooper while he was here, and everyone respected him," Burns said.