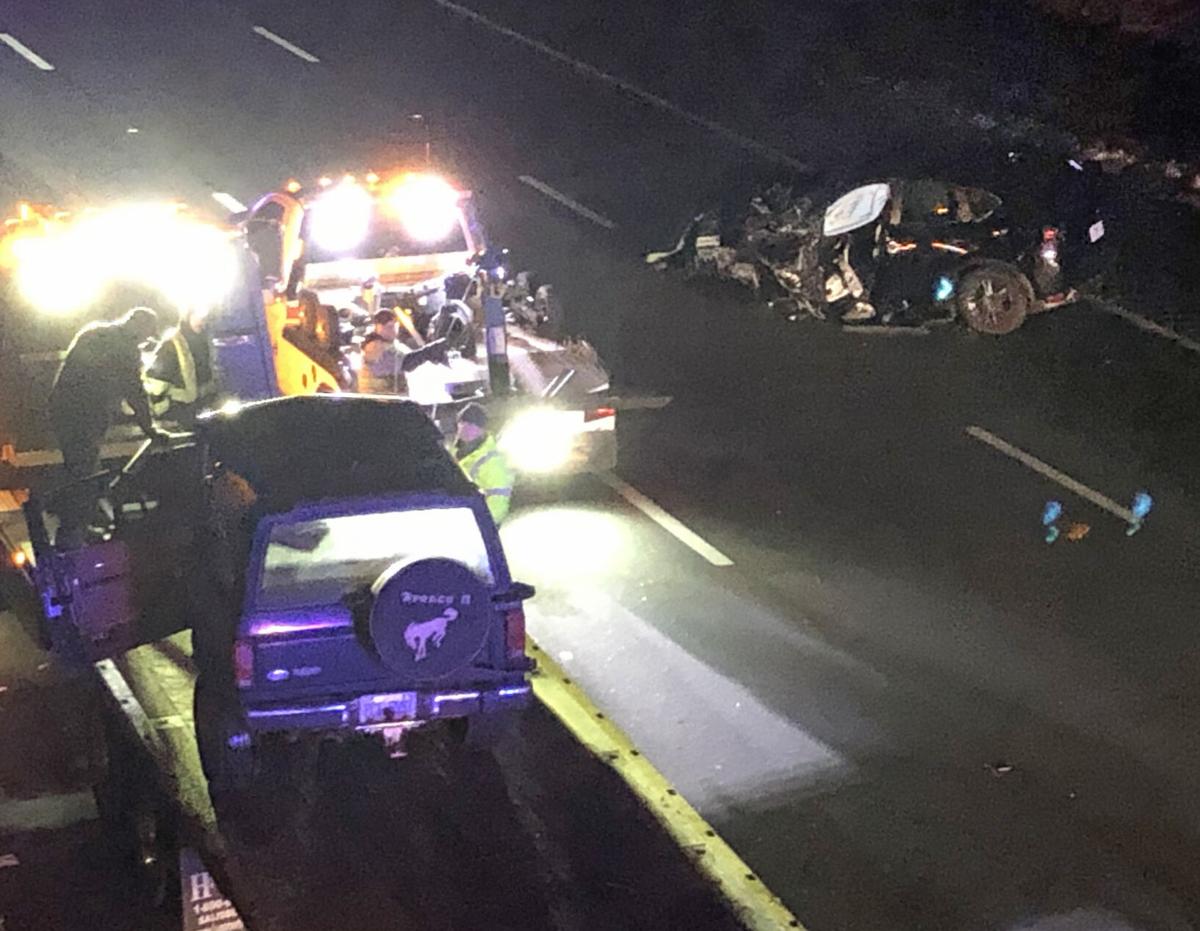 A wrong-way driver on Interstate 40 between Clemmons and Winston-Salem died Monday night when his Ford Bronco collided with a westbound Mazda SUV near the McGregor Road bridge crossing, the N.C. Highway Patrol said.
The driver of the Mazda and a passenger in his vehicle were taken to Wake Forest Baptist Medical Center.
The wreck occurred at 6:12 p.m. in the westbound lanes of I-40 as rush hour commuters made their way toward Clemmons between the I-40/U.S. 421 split and the Lewisville-Clemmons Road exit.
Troopers say they don't know where the man got onto I-40.
Witnesses who contacted the Journal said that the Bronco's headlights were not on as it made its way east on the westbound section of I-40. Winston-Salem police started getting calls about the wrong-way driver about 6:05 p.m. That's about 17 minutes past sunset.
Debbie Flinchum said that, even though it was rush hour, there were not that many cars on that stretch of I-40 when she saw the wrong-way driver. Flinchum was in the right lane approaching the Lewisville-Clemmons exit when she saw the Bronco going the wrong way.
Another witness, who asked that her name not be used, said that she saw cars swerving to avoid the Bronco as it made its way east in the lane closest to the median.
The Ford and the Mazda collided head-on, said Trooper Jayron Rankin of the N.C. Highway Patrol. The driver of the Bronco was alone in his vehicle.
He was driving slowly the collision occurred, Rankin said. Neither vehicle made skid marks on the highway before the collision, indicating that neither driver had the opportunity to try to stop.
Rankin said the Mazda was going about 65 miles per hour when it collided with the Bronco.
The investigation is ongoing, and no names were released Monday night.
The driver of the Mazda was more seriously injured than his female passenger, troopers said, and was being treated for his injuries at the hospital. The passenger was being checked out for injuries but she was not seriously injured, Rankin said.
Rankin said that the man who died was 78 years old and lives in Rockingham County.
After the collision, and with rush hour traffic jamming all three westbound lanes, Winston-Salem police officers scrambled to quickly block off westbound I-40 at the split, at the same time alerting emergency responders that only the emergency lane was open for them to use.
The westbound lanes were closed for almost three hours while troopers carried out their investigation and brought in wreckers to remove the damaged vehicles. The highway reopened shortly after 9 p.m. after the wreckage was removed.
Rankin said there was no odor of alcohol about the wreck scene and no indication thus far of alcohol use being a factor in the wreck.