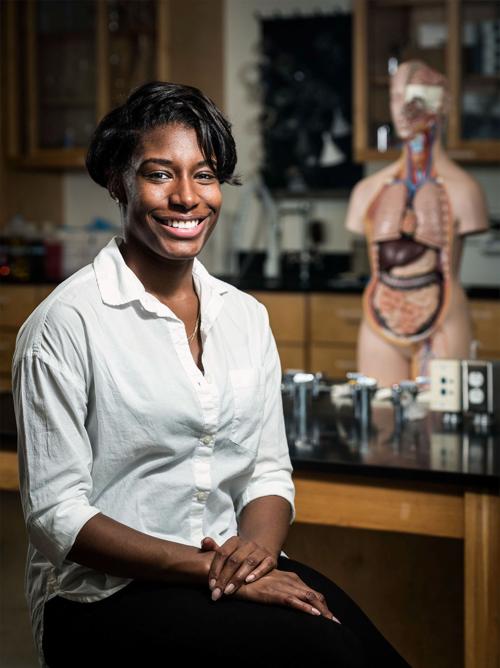 When Breanna Dixon needed to raise about $4,700 to travel to Portugal this summer for a medical trip, she turned to GoFundMe.
Dixon, a senior biology major at Winston-Salem State University, recently received a fellowship through Atlantis Project, a pre-med fellowship abroad program. By participating in an Atlantis Fellowship, students spend about 100 hours shadowing doctors in multiple specialties in hospitals abroad.
At first, Dixon, who is 23 and a native of Charlotte, wasn't so sure about starting a GoFundMe campaign.
"I didn't want to make it seem like I'm out here begging for money," Dixon said.
She thought about holding a raffle. She also considered working on weekends but knew that would be tough given the demands of her biology major.
Dixon is also the captain of the varsity cheerleading team at WSSU. She was awarded the 2016-2017 All CIAA Cheerleading Team Award.
She said she wanted to put all her efforts into her classes to graduate Friday.
Dixon also noticed that a lot of people had GoFundMe accounts, so on Feb. 14, she started her GoFundMe campaign.
"I went ahead and did it and surprisingly within two weeks, I was up to, I think, $1,000," she said. "I was really shocked."
For her trip, an initial payment of $800 was due on Feb. 25 to secure a spot, and a final payment of $3,899 was due last month.
Dixon managed to raise $1,100 of her $4,700 goal on GoFundMe prior to the April deadline. Donors included family, friends and professors.
With the help of her parents, she was able to pay the remaining $3,899 by using a credit card, she said.
Her plans are to continue raising money until her trip in June to help pay off that credit card debt.
Crowdfunding
Crowdfunding, a form of crowdsourcing, is defined as "the practice of funding a project or venture by raising many small amounts of money from a large number of people, typically via the internet." It has become an option for students looking for alternative and creative ways to raise money for college and other educational needs.
GoFundMe is one of a number of popular crowdfunding platforms.
"GoFundMe was created in 2010 and we've seen the vast majority of fundraising for college tuition in the last two and a half years," said Bart Jackson, a spokesman for GoFundMe. "Campaigns related to education are one of the fastest growing categories on GoFundMe."
In North Carolina, there have been 5,162 GoFundMe campaigns aimed at helping students pay for tuition and other college expenses, according to a recent GoFundMe guidebook. The total money raised has been $1.93 million and the total donations have been 33,600 in the state.
Lynn Pasquerella, president of the Association of American Colleges and Universities, said in an email there are a variety of reasons why crowdsourcing has become increasingly popular, "not least of which is its effectiveness."
She said that often financial aid packages awarded to students do not come close to covering the full costs of college, especially for non-traditional aged students with families.
"For instance, the 2017 report of the Wisconsin Hope Lab by Sarah Goldrick-Rab, Jed Richardson and Anthony Hernandez unveils growing rates of food insecurity among community college students, with two out of three experiencing this phenomenon," Pasquerella said. "At the same time, half of students within this population are facing shelter insecurities and 13 to 14 percent identify as homeless."
"Students know that alumni and other constituencies respond positively to personal narratives where they think they can make a real difference in transforming lives," she said. "However, the success of these initiatives has frustrated many college advancement officers who are trying to raise funds for their colleges and universities from the same individuals who may not be fully informed regarding the constraints involving the distribution of federal and state financial aid."
Woman with a plan
Exazevia Logan, Dixon's faculty adviser and an associate professor of neurophysiology in the Department of Biological Sciences at WSSU, said he thought Dixon came up with a brilliant idea to raise money for her trip.
"I'm guessing it's the way of the future and it makes perfect sense," Logan said. "Every little bit helps when you're trying to raise money," he said of crowdfunding.
Logan called Dixon a solid student, saying she was a cheerleader and student athlete.
"She had to really balance the rigors of the biology department, which is one of the most difficult majors on campus, with her being a cheerleader for fall and spring sports. But she did a really good job of it. She came in with a plan."
He believes Dixon's outgoing and diplomatic personality will serve her well as an Atlantis Fellowship.
"I think she's going to do well with students from different areas of the country," Dixon said. "She's from Charlotte so she's been here in the South most of her life. I think it will be good to go out and expand and meet people from different parts of the U.S. and experience the culture in Portugal."
Dixon will leave for Portugal on June 10.
"I really think that it's going to open my eyes to the different specialties that they are willing to show us because I'm not just going to be shadowing one doctor in one specialty," she said. "I'm going to be shadowing a variety of doctors."
When asked if she'd been to Portugal before, she said: "I've never been on a plane before."
Dixon, who is interested in obstetrics and gynecology, found out that a WSSU alumnae, who gave her a donation for her trip, is a pediatrician in Charlotte.
"She said that when I get back from Portugal, I could also shadow her," Dixon said.