Craig Cromer is a facilities manager at the University of Miami and has had Miami Hurricanes season tickets with his wife, Kimberly Cromer, for about seven years. At every game, they hang an American flag over the railing right in front of their seats.
Their rescue mission to catch a stray cat as it fell from the upper deck, Kimberly said, is "probably the strangest thing that's happened."
Early in the second quarter of No. 22 Miami's home-opener against the Appalachian State Mountaineers, a murmur rose up from the student section at Hard Rock Stadium. The students, many attending their first-ever home game, noticed a cat dangling from the upper deck. The Cromers turned around and first thought it was a dog. Another fan nearby thought it was someone's kid.
Once the Cromers realized what was happening, they sprung into action. Craig ripped his flag free from his zip-ties, and he and his wife stretched it out to create a landing pad for the terrified cat.
They stood there for about two or three minutes, Craig estimated, while the cat peed on the fans below.
"It seemed like it took forever," Craig said.
Eventually, the cat lost its grip and tumbled down toward the suite level. The Craigs' flag did just enough to break the fall and let a group of students in the section below grab it as it fell to the ground.
The entire corner of the stadium in Miami Gardens, right by Miami's tunnel, erupted in cheers as one student raised the cat in the air like it was Simba from "The Lion King." Joe Zagacki, whose booth was right by the action, provided play-by-play for South Florida on WQAM.
"This," Craig said, "is my first catch."
Miami (1-1) wound up winning 25-23 for its first victory of the season, although coach Manny Diaz wasn't pleased with his red-zone offense. He wondered if maybe the resilient feline could help assuage his concerns.
"I don't know anything about that or what was going on," he said, "but I'll tell you if the cat can help our red-zone offense, I'll see if we can get it a scholarship."
Builders discover stash of 239 gold coins worth up to $356,000, and more of this week's weirdest news
Builders discover stash of 239 gold coins worth up to $356,000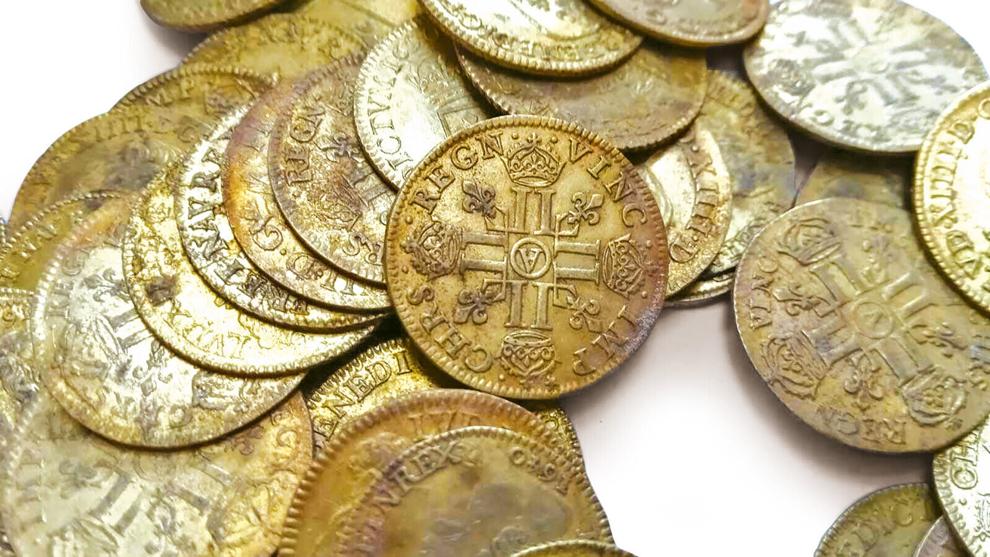 Builders discovered a stash of 239 gold coins at a manor in northwestern France which could earn up to 300,000 euros ($356,490) at auction later this month.
The three craftsmen found the treasure while working on the restoration of a house in Plozévet, Brittany, in the coastal area of Bigouden in 2019, according to a press release from auctioneers Deloys ahead of the sale. The property had been purchased by a couple in 2012.
While merging a barn and a nursery, the builders found a metal box lodged inside a wall, which had gold coins inside. Just days later, above a beam, they spotted a purse containing another set of coins.
All 239 coins were minted during the sovereignty of Louis XIII and Louis XIV, according to the Regional Preventive Archaeology Service in France, which authenticated, analyzed and researched the coins.
The oldest of them dates back to 1638, with the most recent from 1692.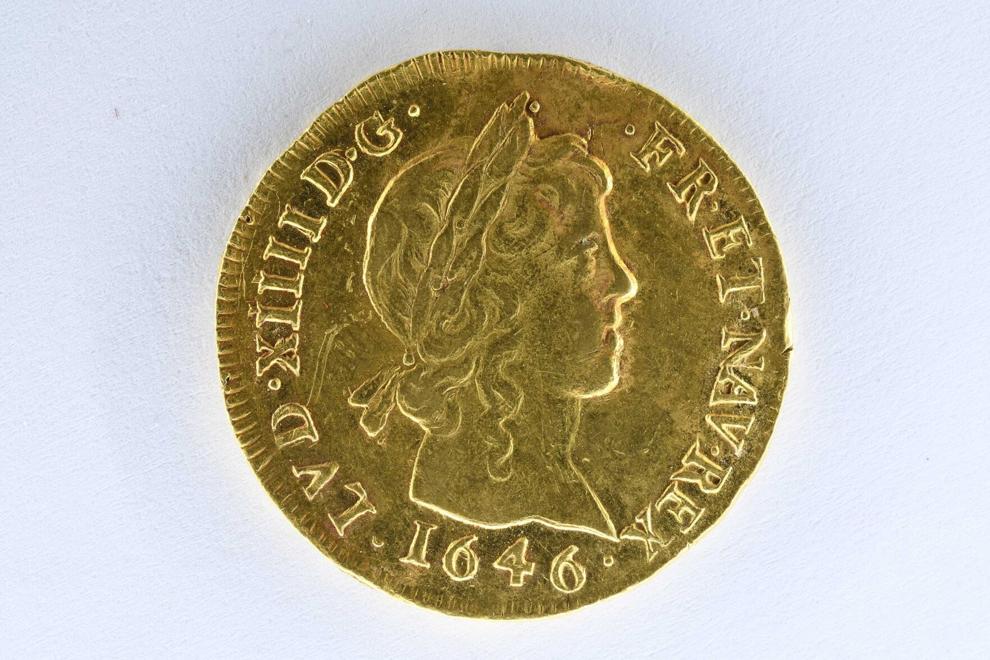 There are several especially rare coins among the collection, including the Golden Louis with Templar Cross, Golden Louis with a long curl, and Louis XIV by the Atelier de Dijon -- which has an estimated value of 15,000 euros ($17,805).
The mansion itself was constructed in the 13th century and would have been owned by a family of affluent merchants or farmers, with the identity of the last known occupants stemming from the 18th century.
The Iroise Sea, located just off Brittany, was a bustling area for trade in the 17th century due to the exportation of Bordeaux wines to England, and cereals to northern Europe, according to the press release.
There was financial decline in the region from 1750 to 1850, partly due to the expansion of docks in Normandy, the release adds. However, the development of the fishing industry revived the local economy.
The value of the coins will be determined at Deloys auction house in Angers, France, on September 29.
They will be split between the three builders who discovered the coins and the two owners of the manor, with each group receiving half of the funds.
Florida man fed up with potholes plants banana tree in road
FORT MYERS, Fla. (AP) — A man fed up with a private road in poor condition near his southwest Florida business has a novel solution: plant a banana tree in a pothole to warn motorists away.
Last week, Bryan Raymond planted the tree in a stubborn pothole along Honda Drive just off U.S. 41 in south Fort Myers. Raymond, who owns Progress and Pride Fitness Group, said the idea of planting a banana tree ripened in his mind after having to fill holes in the street with cement multiple times.
Because Honda Drive is a private street, county officials said, it's up to the business owners to maintain the street.
For Raymond, the banana tree is an attention-grabbing repair.
"If we have to maintain it and make sure nobody gets hurt, we are going to put something obvious there to make sure nobody gets in the hole," Raymond told television station WBBH.
For some time, Raymond's security cameras have caputured problems along the street, including a pothole damaging cars and floodwaters causing his trash bin to float away.
Some who work along the road say anything is better than potholes.
He's seen so many cars hit a pothole on the street and "bottom out" that it's a real concern.
Charlie Lopez, who lives in nearby Cape Coral, agrees.
"It messes up your tire, messes up the rim and then it basically messes up your day," he said.
For some, though, the sight of a tree brings disbelief.
Identical: Nicolai Højgaard duplicates twin brother's win
GUIDONIA MONTECELIO, Italy (AP) — Identical twins, identical results.
Nicolai Højgaard sunk a birdie putt on the 18th hole to win the Italian Open on Sunday, a week after his identical twin brother, Rasmus, won the European Masters in Switzerland by also making a birdie with his final stroke.
"To finish it off like this, and to do it a week after Rasmus won, it's perfect," Nicolai said.
It marked the first time in European Tour history that brothers have won back-to-back tournaments.
The 20-year-olds from Denmark are considered two of the continent's brightest prospects.
In a nod to the future, Nicolai's success came on the redesigned Marco Simone course just outside Rome that will host the 2023 Ryder Cup.
"In a couple years I could definitely see myself playing," Nicolai said after collecting the winner's check for 485,000 euros ($575,000). "That's one of my biggest dreams — to win the Ryder Cup. Not just to participate but to win ... and I would love to come here to Rome in '23."
And he doesn't need to look far for the perfect partner for foursomes and fourball.
"Me and my brother would love to play together," Nicolai said. "We've been doing that back home when we're playing events. So that's definitely a goal of ours and I can't wait to come back."
For his first European Tour victory, Nicolai shot a final-round 71 to finish one stroke ahead of 2018 Ryder Cup standout Tommy Fleetwood and Adrian Meronk of Poland.
Rasmus, who finished in a tie for 18th this week, walked the course again shortly after his final round to watch his brother complete the victory, then rushed out onto the 18th green for a celebratory hug with Nicolai.
And to think that Nicolai was the last man added to the field this week with a wild card from the Italian Golf Federation.
Nicolai held the lead going into the final round but risked ending up in a playoff when his tee shot on the 626-yard, par-5 18th hole landed in the left rough. After laying up safely, though, Nicolai spun his third shot to within four feet of the hole and then made the ensuing putt to clinch the trophy.
"On 18 I knew I had to make four," Nicolai said. "I've been nervous many times before but nothing like it (on 18). I couldn't almost move the putter to be honest.
"I was getting quite emotional when I holed that putt and looked over to see my caddie and Rasmus with my girlfriend and his girlfriend here."
Nicolai's previous best result was a second-place finish behind Sergio Garcia at the 2019 Dutch Open, while Rasmus' victory in Crans-Montana was his third on the European Tour.
Nicolai drove the green for an eagle at the par-4 16th hole on Saturday.
"I drove the ball very good the first three days and today was a bit shaky," Nicolai said. "Everything was a little bit shaky today but I would say my length off the tee was probably the biggest advantage this week."
Francesco Laporta of Italy finished fourth, two strokes back.