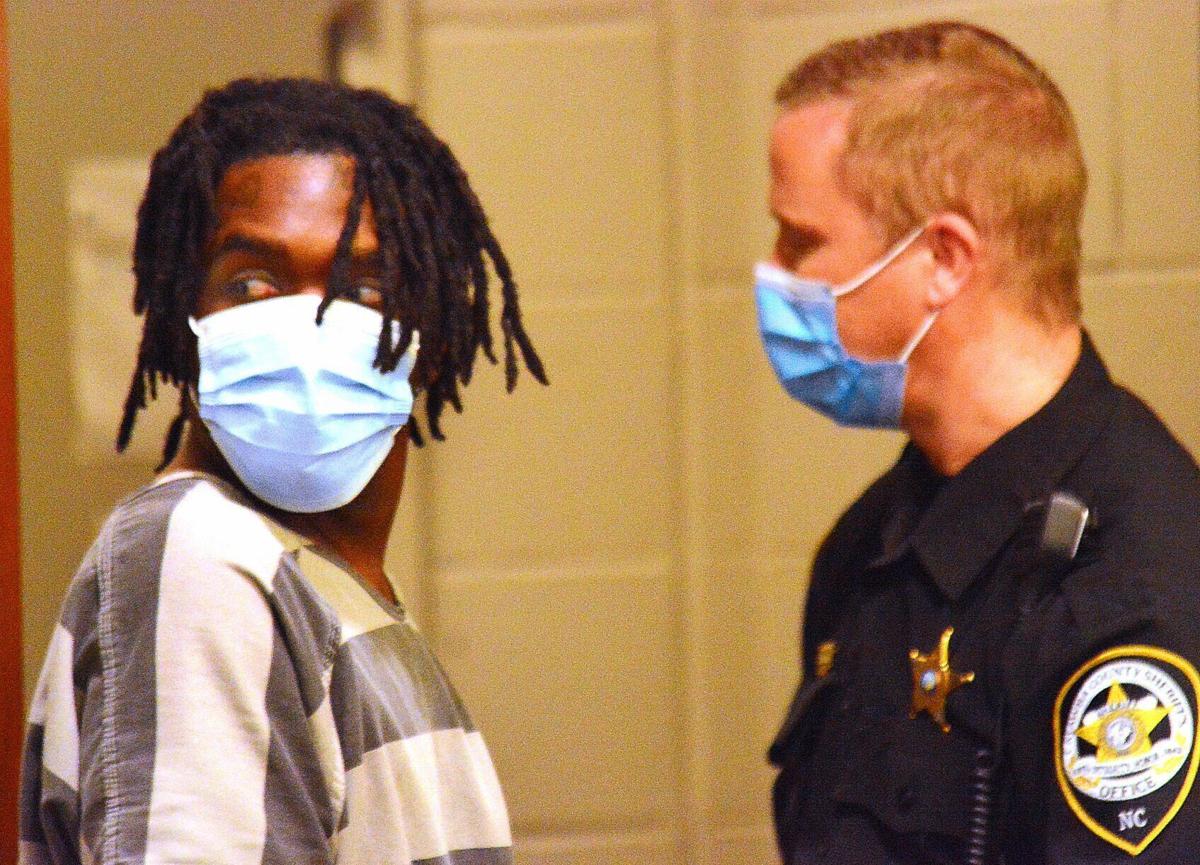 A Lenoir-Rhyne University student who was shot and killed at an apartment complex in Hickory was lured there by a couple intent on robbing him, a suspect in the case is alleged to have told police.
Quavius Shamond Izard, 21, of Hickory is charged with first-degree murder in this case. Conover resident Hailee Maureen Melanson, 20, is charged with accessory after the fact.
Melanson told police she and Izard lured 19-year-old Omari Alexander to the apartments with the intention of robbing him, Catawba County court documents say. Melanson also said Izard was the shooter, according to court documents.
Alexander, a Lenoir-Rhyne University football player, was found dead in a vehicle parked at the Hickory apartments on Nov. 20. According to court documents, Alexander, who is from Concord, suffered gunshot wounds to his head and torso.
Investigators found his phone and discovered his last call was to Melanson. Police believe Melanson and Alexander met the day before he was killed, Capt. Jeff Young with the Hickory Police Department said.
During an interview on Nov. 20, Melanson told police she was in Alexander's vehicle when he was shot, according to the documents. Police asked her how Alexander was shot on the right side of his head as well as the lower left torso. She said her arms were too small to hold a gun and she did not shoot Alexander, court documents said.
Melanson told investigators Izard shot Alexander.
"We believe there is only one shooter," Capt. Young said.
Melanson said that after the shooting she drove Izard back to her Conover home where they changed clothes. Melanson then drove Izard back to his apartment, according to the documents.
Police searched Izard's apartment and found a black Heckler & Koch semi-automatic 9mm handgun, according to the documents. Police test fired the gun and said the shell casings from the test fire resembled the spent casings recovered from the shooting scene.
Police interviewed Melanson again on Nov. 22, according to court documents. Melanson told them she texted Alexander to meet her at the Civitan apartments.
Melanson drove Izard to the apartments in her 2008 Dodge Avenger and parked by a dumpster, according to the documents. Izard got out of the car and hid behind the apartment buildings. Alexander then arrived driving a black 2015 Chevrolet Camaro.
Melanson got into Alexander's vehicle. She sat in the front passenger seat. Melanson told police she saw Izard open the driver's side door and shoot Alexander twice, according to court documents.
Izard was arrested four days after the fatal shooting at a home on Edgemont Road in Collettsville.
Capt. Aaron Barlowe with the Catawba County Sheriff's Office said people living on the road in Collettsville found Izard in one of their vehicles, a burgundy Toyota 4Runner, and held him at gunpoint until law enforcement arrived.
Capt. Young said Melanson's account of what happened is the story from just one person. Police are continuing to investigate the fatal shooting, he said.
Izard is scheduled to return to court on Jan. 18 and Melanson on Feb. 7.