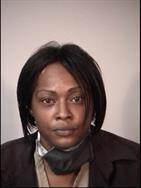 A woman who used her job as a Fredericksburg, Va. police dispatcher to feed information to suspected criminals was ordered Wednesday to serve nearly two years in prison.
Karen Stephenson, 41, was sentenced in Fredericksburg Circuit Court to a total of 17 years with all but a year and 11 months suspended. She was previously convicted of two felonies, conspiracy and possession of illegal drugs with the intent to distribute as an accommodation, and seven misdemeanors.
According to evidence presented by prosecutor Kevin Gross, Stephenson was working as a dispatcher in the city police communications center in July 2019, when an informant told police that Stephenson was relaying information about ongoing drug investigations to suspects. The informant had been an associate of Stephenson for a number of years and said she regularly purchased drugs, mostly prescription pills, for Stephenson in exchange for being given drugs for herself.
The informant said Stephenson had been feeding information about ongoing investigations to her and others for years, dating back to Stephenson's time as a dispatcher with the Stafford County, Va. Sheriff's Office. The woman testified at an earlier hearing that she turned on Stephenson as a way to get relief from her own legal problems.
City and state police set up stings in late July 2019 to verify what the informant had told them. They set up surveillance in a subdivision while Stephenson was on duty and gave her information as part of her job.
Stephenson twice used her personal cellphone to relay information to the informant, who unbeknownst to Stephenson, was working with the police.
On Aug. 2, Stephenson was under surveillance as she got money from an ATM before picking up the informant. The woman, who was wearing a recorder, used Stephenson's money to purchase drugs.
After Stephenson dropped off the informant, police stopped her vehicle and recovered pills that had just been purchased. They also recovered incriminating evidence from her home near the police station.
Gross on Wednesday referred to Stephenson as a "wolf in sheep's clothing" and "Benedict Arnold." Former co-workers said they felt betrayed by Stephenson and felt their safety had been jeopardized.
"She knew exactly what she was doing, and she needs to be held accountable," Gross told Judge Gordon Willis.
Stephenson made a brief statement prior to her sentence being announced in which she said, "I am not who he (Gross) is making me out to be."
Willis chastised Stephenson for using her position of trust to promote criminal activity. He said it was "only by the grace of a higher authority than me" that no law enforcement officers were physically hurt by her actions.
Sign up for our Crime & Courts newsletter
Get the latest in local public safety news with this weekly email.