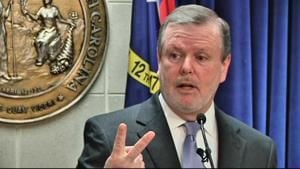 Economists say the report is another example of how North Carolinians are at a disadvantage because the state's unemployment package is one of the country's stingiest.
North Carolinians who started drawing their maximum 12 weeks of regular state benefits in early April had their state benefits end in mid-June.
By comparison, unemployed counterparts in the 44 states that receive a maximum of 26 weeks won't exhaust regular benefits until early October.
North Carolina's unemployment benefits laws only allow claimants to receive 12 weeks of regular benefits over a 52-week period, even if they are furloughed or laid off two or more times during that period.
Since July 2013, unemployed North Carolinians have been limited to 12 weeks of state benefits — tied with Florida for lowest in the nation — with a weekly maximum of $350. Arkansas, Missouri and South Carolina grant 20, while Alabama allows 14.
The $3 trillion federal CARES Act stimulus package, passed in late April, extends state benefits by up to 13 weeks for most claimants once they exhaust their 12 weeks of regular state benefits.
Even though the 13 weeks are paid by the federal government, the weekly amount adheres to state benefit guidelines of a $350 maximum. The federal pandemic unemployment-assistance (PUA) program has paid $348 million as of 10 a.m. Friday.
The 13-week extension is not automatic. According to the U.S. Labor Department, claimants "need to apply for them," which could delay payments.
Fewer claims being filed
Since mid-March, 1.22 million North Carolinians have filed more than 2 million state and federal jobless claims.
About 28.5% of the 4.23 million North Carolinians in the state's workforce as of mid-June have filed a state or federal unemployment claim.
Economists say it is too early to tell whether there is a correlation between the end of the $600 federal weekly benefit supplement, which Congress allowed to expire July 26, and fewer daily claims in North Carolina.
The authors of the report said North Carolina's state-benefit limitations are a primary factor in why the state has seen a decline in claims filed since reaching a peak in late April.
The N.C. Division of Employment Security reported Friday that new daily claims have been below 10,000 for 13 of the last 14 days.
Now that the $600 is gone ...
Some Republican leaders in Congress currently favor limiting additional rounds of extended unemployment insurance benefits, in part because they didn't want recipients — who lost their job through no fault of their own — to rely on the $600 weekly benefits instead of going back to work.
However, according to the report's authors, the expiration "will clearly lead to changes in the dynamics around unemployment."
"Will people who have delayed looking for work due to the $600 supplement return to work quickly? Will people who believed their layoff to be temporary realize that it may be permanent and begin to look for a new job?
"Of course, for them to return to work, there must be jobs available.
"It is possible that the unemployment rate may increase as people who dropped out of the labor force return to their job search."
The coronavirus pandemic has "cast a spotlight on how miserly so many state unemployment insurance systems, including North Carolina's, are and just how little so many jobs actually pay," said John Quinterno, a principal with South by North Strategies, a research firm specializing in economic and social policy.
"Given how much of the state's economy remains shut down or in limited operation due to the public health restrictions needed to counter the pandemic, the ending of the $600 per week supplement will just make the state's economic situation that much worse."
The latest version of the U.S. Census' Household Pulse Survey found that 43% of all adults in North Carolina live in a household that has experienced a loss of income since the onset of the COVID crisis in March.
President Trump intervenes
After congressional Democrats, who want to maintain the $600 weekly federal benefits, and Republicans could not reach a compromise by Friday, President Donald Trump signed an executive order Friday night that could provide up to $400 in weekly federal benefits for a limited time.
However, Trump's executive order is likely to face legal challenges because it encroached on Congress' control of federal spending, according to The Associated Press.
How many people would receive the benefit and how long it might take to arrive were open questions, the AP reported.
Trump is recommending shifting up to $44 billion from the Federal Emergency Management Agency, which provides disaster recovery assistance, toward the extended benefits.
Trump's executive order would require states to provide 25%, or $100, of the $400 weekly extended benefit.
During the legislature's negotiations of how to spend federal CARES Act money in March, state Senate leader Phil Berger said he was willing to consider raising the state's weekly maximum to $400.
Gov. Roy Cooper has said he supports a $400 state weekly benefit, or "even a little bigger than that."
However, during the 2020 session, the legislature did not take any committee action on two Democratic-sponsored pieces of legislation focused on unemployment insurance — House Bill 1075 and companion Senate Bill 792 — that would have restored the number of benefit weeks to 26 and set a weekly maximum of $400.
"States shouldn't be forced to choose which disaster victims to help," Cooper press secretary Dory MacMillan said.
"Depleting money set aside for natural disasters like hurricanes and tornadoes is a bad way to help the unemployed, especially when forecasters predict high hurricane activity.
"Congress needs to set aside partisanship to restore unemployment payments and fight the pandemic."
State borrowings?
North Carolina has about $2.29 billion left in its Unemployment Insurance Trust Fund as of Friday, having spent about 41% of its $3.85 billion since March.
It is unlikely state Republican legislative leaders would support borrowing again from the U.S. Labor Department for its share of the federal extended benefits, as up to 22 states may have to do to meet the president's funding requirement.
The offices of Berger, R-Rockingham, and House speaker Tim Moore, R-Cleveland, could not be reached for comment on the president's benefits proposal.
A priority of the GOP when the party took super-majority control in January 2013 was paying off $2.8 billion in federal borrowing to pay extended state benefits during the Great Recession. The debt was paid off in May 2015.
House Minority leader Darren Jackson, D-Wake, said that "for a state budgetary view, it would be preferable for the Feds to cover the full costs, but out-of-work employees don't need more partisan bickering. They need their checks to continue."
"We have needed to raise our state benefits since they were first reduced after the last recession, and if the Federal Government is not willing to do so, we need to do what we can to help out workers that have lost their jobs through no fault of their own."
Economists say the 25% state funding for extended federal unemployment benefits could present a conflict if it becomes necessary to divert funding away from potential use of federal CARES Act money to help local governments.
The potential requirement that states fund the extension at a 25% clip "throws a new wrinkle into things and will take some digesting and processing on the part of state officials," said John Dinan, a political science professor at Wake Forest University and a national expert on state legislatures.
Support of the 25% state contribution "depends to some extent on North Carolina getting increased flexibility for use of its CARES Act money," said Mitch Kokai, senior policy analyst with Libertarian think tank John Locke Foundation.
"If the General Assembly has to come up with a new funding source to support this federal program, support could be lukewarm at best."