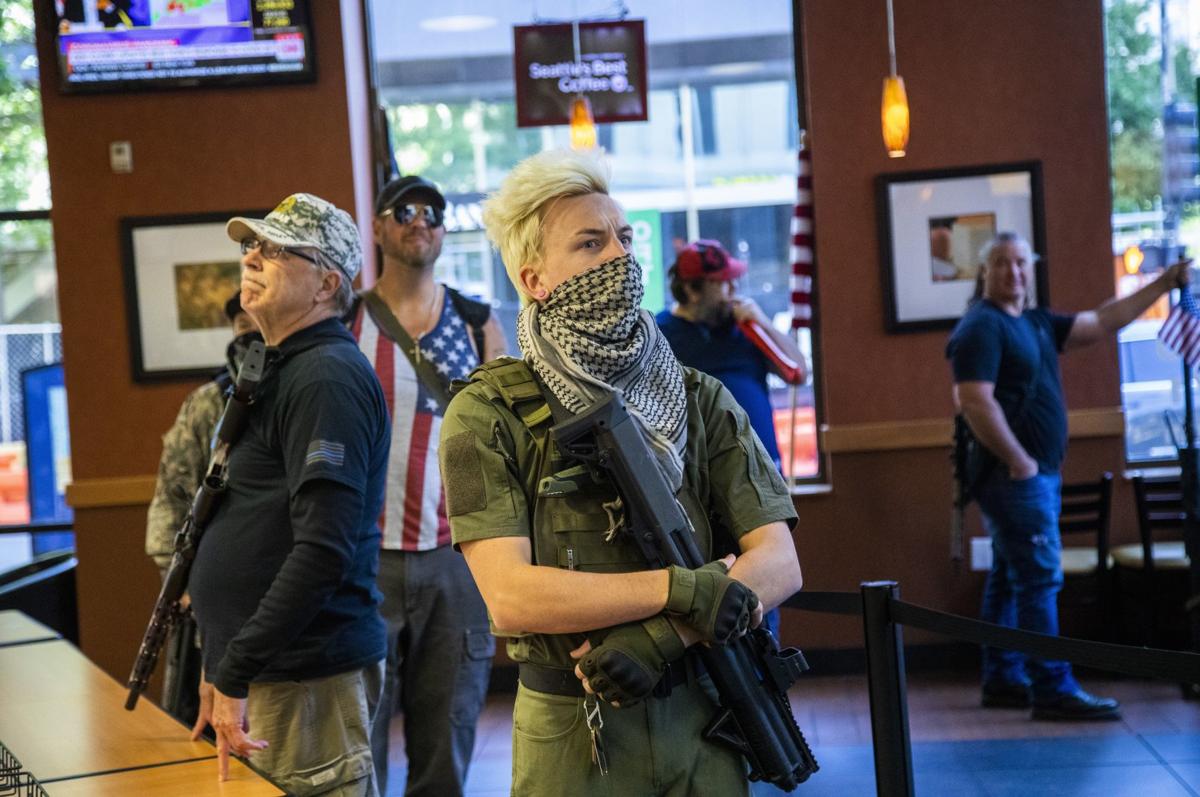 RALEIGH — A dozen people walked through downtown Raleigh Saturday afternoon with weapons and flags on the first full day of North Carolina's Phase 1 — when some coronavirus-related restrictions have been loosened.
While the group attracted some curious onlookers, they are getting even more national attention online, thanks to now-viral photos by News & Observer photojournalist Travis Long and a meme of the protesters created by a woman in Ohio.
The protesters are seen in photos ordering sandwiches from Subway on Fayetteville Street. One is carrying an AT4 rocket launcher, with a sticker saying "inert" on it, slung over his back. The man also has two pistols in holsters on his waist.
Another person, who is wearing a scarf face covering, carries a pump-action shotgun. In another photo, a man is sitting with a shotgun propped on a Subway bench while he has a sandwich in his hand. He is wearing a face covering.
And a fourth photo shows a man taking a selfie outside the shop while holding a .50-caliber wooden prop machine gun.
Photos go viral
Since Long posted the photos, they've taken on a life of their own, having been shared or liked thousands of times, including by comedians Patton Oswalt and Kathy Griffin and actress Mia Farrow.
And then a 36-year-old woman, who said her name is Nina, joined in the Twitter conversation. She tweeted the same four photos but digitally replaced the weapons with huge sub sandwiches that measure several feet long.
Reached Saturday night, the woman, who did not provide her last name, said she lives in Youngstown, Ohio, and made the photos to be funny.
"But also because the absurdity of protesting public orders meant to protect ALL people from a virus is only matched by the absurdity of bringing giant guns into the situation," she told The News & Observer in an email. "We can't shoot the virus and make it go away, so giant subs are just as useless as their giant guns."
Against stay-at-home restrictions
The gathering was organized by a group called Blue Igloo as an "opportunity for First and Second Amendment supporters to get together, meet people with commonalities and get some exercise while we're all wasting away at home," according to its Facebook page.
Some members of the group previously gathered May 1 near Oakwood Cemetery and later marched in downtown. Some members of the group wore masks, but many did not.
North Carolina is an open-carry state but is one of at least six states that bans firearms from rallies, according to McClatchy News.
On May 1 and Saturday, there were no arrests. Raleigh police walked alongside them as they traveled through downtown.
But there was a confrontation with one of the members of the group and an African-American family — a couple pushing a stroller with two children. The couple later posted on Facebook that a man carrying a pipe-wrench made intimidating comments toward them after they asked the group to keep their distance.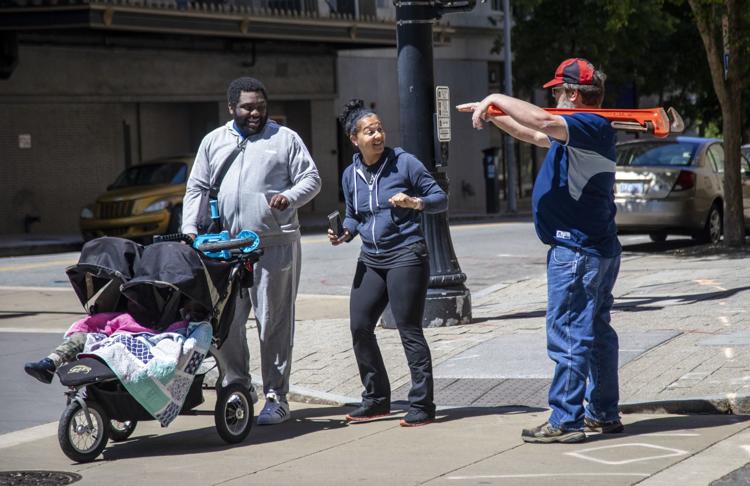 The march was live-streamed on Facebook. The person filming the walk is heard inviting other pedestrians to join them, saying they were just getting some fresh air.
Once inside the Subway, the person filming the walk asks the employees for permission to order and eat inside.
"You guys cool with us being in here?" the man asks. "We don't want to make it look like we're threatening or intimidating anyone. That's why we ask."
The employee asked them to eat outside the shop. Several protesters ate their sandwiches inside.
"I ain't hungry, but I appreciate you guys being open," the person holding the camera says before exiting.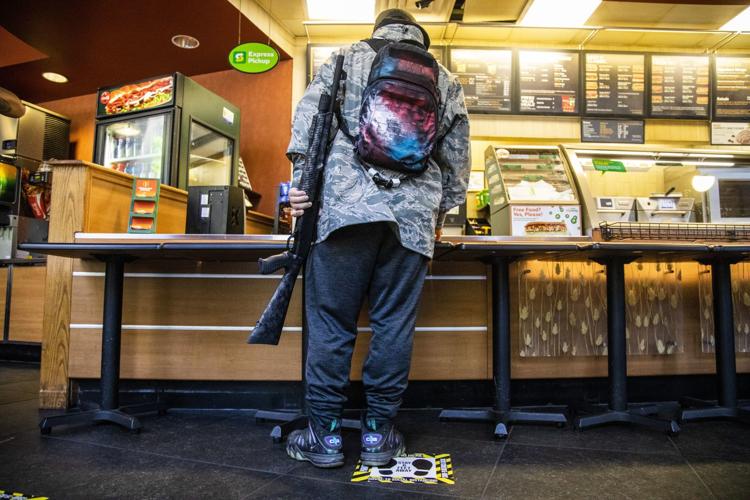 Under North Carolina's executive order, restaurants are not allowed to have dine-in seating and can only serve food for takeout or curbside to-go orders.
They left and continued walking through downtown around the Capitol, the Legislature and the Executive Mansion.
They came upon a man dressed in a Batman costume holding a sign that said, "Guns killed my parents." The group invited the man to join, and he declined. The group continued on after that.
Across the country, people have protested stay-at-home orders, saying they're too restrictive and are hurting people's livelihoods.
Health officials say that some states have been able to "flatten the curve," or not overwhelm hospitals with coronavirus cases, because people have complied with the guidelines. North Carolina has at least 14,400 cases and 550 deaths, as of May 9.
In North Carolina, Gov. Roy Cooper has implemented a three-phase plan that gradually lifts restrictions for businesses and individuals as the state meets benchmarks that includes testing, positive cases and hospitalizations.
The state entered Phase 1 at 5 p.m. Friday. It will be in effect through at least May 22.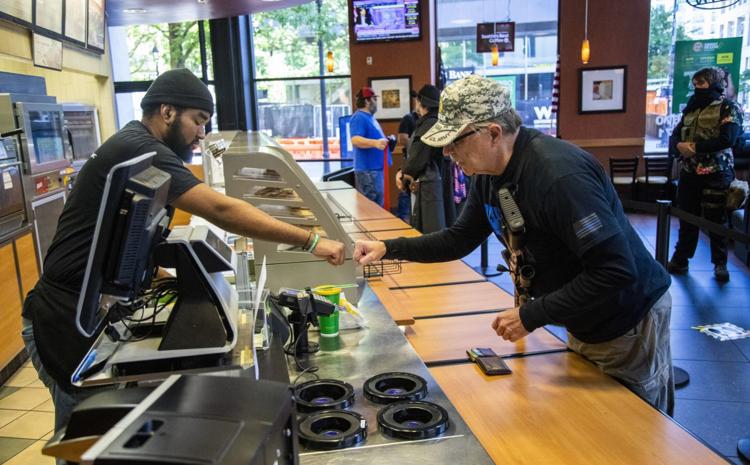 This article is published through the N.C. News Collaborative, a partnership of Lee Newspapers, Gannett and McClatchy newspapers in North Carolina that aims to better inform readers throughout the state.