You may not even know you've been bitten. But the consequences of a tick's bite can range from a minor skin irritation to illness to even death.
And the likelihood of such infections are increasing, according to data compiled by the Centers for Disease Control and Prevention.
In 2017, local and state health departments reported a record number of cases. Lyme disease, Rocky Mountain spotted fever and other tick-related illnesses increased from 48,610 in 2016 to 59,349 in 2017.
In fact, reported tick-borne illnesses in the United States doubled between 2004 and 2016.
And these, the CDC acknowledges, are only a fraction of the overall number of people with tick-borne illnesses. Most can be treated with antibiotics if caught early. Untreated, they may lead to serious health problems.
Heightened awareness
In North Carolina, tick-borne illnesses came to the forefront when former U.S. Sen. Kay Hagan fell ill in December 2016.
Her husband, Chip Hagan, said he initially thought his wife was having a stroke. Eventually, doctors determined she was suffering from Powassan virus, which caused encephalitis (inflammation of the brain).
Her recovery has been slow — she has difficulty controlling her muscles — but she's continuing to improve, Chip Hagan said.
He believes his wife was bitten during a 2016 Thanksgiving trip to the Blue Ridge Mountains. Two weeks later, she was rushed to a hospital.
Although the diagnosis of a tick-borne illness came relatively quickly for Hagan, it took years for Joe Andrews.
Andrews, who lives in Lee County, believes he contracted Lyme disease while collecting mosquitoes for a pest-control company along the North Carolina coast after Hurricane Irene in 2011.
"I'm invincible," Andrews recalled thinking at the time. "I'm the one who waded into hurricanes to measure mosquito populations."
Still, the 59-year-old noticed his joints becoming swollen. And he started having muscle aches and cramps.
"I just cowboyed it up," explained Andrews, thinking that his symptoms were nothing more than years of laboring on his farm or in the field as a mosquito biologist. He also noticed he was getting forgetful, but wrote that off to getting older.
"I'm sitting there and rubbing my wrists because it hurts so bad, and then she talked about brain fog," Andrews said.
Andrews called his doctor after the conference. But a blood test indicated he didn't have the high antibodies that would indicate Lyme disease.
In 2016, however, the issue resurfaced. After Andrews was hospitalized for seizures, his wife contacted Herman-Giddens. She, in turn, contacted Andrews' doctor and urged him to test again for Lyme disease. This time, the test showed he had latent, chronic Lyme disease.
"I'm telling you now," Andrews said, "I'm definitely cautious when I wade into the woods."
Allergic to beef
For Greensboro resident Daniel Finnegan, the symptoms came disguised as food poisoning.
Finnegan said he first became violently ill — vomiting and chills alternating with sweating — several hours after eating beef at a restaurant in 2009 or 2010. 
"Of course, the first time I thought I had food poisoning," said Finnegan, 56.
But he noticed he became ill on the rare occasions he ate steak or meatballs.
"I would go out to dinner, come home, go to sleep and then sometime, usually the next morning, I would start getting sick," Finnegan said. 
Although he's unsure he was bitten by a Lone Star tick, the former News & Record editor and publisher said he's "99% sure that this is what happened."
A bite from a Lone Star tick is associated with something called "alpha-gal allergy," according to the CDC. The reaction comes from eating meat from mammals that have alpha-gal — a sugar molecule — and, in some cases, exposure to products made from them. Alpha-gal is found in most mammals, but not humans, apes or monkeys.
Symptoms typically don't materialize until several hours after meat has been consumed, according to the CDC.
"My allergist said, 'We could spend months or years researching this and figuring out this, or you can stop eating beef.' So I stopped eating beef," Finnegan said.
He admits to eating a cheeseburger from time to time but said that doesn't sicken him.  
Symptoms of alpha-gal syndrome may lessen or even disappear over time if you don't get any more bites from ticks that carry alpha-gal, according to the Mayo Clinic.
"Maybe that gives me hope for the future," Finnegan said.
Ticks in North Carolina
The Lone Star tick, the brown dog tick, the American dog tick and the blacklegged tick (also known as the deer tick) are common in North Carolina, according to the N.C. Cooperative Extension.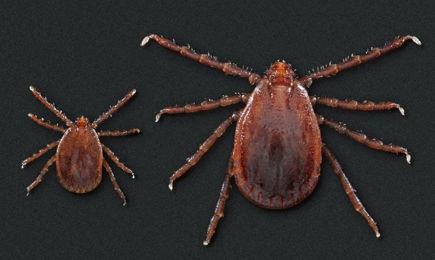 And some ticks are expanding their territory into the state. For example, the Asian long-horned tick was first reported in the United States in 2017 and reached North Carolina a year later.
In other countries, bites from these ticks have made people and animals seriously ill.
"They're a very aggressive tick," Overton said. "They basically cluster."
The blacklegged tick, which can carry both Lyme disease and the Powassan virus, has substantially expanded its range in the U.S. in recent decades. Scientists attribute this to moderate winter temperatures, reforestation and the proliferation of white-tailed deer, on which the ticks feed.
Suburban development also plays a part because people are in closer contact with deer and other tick hosts, such as mice and chipmunks, according to the CDC.
In the Triad, residents are more likely to contract Lyme disease or Rocky Mountain spotted fever, according to Tammy Koonce with the Guilford County Department of Public Health.
"Last year, we found one confirmed case of Lyme disease," she said. "We do see quite a few people who have complaints. Not everybody who is exposed to a tick will get the disease."
Still, documenting the bite is useful for tracing the source of potential illness. Symptoms of Rocky Mountain spotted fever can take two to 14 days to show up, Koonce said. For Lyme disease, it might show up three to 30 days after exposure.
"If you've been bitten by a tick, go ahead and circle that date on the calendar," Koonce said.
But preventing tick bites is the best defense. Koonce advises people to take precautions, such as wearing long-sleeved, light-colored clothing, which makes it easier to see the ticks before they get attached. Tucking your pants inside your socks also helps.
"When you get back, take a shower," she said. That can wash away ticks before they attach themselves. 
And don't forget about protecting your pets, too.
"People sleeping with their dogs — those ticks can move around," Koonce said.
Contact Kenwyn Caranna at (336) 373-7082.
Be the first to know
Get local news delivered to your inbox!