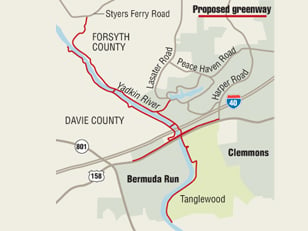 A plan to put greenway trails along the Yadkin River ran into strong opposition last night from those whose views are vital to the project:
Given markers and a map to write on, landowners marked off their riverfront properties and wrote phrases like "Not in my lifetime," "Not for sale," and — for simplicity — "No."
"It is 30 feet in front of my house," said Bonnie Myers as she studied one of the maps. If the greenway cuts across her property, she said, it would cut in two her 61 acres and take away her privacy, she said.
"If they open this up, anybody and everybody can come this way," Myers said.
Myers was among a roomful of people who filled a room at the clubhouse at Tanglewood Park last night to hear Susan Hatchell, a landscape architect, review the greenway proposal.
The idea originated with Clemmons residents during a 2009 planning process. After planners have had a chance to take in public comments, they will revise plans and see what the next steps might be.
Right now the greenway system consists of lines on a map. Hatchell's idea is that over 20 years a greenway could be built from Tanglewood Park in the south to the outskirts of Lewisville in the north, at a cost of $11.8 million.
The greenway would be for horses, walkers and bikers on the Forsyth County side and for bikers and hikers on the Davie County side. Two pedestrian bridges could span the river, and side paths would link to Clemmons and Bermuda Run.
Dick Rannick, who attended the meeting, called the plans "fabulous." He said he walks at Tanglewood a lot and would enjoy the new trail.
"I'm a big supporter of stuff like this," Rannick said.
Clemmons resident Dan Culp said the greenway is a great idea, but that planners have a lot of work to do to win over landowners.
"It is a beautiful river," Culp said. "I really feel it could be an enhancement and attraction for our area. I think there is going to be some resistance. You have to work with people and move very gently. Their primary concern is security."
Landowner Judy Rose said she felt better after hearing the presentation, but that the river bottom can be an isolated place.
"My concern is the security and safety of the people that might be using the trail," she said.
Gene Riddle wrote on the map: "Going where you don't belong. Doing what you shouldn't do. And wanting a handout to do it with."
Linda Swofford said she has a nice meadow that she's sure people would want to visit if there were a greenway.
But it's her land and she wants it to stay that way, she said
"We bought this for privacy," she said.