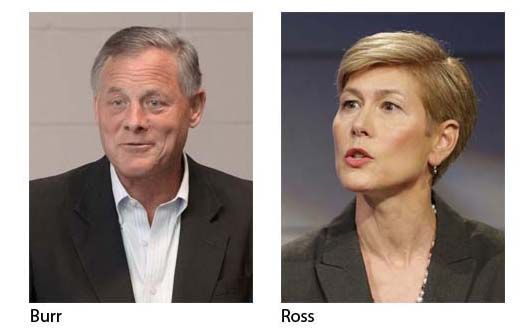 The U.S. Supreme Court is set to hear arguments April 18 in a lawsuit challenging an immigration policy set by President Barack Obama that would temporarily shield from deportation about 4 million adults without serious criminal records.
Last week, the lawsuit — U.S. v. state of Texas — highlighted a central difference between Republican incumbent Richard Burr and Democratic challenger Deborah Ross, candidates for U.S. Senate, after a group of Senate Republicans filed papers supporting the legal challenge.
GOP House leaders have filed similar papers supporting the challenge.
Many Republicans, including Burr, say Obama exceeded the powers of the executive branch. They say that by trying to implement the Deferred Action for Parents of Americans and Lawful Permanent Residents, or DAPA, the administration is attempting to supplant Congress' role in establishing immigration law.
"Such an action stands in stark contravention to federal law and to the constitutional principle of the separation of powers," the senators said in the legal filing, known as an amicus brief.
"There is little doubt that the Executive adopted the Deferred Action for Parents of Americans and Lawful Permanent Residents program as part of an explicit effort to circumvent the legislative process," they said in the brief.
Many legal scholars say Obama did not overreach.
For example, Chris Schroeder of Duke University's law school said shortly after the program was announced that Obama did not commit some sort of unconstitutional power grab.
"If the law grants discretionary authority to the executive branch — as everyone acknowledges the immigration laws do — then 'executing' that law includes exercising that discretion," Schroeder said.
"One significant area in which executive discretion exists — and, again, no one disagrees with this basic principle — is in the area of deciding not to enforce the laws," he said.
Presidents Ronald Reagan, George H.W. Bush and George W. Bush took similar actions.
"This enforcement discretion has been exercised by presidents as long as immigration laws have existed. Reagan exercised it, G.H.W. Bush exercised it, G.W. Bush exercised it. All of them were meeting their constitutional obligations," Schroeder said.
Obama announced DAPA in November 2014.
With it, he aimed to cast a temporary safety net against deportation, making it possible for certain adult immigrants living in the U.S. unlawfully to apply for protection from deportation.
Such immigrants who have no serious criminal record, have been in the United States for more than five years and are parents of citizens or lawful permanent residents may qualify.
They would have to pass background checks and pay fees.
Also, Obama said he would expand Deferred Action for Childhood Arrivals, or DACA, to include people who arrived in the U.S. as minors before 2010; the current cutoff is 2007. And he plans to lift the requirement that applicants be younger than 31.
The majority of immigrants in the U.S. unlawfully do not qualify. While Obama's executive action is sweeping, it applies to about 4 million of the 11.5 million unauthorized immigrants, according to estimates by the Pew Hispanic Center.
In North Carolina, DAPA could affect as many as 168,000 U.S. citizens who are related to a person who might benefit from DAPA, according to the Center for American Progress, which supports the policy.
Burr was not among the 43 senators who added his name to the amicus brief, but he supports it, according to aides.
"Sen. Burr was out of the country, leading a fact-finding trip on national security issues with his intelligence committee members when the brief was circulated. While his positions are consistent with the brief, the senator simply doesn't sign every amicus brief," spokeswoman Becca Watkins said.
"Sen. Burr does not have any substantive policy differences with what was laid out in the letter," Watkins said. "Sen. Burr opposes the president's executive amnesty and believes it's unconstitutional. Like many of President Obama's power grabs, this is one more example of his attempts to end run the American people by issuing edicts from the office instead of working with Congress."
U.S. Sen. Thom Tillis, R-N.C., did sign it.
"President Obama's executive actions on immigration were blatant attempts to circumvent the legislative process," spokesman Daniel Keylin said.
Twenty-two states, four governors — including Pat McCrory of North Carolina — and an attorney general are challenging the immigration program.
After Obama announced DAPA, a U.S. District Court in Brownsville, Texas, blocked the administration from moving ahead by issuing a preliminary injunction. In November 2015, the 5th U.S. Circuit Court of Appeals affirmed the injunction.
Ross supports DAPA, her spokesman, Austin Vevruka, said.
She also supports the 2013 bipartisan comprehensive immigration reform bill, which included similar reforms, he said.
The bill passed 68-32. Burr voted against it.
"Now that it's election year, Sen. Burr is trying to hide his record of D.C. obstruction from North Carolina voters, but they won't forget that it was Sen. Burr who almost shut down the Department of Homeland Security — putting our national safety at risk — over this same issue, and that he voted against the bipartisan immigration reform bill that would have helped solve this problem in the first place," Vevruka said.
"If Sen. Burr would have done his job and worked with his colleagues to fix our broken immigration system then executive action wouldn't have even been necessary," he said.