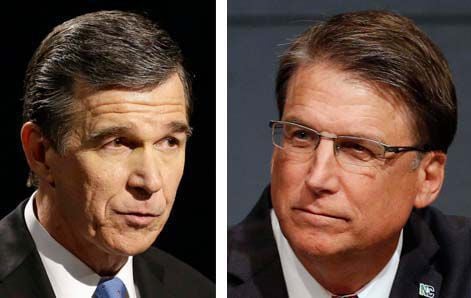 RALEIGH — Outgoing Republican Gov. Pat McCrory said Monday he has signed legislation that strips his Democratic successor of significant governing control that McCrory himself enjoyed.
McCrory's office issued a statement saying the governor signed the legislation passed last week. That's despite McCrory expressing misgivings that it requires Gov.-elect Roy Cooper to win confirmation of his top agency heads by lawmakers.
"This is wrong and short-sighted and needs to be resolved through the leadership skills of the governor-elect working with the legislature beginning in January," McCrory's statement said. Republicans hold a veto-proof majority in both chambers of the state's General Assembly.
The legislation McCrory signed also cuts the number of political appointees Cooper could hire to help run his agencies. The Democrat will be able to pick up to 425 state employees, reduced from 1,500 allowed for McCrory.
The new law also shifts many administrative powers of the state public school system from the State Board of Education — members of which are picked almost entirely by the governor — to the statewide elected superintendent of public instruction. A Republican will assume the superintendent's job next month.
Republicans insist the legislation is simply adjusting the constitutional powers already granted to the General Assembly. Many provisions had been debated for years but had either been blocked or the Democratic viewpoint previously won.
Last week, hours after legislative passage, McCrory signed a separate bill that merges the state elections board into an eight-member commission split between four Democrats and four Republicans. Each county elections board also will now be equally divided by party. The previous law gave the governor's party a majority of seats on the State Board of Elections and all 100 county boards.
Cooper said last week that he would sue to block the laws if he felt they were unconstitutional or hurt working families.
House Democrats have said they may be able to have all the changes thrown out on a technicality. They said the method by which Republicans called themselves in — minutes after the end of an earlier special session McCrory announced for disaster relief legislation — wasn't initiated properly. The issue involves collecting signatures from enough House and Senate members.
Lawmakers' veto-proof majorities since 2013 and the uncompetitive election districts they drew have allowed legislative Republicans to ignore Democratic viewpoints.