GREENSBORO — North Carolina Labor Commissioner Cherie Berry isn't sure if she will pen a memoir about her 25 years in state politics, but she already has settled on an epitaph.
"It should read, 'Here lies Cherie Berry,'" she says. "'She's going up.'"
It's a fitting slogan for Berry, 70, who came to prominence running the N.C. Department of Labor but is most famous for placing her photo on the state-mandated inspection certificates that hang inside elevators.
The move sparked criticism from political opponents, who dismissed the headshots as a ploy to boost Berry's name recognition among voters. But the photos have also inspired memes, tribute songs, music videos, T-shirts, a parody Twitter account and an enduring reputation as North Carolina's "Elevator Lady."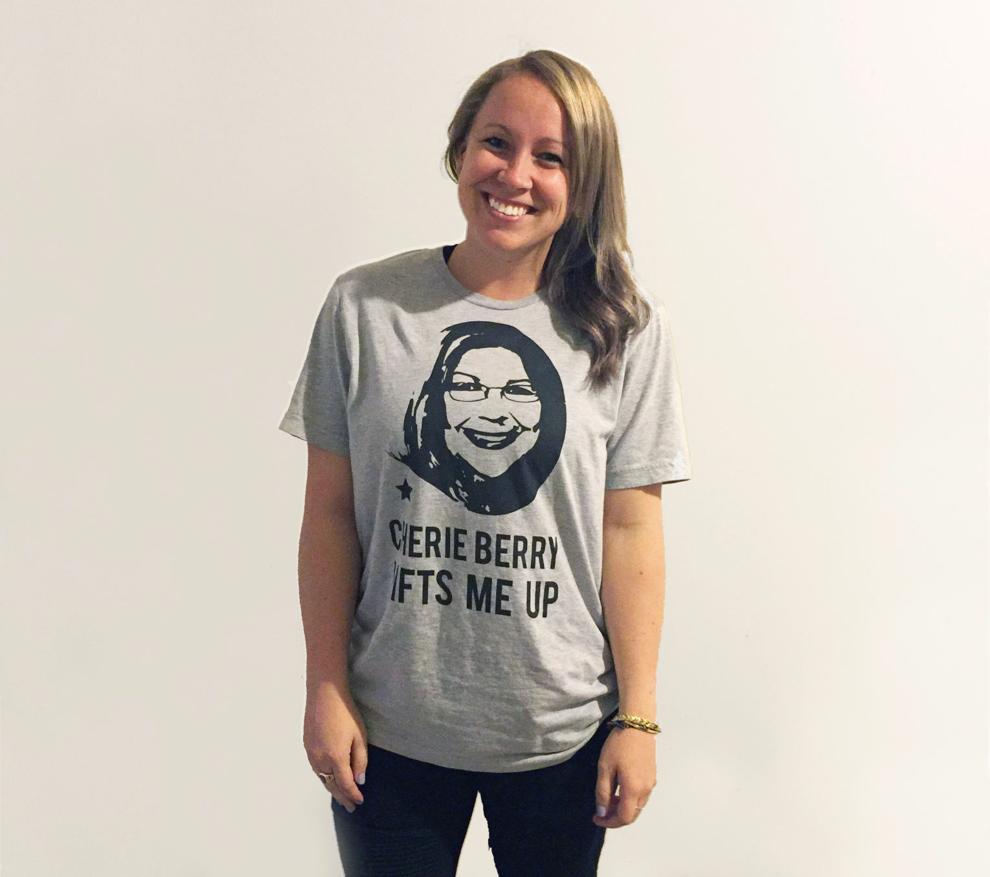 Berry, the first woman to hold the position of labor commissioner, oversees a department tasked with ensuring the safety and well-being of roughly 4 million workers. But elevators are likely to be her lasting legacy, and that's more than OK with her.
"If that's what people remember about me, that's just perfect," she says.
Berry, a Republican, was born in Newton, a small town in Catawba County. Her name (pronounced "Cher-EE") came from her father, a prisoner of war in World War II who traveled back to the United States through France after being liberated.
"He saw and heard 'mon chérie' and liked the fact that it meant, in French, 'my darling' or 'my dearest,'" Berry says. "So he decided if he got home alive and ever had a daughter, her name would be Cherie."
Because of that — and despite her thick Southern accent — people occasionally will ask Berry if she's French.
"I'm like, 'No, are you?'" she says. "But English is a second language for me because I speak Southern."
Before her career in politics, Berry and her husband owned a sparkplug-wire manufacturing company. Her experiences tangling with the state as a business owner inspired her to consider running for office — with a slight push from her husband.
"We realized how many rules and regulations and paperwork we had to do, and I complained about it to him," she says. "There was just more and more of that, so I kept complaining, and my husband finally said to me, 'Quit your bitchin'  and run for office if you want to change it.' So I did."
Berry was elected to the state House in 1992, promising voters that she would serve for a maximum of eight years. She kept her word, stepping down in 2000, but she wasn't ready to retire completely from politics.
"At the time, I thought it would mean getting back to a normal life with my husband and my kids, but I really loved being in government," she says. "I loved the back and forth and the debates, and I wasn't quite ready to get out of that. Several people encouraged me to run for commissioner of labor because of my manufacturing background, so I did."
Berry began her first term in 2001 under then-Gov. Mike Easley, a Democrat (her favorite governor thus far, in terms of personality), and has since served under Gov. Bev Perdue (Democrat), Gov. Pat McCrory (Republican) and current Gov. Roy Cooper (Democrat). While Berry runs as a Republican, she considers her work in office nonpartisan and believes that being elected rather than appointed means that she answers solely to her constituents.
"I'm constitutionally elected, which means that I'm not appointed by the governor so I'm not beholden to the governor," she says. "And that's good, because I've been through a lot of governors in my time in office."
The idea to add Berry's photo to the inspection certificates was born shortly after her inauguration in 2001, when her communications director realized the documents had extra space near the bottom. A photo of the commissioner, he thought, would give residents a better feel for the real people working on their behalf.
"He said, 'We'll put a face on government,'" Berry recalls. "You always see signatures on things but you don't know what that person looks like, so you always kind of wonder: 'Is that a real name or did they just put that on there?'"
Berry nixed the idea, telling her staff to wait and see if she got re-elected.
When voters kept her in office four years later, Berry gave her approval, and her portrait debuted in elevator cars in 2005.
Pushback started with that first photo — a black-and-white image of Berry with short hair and round-frame glasses, taken in her office. Berry heard a group of Democrats characterizing it as a political move designed to attract the attention of voters while they're captive in elevators, an accusation she dismissed.
"I said, 'Look, if that was political, do you not think I would have had it done as a glamour shot and put it in color?'" she says.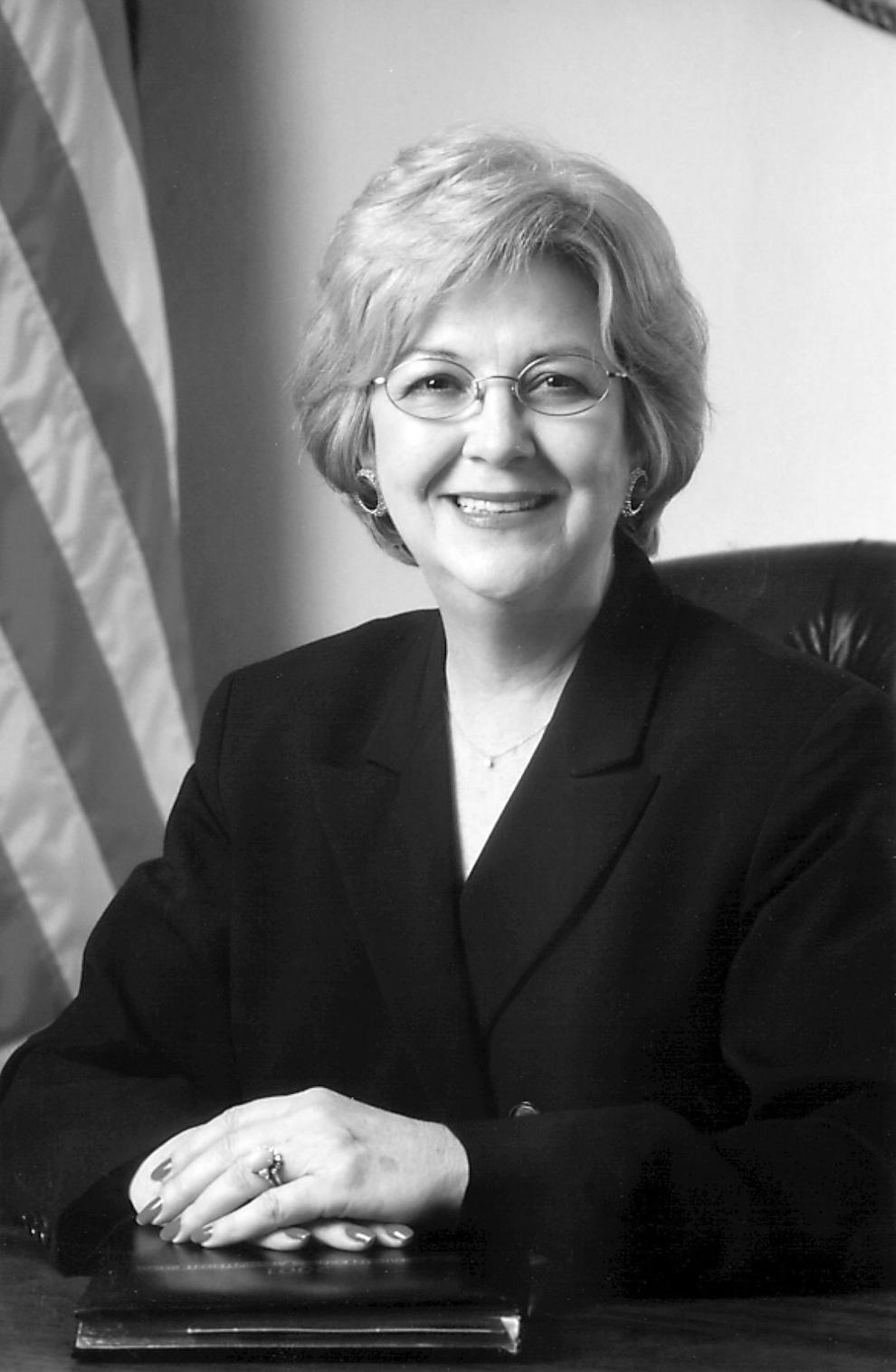 After Berry's fourth re-election last November — her largest margin of victory to date — the Department of Labor upgraded the equipment at its in-house print shop. As a result, the newest elevator photo (its third iteration) shows Berry in full color, sporting a platinum bob and a red blazer.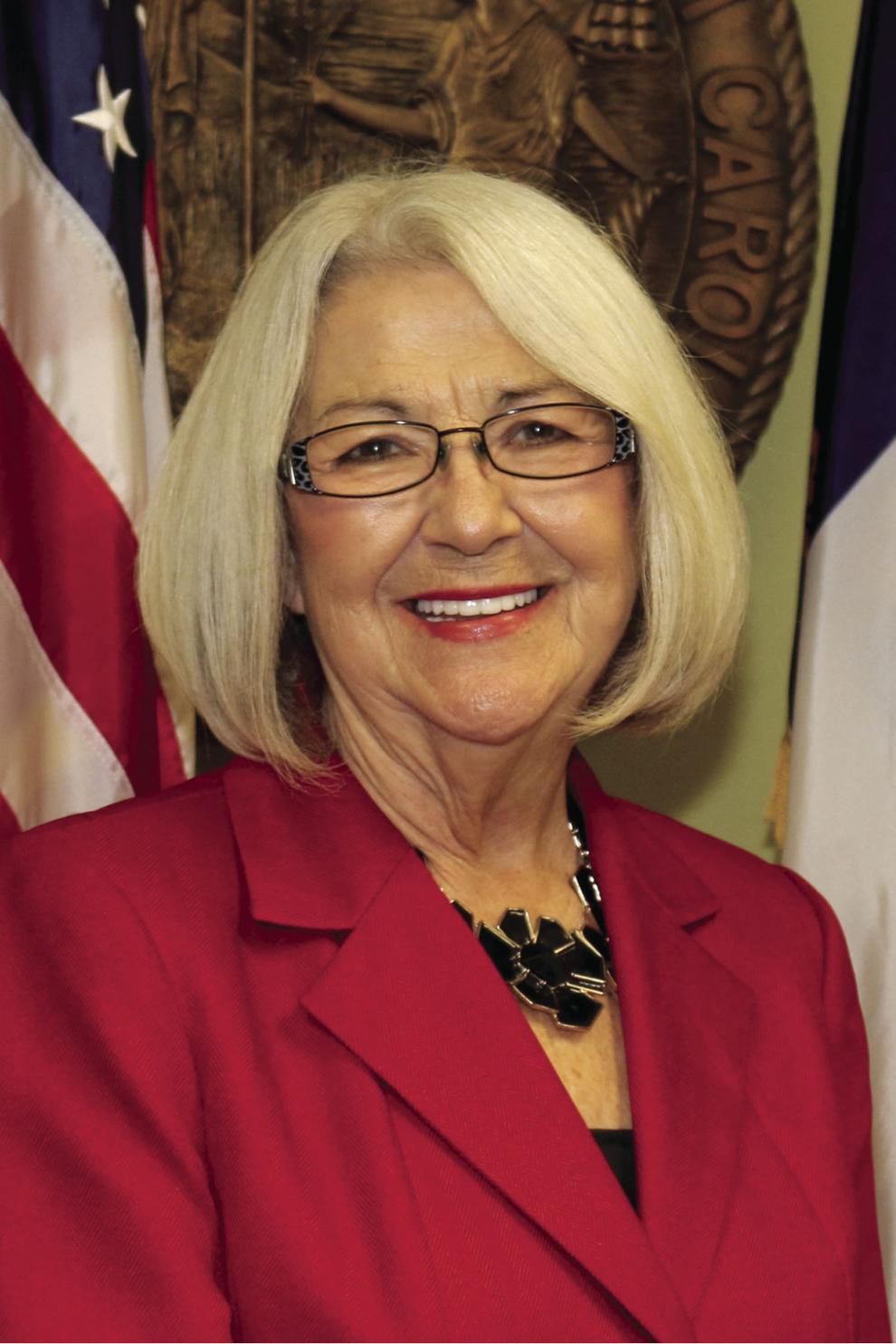 No one's harassed her about the technicolor upgrade yet, but she's got an answer if they do.
"I'm going to say, 'Well, I guess after being elected to five terms I earned this color picture in this darn elevator,'" she says with a laugh.
Besides, she adds, people were buzzing about her name years before the photos went up. Typically, they're mispronouncing it as "Cherry Berry," although she says she doesn't mind the mistake.
"In the four years that my picture wasn't in it, people still said 'Cherry Berry' and they recognized it," she says. "The picture really kicked it up a notch, but I'm glad, because people have told me, 'We're so glad to have seen your picture in the elevator because now we know there's a real person who's taking care of these things.' And that's why we put it in there.
"It's been interesting, let's put it that way. I get recognized everywhere I go now, and that's a blessing and a curse."
Berry is a self-described extrovert who genuinely enjoys chatting with voters, so being recognized is usually fun for her. Sometimes that means being mobbed by coeds on the dance floor during inauguration festivities or shaking hands with hundreds of employees during visits to manufacturing facilities. Other times, it means being singled out at home improvement stores while ducking in for a bag of topsoil after a morning grubbing in the garden.
"I'll run in there hoping to grab it and get back home quickly, and as soon as I hand my check or credit card to one of the people that are checking me out they'll take it, look at it, and say, 'OH, MY GOD! ARE YOU THE ELEVATOR LADY?!'" Berry says. "Sometimes they'll even get on the microphone and yell, 'Come down here, so and so, the elevator lady's here!'"
Other encounters begin with less enthusiasm. Once, standing near the back of an elevator, Berry heard a man in the front of the car lambasting her.
"He starts going, 'Look at that name, Cherry Berry. I bet that's a made-up name,'" Berry recalls. "'Who in the world would have a name like that?'"
After a few minutes, Berry made her way to the front of the elevator, tapped the man on the shoulder and introduced herself.
Shocked, the man asked if she would wait in the hallway while he went to his room to get his wife.
"He said, 'She will kill me if I don't have her picture taken with you,'" Berry recalls.
Some of Berry's most ardent fans are children, whose enthusiasm she attributes to the fruity-sounding mispronunciation of her name along with the length of her tenure.
"If you think about it, over the time that I've been the commissioner of labor, a lot of kids have grown up," she says. "They've known me their whole lives."
Several years ago, Berry's office received a call from a grandfather asking for a copy of an inspection certificate. He had taken his 4-year-old granddaughter to South Carolina, and when she realized that Berry's photo wasn't in the elevators there, she refused to ride them.
The problem, the man explained, was that the girl's parents were preparing to move to a high-rise in Chicago.
"They wanted the certificate with them all the time so she would get in the elevator," Berry says. "He said, 'You're like her superhero. You keep her safe in elevators.'"
Despite her popularity, Berry doesn't really do social media. Her sister talked her into opening a personal Facebook account, but she deleted it after receiving 800 friend requests in a matter of days.
She has a Twitter account for work (@CherieBerry2020, which had 904 followers as of press time), but the Cherie Berry parody account @ElevatorQueen is much more popular (7,658 followers as of press time).
The real Berry follows the fake Berry, "because I need to see what she's saying. I don't know who it is, but I will admit, they do talk a lot like I do," she says.
Likewise, while she's aware of the songs penned in her honor, she doesn't keep them on a playlist at the ready ("I'm not that desperate") and doesn't own one of the T-shirts featuring her face and the slogan "Cherie Berry Lifts Me Up," though her pharmacist offered to buy one for her ("I requested the red. I want to be seen!").
Her brother, Berry adds, has seen the shirts. He was unimpressed.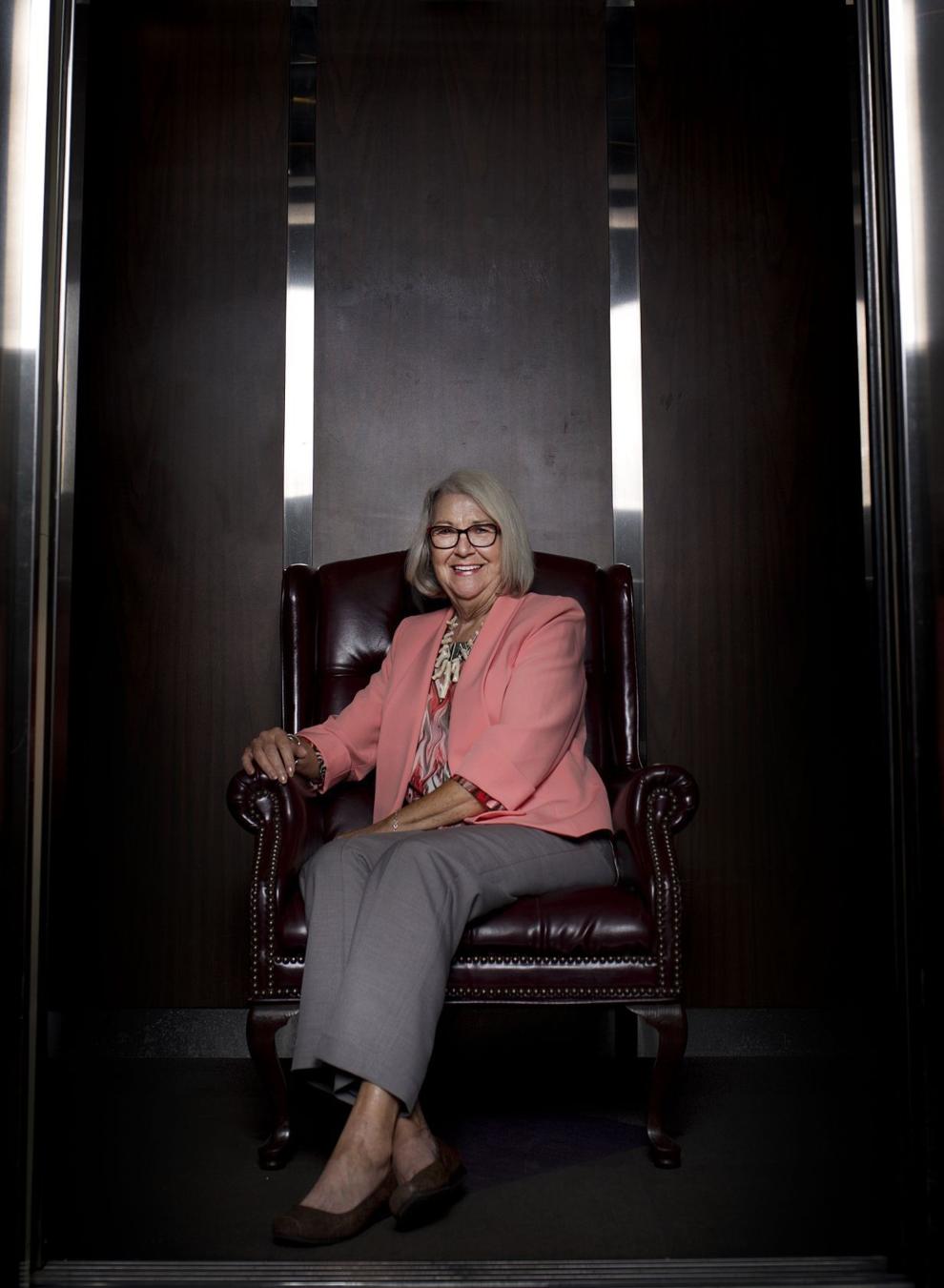 "He said, 'Cherie Berry lifts me up? She can let you down, too.'"
On Aug. 17, Berry tweeted "to infinity and beyond" in reply to questions about whether she'd run for commissioner a sixth time.
Her future plans do not include a Congressional run or a gubernatorial campaign, and her continued reign as labor commissioner depends entirely on her health and continued enjoyment. Both are holding strong for now. 
"I feel good. I enjoy what I do — I love what I do," she says. "As long as the good people of North Carolina will allow me to keep doing it, and I love doing it, and I'm healthy enough to do it on my own so that I don't have to have a driver, then I'll decide when that's no longer the case."
Until then, consider this her mantra:
"Ding ding," she says. "Going up."
Contact Kate Elizabeth Queram at 336-373-7003 and follow @KateElizabethNR on Twitter.