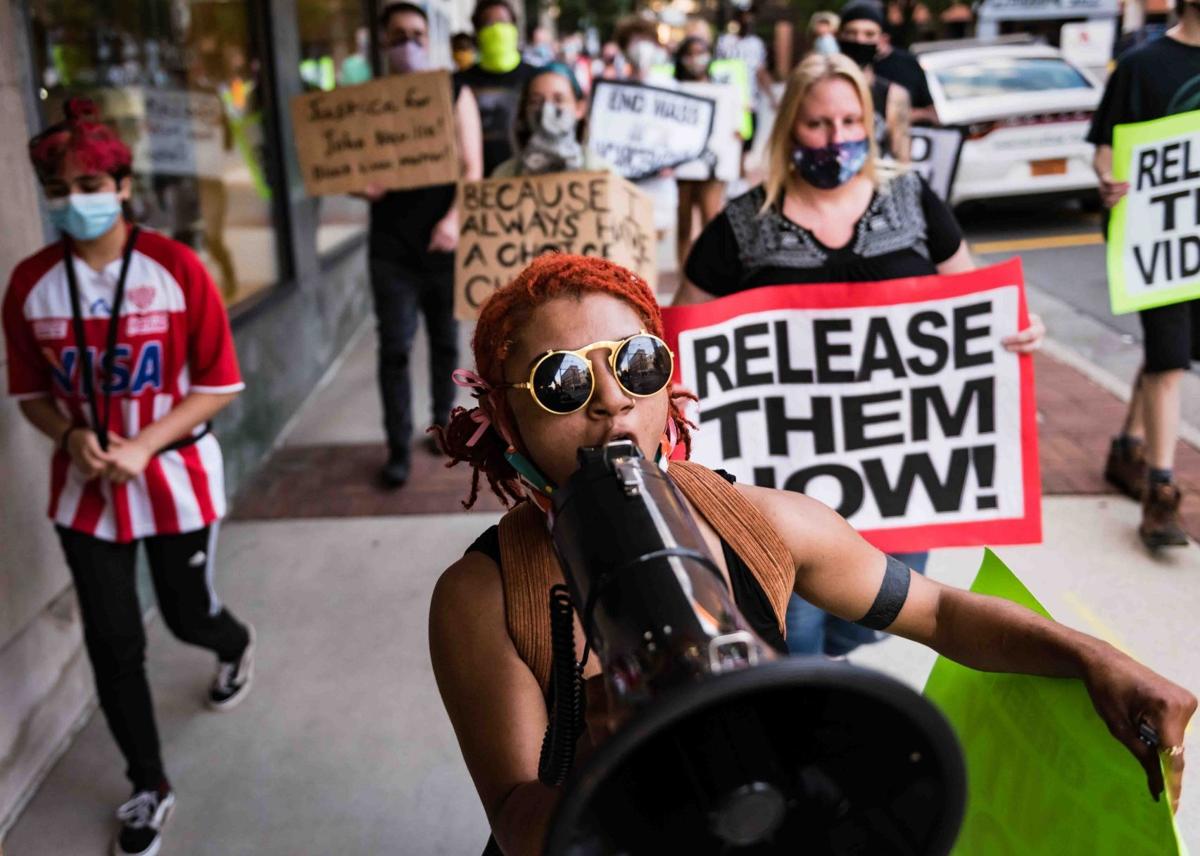 After a recent column related to the death of George Floyd, I received numerous emails questioning why I never wrote about Black-on-Black crime. The subtext being, if it is change they seek, Black-on-Black crime should be a far greater concern to the Black Lives Matter movement.
Unlike Top 40 radio stations, rarely do I take requests, especially if I believe requests like the aforementioned correspondence is motivated more by deflection than avid curiosity.
But it was an important question. Why haven't I opined on Black-on-Black crime in the wake of the ongoing Black Lives Matter movement?
Beyond the commonality of assault on the Black body, it is, in my view, an apples vs. or-anges conversation. An apt linear comparison might be if a Black-on-Black crime were committed, caught on video, law enforcement did nothing, or very little, the accused went free, and nary a peep out of the Black Lives Matter movement.
The Black Lives Matter movement is expressly, but not exclusively, concerned about the indiscriminate manner in which some Black people have been treated by those sworn to "protect and serve."
Are those who feel that Black Lives Matter should focus its efforts first on Black-on-Black crime, rather than any police misconduct, offering to aid in that quest? Are they suggesting that until Black Lives Matter deals with Black-on-Black crime, the actions of some police officers, though tragic and at taxpayers' expense, is an unintended consequence in the pursuit of law and order?
Such appeals feel disingenuous because they are ultimately designed to keep the issue languishing on the surface — the place where most critical matters in the American narrative go to die.
Let's do the unthinkable; let's discuss Black-on-Black crime. But let's do so by examining why it is at best an obfuscation to ignore the concerns put forth by Black Lives Matter.
"Black-on-Black crime" is a loaded term possessing a definition that infers that Black people are unique when it comes to committing crimes against each other.
According to the U.S. Department of Justice's Office of Justice Programs, there is no difference in the percentage of crime that Blacks commit against each other and that of their white counterparts. But opening the door to Black-on-Black crime requires that one also open the door that leads to poverty. When poverty is part of the conversation, Black-on-Black crime is no longer the aberration that it is portrayed in the largely inadequate public discourse.
The Justice Department report also found that persons in poor households at or below the federal poverty level had more than double the rate of violent victimization as persons in high-income households. Moreover, the overall pattern of poor persons having the highest rates of violent victimization was consistent for both whites and Blacks.
It is true that Black perpetrators kill 90% of the Black murder victims; it is also true that white assailants kill 83% of white victims. Though the majority of crime is committed within racial groups, only Black-on-Black crime is given its own designated form of pathology.
There's no debating that the Black community is disproportionately impacted. Why is that?
This is the portion of the conversation that America is uncomfortable engaging. It is much easier to remove Aunt Jemima from the pancake box or take the movie "Gone with the Wind" off the air for a week.
What about structural change? A good place to start might be Ta-Nehisi Coates' seminal 2014 essay in The Atlantic magazine, "The Case for Reparations."
What is the impact on wealth when the federal government passes the G.I. Bill, which I consider America's greatest piece of domestic legislation, but local communities systematically imposes segregation in the form of redlining, prohibiting Blacks from buying homes in certain areas? Or denying vocational training and business loans that the bill guarantees? Is that something we can attribute to an unwillingness to work hard and play by the rules? Can this be remedied by offering, "Slavery is over; move on!"?
Lest we forget, in the overwhelming majority of cases where unarmed Black people have been the victims of police brutality, the actions were subsequently deemed legal. Beginning with Rodney King in 1991, we have been told on numerous occasions that we didn't see what it appears we saw.
Would any group act differently than the Black Lives Matter movement if confronted with similar? Moreover, what group would heed the words of outside counsel on the best path to pursue change, especially when they have no interest in aiding the cause?
"Why don't you ever write about Black-on-Black crime?" is a question legitimized by its simplicity, but inadequate for the present moment. It is a question not concerned with why people are protesting; it's only concerned that they stop.
The Rev. Byron Williams (byron@publicmorality.org), a writer and the host of "The Public Morality" on WSNC 90.5, lives in Winston-Salem.
Catch the latest in Opinion
Get opinion pieces, letters and editorials sent directly to your inbox weekly!