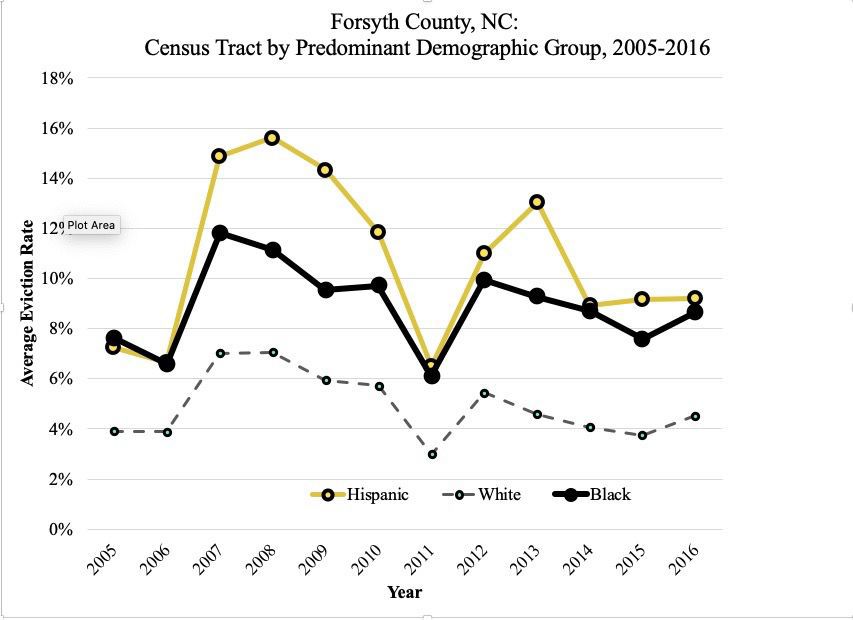 The Forsyth County Sheriff's Office recently announced a halt to evictions as the COVID-19 pandemic continues to spread across the United States. Delinquent renters can now remain in their homes until mid-April, at least.
That's good news. As businesses close their doors, low-income and hourly workers will miss paychecks that they count on to cover essential living expenses, notably rent, childcare and food. The moratorium on evictions is critical to ensuring the health and safety of vulnerable renters during the pandemic, especially as Forsyth County is the third worst U.S. county for economic mobility, according to a 2015 study.
However, Hispanics in Forsyth County may still face the greatest risk of eviction if the recent historical record repeats itself, according to new research from the Center for the Study of Economic Mobility (CSEM), based at Winston-Salem State University. CSEM analyst Ben Lewis authored the study.
During the Great Recession of 2008-2010, eviction rates in predominantly Hispanic census tracts within our county peaked at nearly 16 percent, compared with 12 percent and 7 percent for predominantly black and white census tracts, respectively.
The pattern of rising Hispanic evictions repeated itself in 2013 during another U.S. economic slowdown. The reverse was also true: During the 2016 economic expansion, the eviction gap between predominantly Hispanic and black census tracts narrowed to 9.2 percent and 8.7 percent, respectively. Those living in predominantly white census tracts saw eviction rates at just 4.5 percent.
Prior to the COVID-19 virus outbreak, New America, an innovative think tank based in Washington, D.C., spearheaded an initiative aimed at uncovering causes of eviction across the United States. Together with CSEM and the Wake Forest Environmental Law and Policy Clinic, we are taking a deeper dive into Forsyth County, as Winston-Salem experiences one of the country's highest eviction rates, ranking 16th out of the 100 largest U.S. cities.
Eviction places quite a toll on people, and the consequences are well-known. Individuals and families are forced to move to dangerous neighborhoods and shoddy housing, as many landlords won't rent to someone with an eviction already on file. The stress of eviction can lead to under-performance at work and job loss. Children sometimes have to switch schools, disrupting education and friendships. Many times, people must move away from public transportation routes, meaning more lost jobs.
Why might Hispanics face the highest risk for eviction, especially under periods of severe economic downturns? Three major hurdles become even worse in trying economic conditions: The language barrier, immigration status concerns and an unwillingness to engage with government.
Adolfo Briceno, a bilingual landlord/tenant mediator and a fair housing inspector at the Human Relations Department of Winston-Salem, noted that the language barrier generally makes Hispanic tenants feel apprehensive to seek help when faced with an eviction. That puts them on an unfair footing when faced with a court trial over conflicts in contracts.
In addition, when a tenant's immigration status is less than ideal, they may fear that fighting an eviction could raise a red flag. Briceno indicated that Hispanic immigrants typically try to fly under the radar in these cases.
Lastly, many members of Winston-Salem's Hispanic community hold a general distrust of government proceedings. Ed Sharp, a local Legal Aid lawyer, notes that the number of Hispanics who actually appear in court to contest an eviction filing is minuscule, even for U.S. citizens.
What to do? In the short-term, legal representation in civil court, including small claims court, should be guaranteed. Reform also means better information for the Hispanic community. The provision of a "tenants' bill of rights" --in English and Spanish — should be required of all landlords, putting both groups on a more even footing. Establishing trust between government entities and the Hispanic population will then grow over time.
The private sector can play a larger role and it is in their interest to do so. They can discreetly find out who may be at risk for missing a rent payment and assist. Employees facing eviction are less productive ones, with potentially wrenching disruption to their home life, schools and work.
And our small-time landlords need help, too. Many may have little economic cushion when rent payments stop, potentially facing personal bankruptcy or foreclosure.
The causes of eviction are complex and reasons are many, but one thing is clear: People of color in Forsyth County suffer far more insecurity around home life than others of greater wealth and means. Our county must work to avoid repetition of this pattern when the next crisis inevitably hits.
Craig J. Richardson is director for the Center for the Study of Economic Mobility at Winston-Salem State University. Tim Robustelli is program associate for the Future of Property Rights Program at New America. Resources available around eviction include Legal Aid North Carolina at http://www.legalaidnc.org/. Housing Justice Now, at https://www.facebook.com/HousingJusticeNowWS/, provides advice and support for those facing eviction.