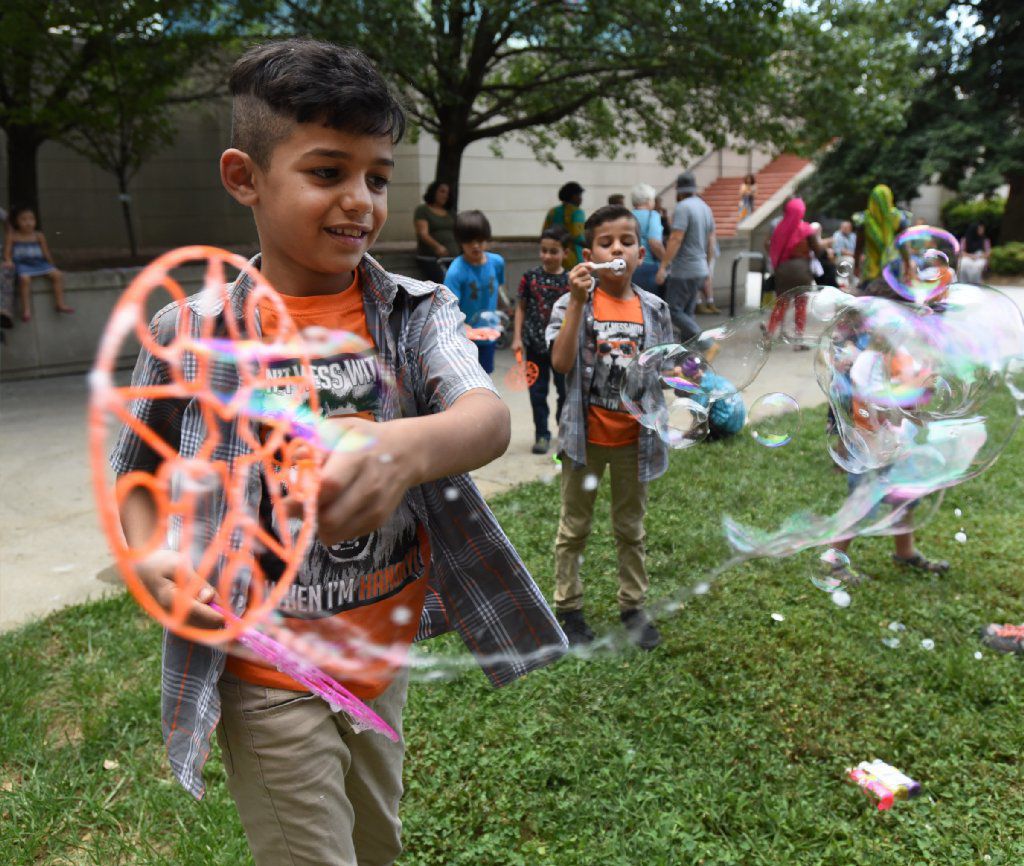 Since 2010, our community has been quietly welcoming refugees from around the world. Winston-Salem will celebrate its interfaith response to the global refugee crisis from 1-4 p.m. on Saturday, Oct. 21, with an afternoon of activities for children, youth and adults at Knollwood Baptist Church, featuring families of refugees who have resettled in Winston-Salem; members of Good Neighbor Teams; and an address at 3 p.m. by Stephan Bauman, former president/CEO of World Relief.
Every American is either an immigrant or a descendant of immigrants — even Native Americans arrived from another continent millennia ago. The United States has been described as a "melting pot" or a "mosaic," a beautiful mixture of diverse peoples. In search of the American dream, historically waves of immigrants have streamed into our harbors. They still arrive today, fleeing from war, famine and economic or educational deprivation, enriching our culture through their energy, talents and determination to succeed.
Our Statue of Liberty proclaims: "Give me your tired, your poor, your huddled masses yearning to breathe free…I lift my lamp beside the golden door!" However, amid controversy, immigration policies have often shifted from welcome to stiff quotas to slamming the door.
Political rhetoric around immigration obscures the heroic stories of individuals escaping violence and loss of home, possessions, extended family and everything familiar. Striking out for the unknown requires great courage, determination and ability. Examples abound of the contributions by immigrants to our nation: in science, Albert Einstein; in business, Sergey Brin (co-founder of Google); in journalism, Joseph Pulitzer and Ariana Huffington; in politics, Madeline Albright; in literature, Isabel Allende; and many more! Since 2000, 40 percent of the Nobel Prizes won by Americans in chemistry, medicine and physics were awarded to citizens who immigrated here. In 2016, all six U.S. winners of the Nobel Prize in economics and scientific fields were immigrants. Additionally, 21.7 percent of all MacArthur Foundation "Genius" awards went to citizens originating elsewhere.
Now, we have the privilege of welcoming another wave of refugees escaping turmoil in the Middle East, Africa and Asia. Who is a refugee? The United Nations defines refugees as persons forced to flee their country because of persecution, war or violence. Internationally, there are 22.5 million classified as refugees. After thorough vetting, those granted refugee status become eligible for many types of aid. Africa and the Middle East host 55 percent of these refugees, while the Americas have received only 16 percent. Since the annual quota of 50,000 was reached in July, refugees waited anxiously for the doors to the United States to re-open on Oct. 1, when the new fiscal year began; only 45,000 refugees will be allowed to enter this year.
While policies have become more restrictive nationally, Winston-Salem has demonstrated compassion. In 2013, our mayor and city council unanimously endorsed the Charter for Compassion, becoming the 18th city in the world to become a City of Compassion. Since that time, Interfaith Winston-Salem and numerous local faith congregations have established Good Neighbor Teams to support arriving refugees toward successful integration and citizenship. Good Neighbor Teams have crossed boundaries, with a Baptist and Jewish congregation forming partnership teams; as well as people of many other denominations, university faculty, local Muslims and others working together to welcome the new arrivals.
In our area, World Relief oversees resettlement efforts, as one of 10 organizations nationally approved to resettle refugees. World Relief began resettling refugees in Winston-Salem in 2010, including families from The Congo, Sudan, South Sudan, Burundi, Ethiopia, Eritrea, Mali, Chad, Iraq, Afghanistan, Syria, Myanmar, Bhutan, Vietnam, Yemen, Somalia and Cuba.
Refugees face multiple challenges, ranging from learning a new language (often with a totally new alphabet); seeking preventive medical and dental care; finding work; acquiring new skills; and understanding the schedules and expectations of a totally new culture.
Responding creatively, Good Neighbor Teams, congregations, neighborhoods and informal groups have hosted potluck dinners; provided transportation; arranged appointments; helped talented individuals start their own catering or other businesses; assisted with school assignments; and have formed deep friendships. Local health providers, governmental agencies and nonprofit organizations have stepped up to connect families to services. Forsyth Tech, the YMCA and Centenary Methodist Church are actively teaching refugees English. During the summer, Summit School offered a "Welcome Week" with educational experiences for children and families; Summit School and Imprints Cares offered a number of scholarships to summer camps; and an interfaith task force provided a series of "Fantastic Thursday" experiences for refugee children and their families. Annoor Islamic Center in Clemmons has been active in assisting with interpretation and cultural understanding.
Our community may be unique in the depth of welcome and volunteer assistance being provided. Join us on Oct. 21 to salute both our new arrivals and the generous heart of our city!
Dean Clifford of Winston-Salem has served as the co-chair of two Good Neighbor Teams welcoming refugee families over the last year and a half.