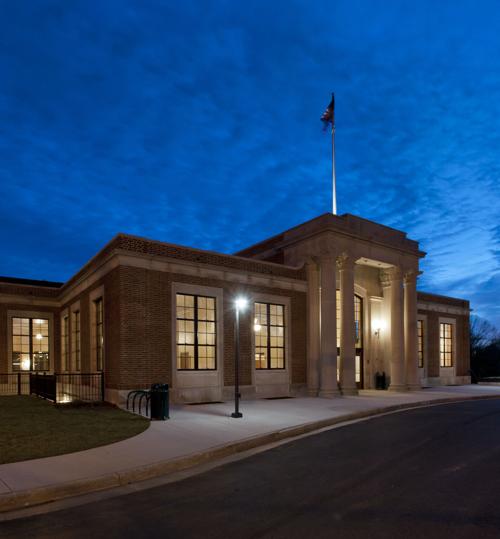 Asheville. Wilmington. Christiansburg. Chattanooga. Macon. Montgomery. Mobile. Baton Rouge. Scranton. Allentown. Ronkonkoma. Concord. Duluth. Eau Claire. Green Bay. Cheyenne. Rockford. Moline.
Moline. You probably had to look that one up — maybe a few of the others, too. It's in Illinois. While John Deere is based there, Moline is 0.16 the size of Winston-Salem and shrinking. But all of these cities will be getting new Amtrak service as part of the new, once in every 50-60 year infrastructure bill proposed in Washington, D.C.
Winston-Salem, though larger than every city on that list, is conspicuously absent. Amtrak currently serves 16 cities across North Carolina with plans to add new routes to Asheville and Wilmington. Of the state's 10 largest cities, Winston-Salem and Concord will be the only cities without train service. Winston-Salem has 2.5 times the population of Concord and has a population that's more than 31,000 greater than the combined populations of Asheville and Wilmington.
We're also not included on the proposed high-speed rail network, even though there has been a vocal push from Charlotte business leaders for a high-speed rail network connecting their city to Winston-Salem and Raleigh. Ditto for the proposals for the future hyperloop system. It appears that when our nation is poised to pass a once-in-a-lifetime infrastructure bill, Winston-Salem is nowhere to be found.
Once upon a time, Winston-Salem had its own airline. We also had the busiest airport in the state. Around the time the last passenger train left Winston-Salem's Union Station, the federal government decided to support passenger service at the Greensboro-High Point Airport over the busier Smith Reynolds Airport. So Piedmont, Tom Davis's Winston-Salem-based airline, established its hub in Charlotte.
As the late Forsyth County Commissioner Walter Marshall lamented to me: "All we had to do was build them a runway."
The rest is history. Like with train service, we don't exist on the map of air travel, either.
A century ago we were the largest, most powerful city in the state. Today, we've fallen to the fifth largest city in North Carolina. Of the 10 largest in the state, only Fayetteville is growing more slowly than us. (High Point, our Triad sibling, is outpacing us in population growth.)
I love Winston-Salem. It's a beautiful city filled with wonderful, community-minded, entrepreneurial people, most of whom share my feelings for this place. While we have our challenges — the levels of poverty and socioeconomic immobility and the retention of jobs and our young residents chief among them — for a mid-size American city, we have a vibrant downtown and Old Salem, an incredible arts community, and are the gateway to North Carolina's wine region and to two state parks, I believe we're second to none. Like them, I want to see our city grow and prosper. Over the course of our history, we've had visionary leaders from the Moravians who were the first to educate girls and women in America; to Simon Green Atkins, son of former slaves and founder of Slater Industrial Academy, who made it his life's mission to improve the lives of North Carolina's African Americans; to the establishment of the nation's first arts council and the preservation of Salem; to the Z. Smith Reynolds Foundation's invitation to a small college to move here and establish its new campus on a portion of the Reynolda Estate; to John Ehle's vision for establishing the first public arts conservatory, bolstered by the many locals who raised the funds to make it happen — all of these have been instrumental in establishing the institutions that help define our community and will be our strength going forward. Others like Tom Davis, Robert Hanes and Archie Davis played out-sized roles in the creation of the prosperous Charlotte and Raleigh/Durham/Research Triangle areas we know today.
Winston-Salem has not shared in this prosperity. There are many who like Winston-Salem as it is (and don't want it to become like Charlotte or Raleigh). But without growth, there is no potential for the jobs that can fuel a prosperity that benefits all of our citizens, closes the income gap and eliminates generational poverty in favor of that increasingly elusive American dream: upward socioeconomic mobility.
Moline. Moline. Moline. Mo-leeeen. I'm begging of you please don't take our train
Moline. Moline. Moline. Mo-leeeen. Please don't take it just because (apparently) you can.
Glenn Fulk is a Winston-Salem-native and a Winston-Salem- and New York-based architect.