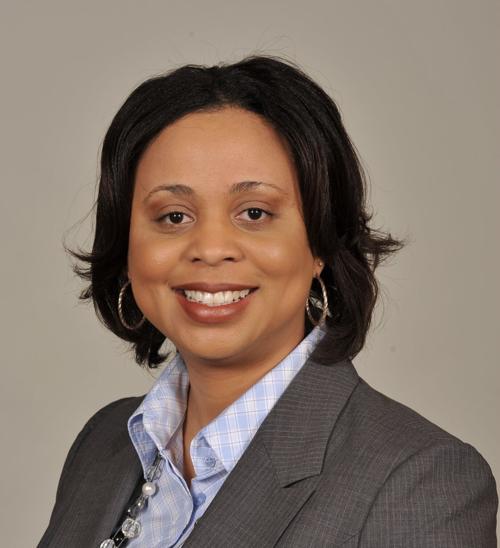 Logan Lash of Winston-Salem is a member of an elite group, a graduate of the Wharton School at the University of Pennsylvania and business pro who enjoys executive privileges such as box seats at ball games through strategic networking. It is a lucrative, fun culture that can be difficult to navigate for graduates of HBCUs. Lash is determined to change that. This is sorely needed.
"This really is where you want to be," Lash said. "This is how I roll."
Lash, who works 9-5 as a marketing executive, has started her own 5-9 business, StepUP Your Game, LLC, which prepares HBCU students for careers in the service industry, helping to diversify the pipeline. She brushed up her skills through Tate Consulting's Playbook for Entrepreneurial Excellence programs, studying alongside three Winston-Salem State University students. Her path aligns with WSSU's Center for the Study of Economic Mobility (CSEM), which supports the Playbook programs and encourages entrepreneurial efforts among WSSU students and East Winston residents. "Equipping students with the knowledge and skills associated with an entrepreneurial mindset or thinking improves their motivation to succeed in whatever pathway they choose for their future," said CSEM Associate Director Alvin Atkinson.
Lash began learning business early on, working for family friends and marketing gurus Lafayette and Sandra Miller Jones in their local business, on weekends, even before she could drive. Just as important, she learned networking from them. The Joneses, trailblazers in the Black business world, mentored Lash, just as others had mentored them. Lash babysat the Jones' daughter Bridgette, and would later mentor her.
Lafayette Jones encouraged Lash to apply to Wharton. When she felt overwhelmed and wanted to leave the school, he talked her out of it. Lash came to value her time there, and, after graduating in 1997, rose quickly in the food industry, eventually working for Sodexo, living in Washington, D.C., Atlanta and Chicago, and flying around the country on business trips, even abroad to Italy. Attending the 20th reunion of her class at U-Penn a few years back, she was amazed at how much money just her class raised in a single year: $60 million. She began to think about how HBCUs might begin to approach such fundraising. A fun stint in marketing for Sodexo at N.C. A&T converted her to an ally committed to helping HBCUs and their students.
Lash is the director of marketing for Chartwells, working in food services for K-12 schools. A year ago, she started StepUP Your Game. The pandemic hampered her efforts, but she had already done a few events at HBCUs that were well received. "Nobody had seen brown faces show their students how to do this. Students have to see it in order to be it. Life's sweet in the VIP suite. That's the draw."
Sandra Jones said: "It's a tremendously necessary service Logan is providing. There are so few ways that HBCU students are getting information about corporate opportunities. Increasing those avenues is a wonderful thing."
On her own time, Lash is mentoring one-on-one, just as the Joneses did with her and she did with their daughter, now Dr. Bridgette Jones Brooks, an Atlanta orthodontist. Lash's current mentee is Caliyah Sanders, a New York native who graduated in the fall of 2019 from WSSU with a B.S. degree in marketing. Lash helped her secure a job at job at Blue Cross/Blue Shield of North Carolina in Durham. Lash has a good friend working there who will look after Sanders.
Sanders said: "Not every HBCU touches on how to navigate in corporate America. I did have mentors who taught me the ropes, networking mentors who taught me how to navigate when I might be the only Black woman on the team. I am so lucky to have Logan."
"That's how this happens, this behind-the-scenes work," Lash said. "This is how it gets done in the corporate world. We have to do the same thing to get from the game suite to the C-suite."
Andrea Goode, who leads Tate Consulting's playbook programs with her husband, Dr. Antwain Goode, said she and Lash are working on a program to develop high-potential girls in high school to become leaders in industry or entrepreneurship. "This pilot is extremely important in our community to expose and provide the necessary confidence needed to boldly shift the mindsets of our young women," Andrea Goode said. "With new tools, they can and they will be prepared to develop new ideas in the hospitality sector."
Lafayette Jones said: "If you see someone else do it, you can it yourself. The point is mentorship works from generation to generation. With Logan's new business, she's fulfilling a dream and she's helping other people. That's how it works. That's how it's supposed to work."
John Railey (raileyjb@gmail.com) is the writer-in-residence for CSEM, www.wssu.edu/csem.