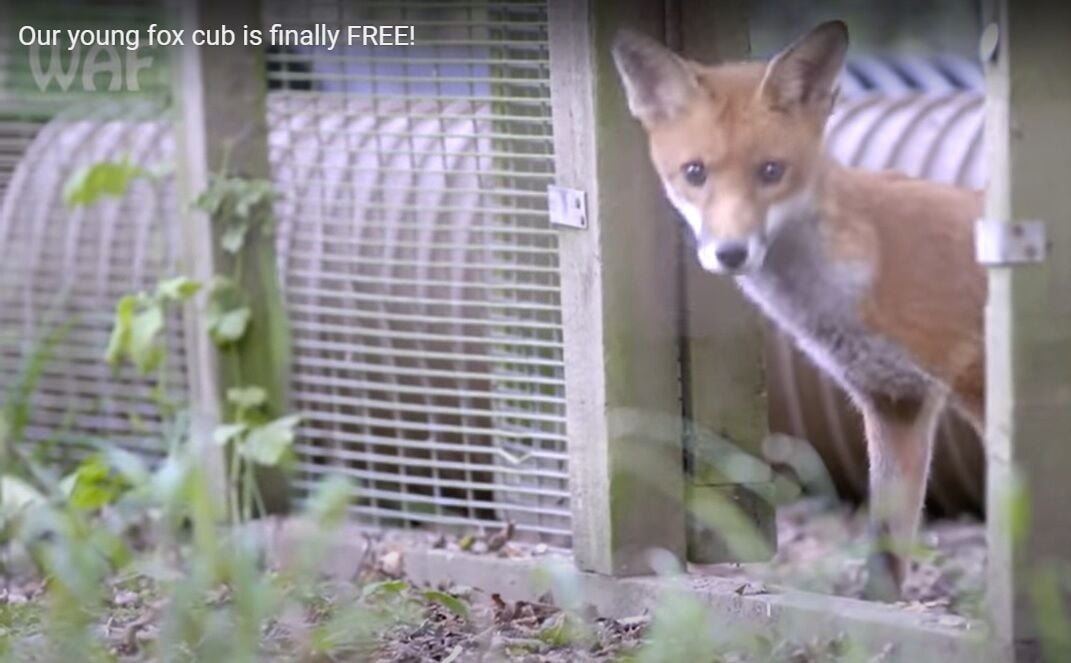 I'd never seen a fox so frightened.
The young kit, about 6 months old, had been spotted in rural Windlesham — that's U.K., about 20 miles outside London — limping badly after tussling with two dogs. Rescuers took her to the headquarters of the Wildlife Aid Foundation, an urban animal rescue group in nearby Leatherhead, a community of row houses, shopping centers and a well-fed population of wild foxes, badgers and hedgehogs.
There, they placed her — let's just call her "Foxy" — in a warm, well-lit pod with a fuzzy blanket. Foxy was so frightened that she tucked her head into one of the back corners of the pod, the way a child might hide his head under the covers in the middle of the night after hearing a strange noise.
Soon, Maru Garcia, the foundation's veterinary surgeon, arrived to examine her. Garcia carefully grasped her by the scruff of the neck — wearing thick gloves, just in case Foxy felt the need to bite — and sweet-talked her while putting her under anesthesia.
"Look at this sweet little fox," Garcia said.
X-rays revealed a nasty break in Foxy's front right leg — too severe for a mere splint. Surgery would be trickier than Garcia wanted to try, so she called in Federico Piccinno, an orthopedic specialist veterinarian.
Piccinno and his team of technicians dressed in surgical gowns and masks and wheeled the thin patient, limp as a washrag, into the operating chamber, where they covered everything with clean, light-blue sheets. Piccinno made the initial incision and proceeded carefully. Of particular concern was the radial nerve, very close to the bone. One wrong move could cause permanent damage.
In the middle of the operation, feeling the work was too delicate for him, Piccinno called another veterinary surgeon — Angus Anderson, an expert's expert — to take over.
After the bones were aligned properly, an external fixator was attached. For the next few weeks, Foxy hobbled around a warm, clean pen with a little cubbyhole where she could comfortably hide. Nearby pens held geese, badgers, snakes and mice.
Wildlife Aid employees and volunteers try to avoid having too much contact with their wild wards, knowing that if the fear of humans wears off, they might put themselves in precarious situations. Plus, they don't want to get too attached to temporary visitors. Nevertheless, when it was time to remove the ex-fix, Garcia couldn't help enthusing: "My Foxy! I'm so excited!"
Foxy was put under and Garcia began unscrewing the ex-fix. "Oh, man," Garcia said, "she was like half this size when we did the surgery. She's huge!"
Garcia flexed Foxy's leg a few times and estimated a week, maybe a little more, for full recovery.
"I love you, Foxy," Garcia cooed while carrying her back to her pen. "You're my favorite."
A week later, Foxy and six orphan foxes her age — all teenagers, in fox time — were driven to a roomy, wire-mesh pen on the grounds of a country estate for what Wildlife Aid calls a "soft release." There, the foxes get a sense of the wilderness while still being fed and sheltered.
After about three weeks, the pen's door was left open and one by one, the kits ventured out. And there was Foxy, bouncing around, running, rolling and nipping at the others, a happy little mischief maker.
Then they were gone, returned to the wild.
I followed this story on Wildlife Aid's website back at the end of summer, a little respite from harsher news. The surgeons, I learned, who usually operate on pampered cats and dogs, regularly donate their services to Wildlife Aid, which survives wholly on the generosity of its patrons.
Why in the world would someone invest so much time, energy and care on a complicated, costly operation, knowing that the kit would probably be dead in a year or two anyway?
Some people are just like that.
For others, developing compassion is a life-long project.
Others yet don't care, wouldn't care for a wild animal that doesn't even answer when you call.
I don't know what makes the difference. I'm just happy to know that compassion exists, not because it's rewarded — in many instances, it's not — but because it's needed. It helps balance the cruelty of the world.
Tomorrow is Wolfenoot, a holiday that celebrates canines (that includes foxes!), kindness and the humans who embrace both. Celebrants give away small gifts, donate to canine-supporting charities and possibly howl. This is the second year I'm celebrating, and it doesn't feel quite as jolly this time, in the midst of a deadly pandemic.
So I'll do my part to try to balance the scales. If you go to Bookmarks tomorrow and say, "Happy Wolfenoot!" you'll be given a free, delicious cream pie made by Cheesecakes by Alex.
Next year, maybe we can all share a cake.
Catch the latest in Opinion
Get opinion pieces, letters and editorials sent directly to your inbox weekly!