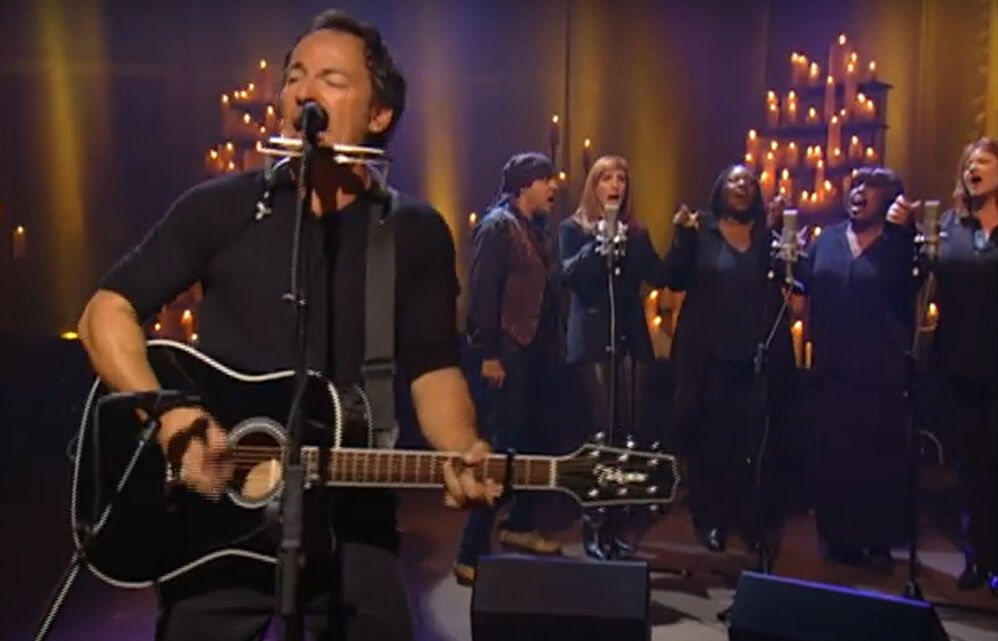 I was driving to work when the radio announcer said something about an airplane crashing into one of the twin towers of the World Trade Center. It sounded like an accident.
By afternoon, we knew enough that I closed the office and went to give blood.
Days later, CBS anchorman Dan Rather apologized to David Letterman for breaking down on his show. Letterman placed his hand over Rather's: "You're a professional, but good Christ, you're a human being."
Days later, musicians gathered for "America: A Tribute to Heroes," a benefit concert to raise money for 9/11 first responders and their families. Bruce Springsteen sang "My City of Ruins" in a candle-lit room with a group of back-up singers who exhibited the solemnity of a church choir performing penance.
There is a blood red circle
And the rain is falling down
The church door's thrown open
I can hear the organ's song
But the congregation's gone
People from countries around the world mourned with us; with its favored child, the most hopeful and prosperous. Some, from lands where such things happened more regularly, said, "You're one of us now."
We slowly began to learn why this had happened. Some madman named Osama bin Laden was trying to lure the U.S. into military entanglement in the Middle East. That would make it appear to the Muslims of the world that the U.S. wanted to wage war on them, bin Laden reasoned.
But we're too smart for that, I thought.
Bin Laden also wanted to stoke fear in the hearts of Americans, we heard. He wanted us to think that such an attack could happen anytime and anywhere.
But we're too smart for that, I thought.
I've since had to reassess.
I remember a grainy black-and-white photograph in some news magazine of a tough, young New Yorker confronting another tough, young New Yorker in Islamic attire, ready to pummel him, while a crowd looked on. It seemed absurd. That guy didn't have anything to do with 9/11.
I remember in 2010, a group of Muslims, including Feisal Abdul Rauf, a New York imam who had once been described by provocateur Glenn Beck as "one of the good Muslims," tried to build a community center not too far from the rubble of the twin towers. It was named "Cordoba House," after a Spanish city famous in the eighth century for the relative harmony between the Jews, Christians and Muslims who lived there.
Opponents — including Beck — foamed at the mouth, calling it the "Ground Zero Mosque," an "insult" and a "house of evil."
Life went on. We formed families and built industries, found new things to argue about. We sang and danced and shared books. We traveled and dreamed and urged the next generation to save us from ourselves.
But in the background, in the next room, someone still sang: my city of ruins.
Refugees came here, fleeing the violence. They took jobs, rented houses and made friends. My neighbors fed me savory dishes with names I couldn't pronounce. When my truck died, they offered me the use of their car.
For a time, I drove refugee families from the airport to their new homes in the Piedmont Triad, one small link in a life-saving chain. If I never do anything else useful with my life, I've done that.
Last weekend, The Guardian reported: "The U.S. government acted quickly after 9/11 to prevent further attacks by Islamic extremists in the U.S. … But while the FBI, CIA, police and the newly created Department of Homeland Security scoured the country and the world for radicalized Muslims, an existing threat was overlooked — white supremacist extremists already in the U.S., whose numbers and influence have continued to grow in the last two decades.
"In 2020, far-right extremists were responsible for 16 of 17 extremist killings in the U.S., according to the Anti-Defamation League, while in 2019, 41 of the 42 extremist killings were linked to the far right."
Look at us now. We can't protect our children from insane men with guns or from a damned pandemic. We can't even agree to pay to fill the potholes in our streets.
Twenty years later, I still mourn what happened. I mourn more for what it did to us.
We certainly had bigotry before that day. We had political discord and stupidity and selfishness. It just seems so much worse now. It's like bin Laden got what he wanted.
It doesn't have to be this way.
I mourn, but I've not lost hope. Gardens grow where our tears fall.