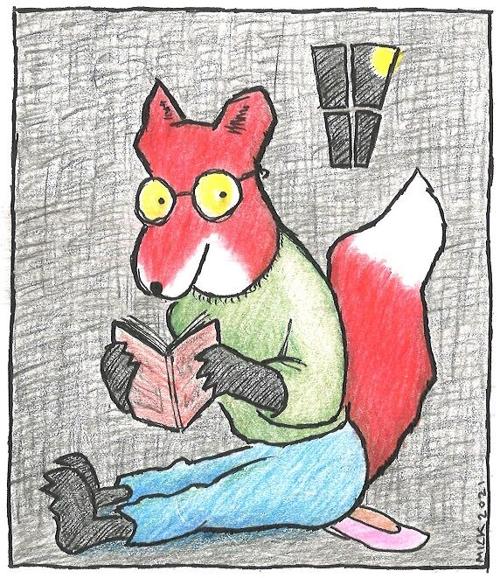 It all began with a bite.
My wife Peggy and I were sitting on the front steps feeding Felix, the neighborhood fox. He's become comfortable enough with us to walk up close as we toss him a hot dog or slice of bologna.
"Watch this," I said, trying to lure Felix to take some food from my hand.
He did, but instead of taking it delicately, as I expected, he grabbed it and ran.
"Ouch!" I said. "Look, he drew blood."
"I was afraid that would happen," Peggy said.
"Eh, it's no big deal," I said as I put my finger in my mouth. I couldn't blame Felix, of course; he's a wild beast.
A couple of days later I was sitting in the den reading when Peggy came in and said, "Don't you need a light?"
"No, I can see fine," I said. Then I looked up and realized that the room had grown dark, illuminated only by the full moon peeking through the window.
Peggy turned the light on, looked at me and gasped.
I looked at my hands and they were covered with black fur. I went to the long mirror in the hallway and dang if I wasn't a fox. My snout had grown long and my head and body were covered with supple red fur. My teeth were insanely sharp and my pupils had morphed to vertical, cat-like slits. No wonder I could see in the dark.
"How did this happen?" Peggy asked.
"I guess it happened when Felix bit me."
"Should we go to the emergency room?"
"Why? This is great! Look at my fur!"
"Ow. Could you keep it down, please? My ears are really sensitive."
"Sorry," she whispered, then added, "What should we do?"
"Well, I'm a little hungry."
Peggy grilled some burgers while I tried to make a salad, but it's hard to manipulate utensils when you have no opposable thumbs. Halfway through my first burger, I felt full, so I took the rest into the hallway.
"Where are you going?" Peggy asked.
"I've got to find some place to bury this for later."
"You're not going to attack me or anything, are you?" she asked.
"I don't think so. I don't feel like attacking. I just feel like — digging."
I had a strong urge to grab something, anything, chew it, then hide it.
I also wanted to go outside. I could sense things there — grass, trees, other animals, trash — and wanted to see them and sniff them. But Peggy insisted we stay inside.
"I just don't want you getting into trouble," she said.
We sat to watch a movie — some Wes Anderson thing about dogs — but I couldn't sit still. I got up and walked down the hall, then ran back to the den. Then I was jumping all over the place. Then my paws felt itchy and next thing I knew, there was a big, scraggly hole in the sofa.
A little while later Peggy called to me, "Have you seen my shoes?"
"They're in here, under the sofa," I answered from the den.
She walked in; "What are they doing here?"
It was a long night. I couldn't sleep, so I just bounced through the house, trying hard not to scratch anything else. I stared out the kitchen window, longing to run free like the cats that occasionally passed by. I think I whimpered a little.
Eventually I drifted off to sleep and when I woke in the morning, I was back to normal.
"Is this going to happen every month?" Peggy asked.
"I guess so. But it's not that bad, is it?"
"Well, you were kind of cute, but you also had a pretty strong smell."
It's a mixed blessing, being a werefox. But next month, I'm going outside.
As you may have guessed, much of this story is not true. I'm not married! I do have Wolfenoot on my mind, though, the holiday that originated in 2018 that celebrates kindness and canids and people who are kind to canids (www.wolfenoot.com). It's on Tuesday and I'm celebrating with a few wolf-related treats for friends and a modest contribution to the Forsyth Humane Society, which does such good work connecting people with furry friends. Feel free to join me.
Wolves and other wild canids are under constant attack in the U.S. (earthjustice.org/features/are-wolves-endangered). Some see them as threats to farms and livestock — and, possibly, to people.
I think they're magnificent. They deserve to live. And we can live with them if we take the proper precautions.
There's another holiday later in the week that gets a lot more press. Whatever your celebration, I hope it's a happy one. Be good to your canids!