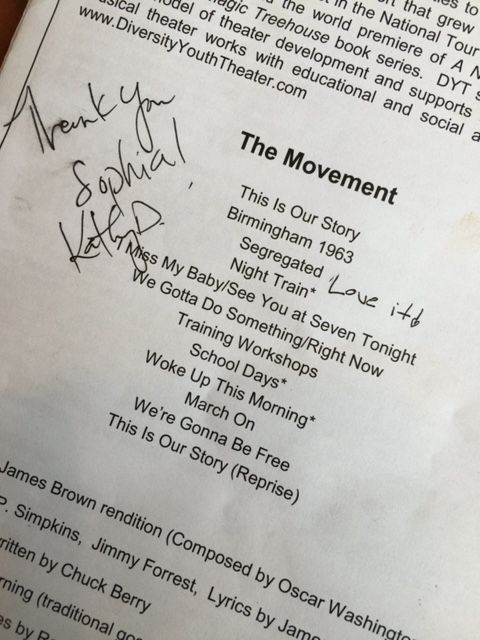 Children learn more from what you are than what you teach.
I had the opportunity for an impromptu conversation with a 2-year-old, a first-grade student and a fifth-grade student last weekend. I learned from them. They amazed me. And I loved each moment and interaction.
As the interim executive director of the North Carolina Black Repertory Company (NCBRC), I have a front-row seat to all the action. And recently, I connected and engaged in conversation with, and took a lot of pictures of, a variety of people during our Black History Month performances of "The Movement" and "Bullying."
"The Movement," an a cappella musical written and directed by Kathy D. Harrison, was inspired by the Children's Crusade of 1963. It's an uplifting story about courageous school children taking risks to change their world.
That story stirred up something in Sophia, a first-grader, who stopped by and talked with me. Her spirit moved me.
"Bullying," an original play written by members of the NCBRC Teen Theatre Ensemble (TTE), is inspired by the current trend of bullying. The one-act play was directed by Jacobi Howard and created during a master class with acclaimed playwright Samm-Art Williams.
Its content led to a fruitful discussion with a group of fifth-graders from Old Town Elementary School about the impact of bullying, the fear of being called an unflattering name and the negative perception of speaking up.
"What a great way to spend our Sunday afternoon!" a parent shared. "The acting is phenomenal. The young people who are starring in these productions are incredibly talented."
Others who attended agreed.
"Outstanding performance about 1963 in Birmingham and non-violence ... we need this now ... so relevant today," another community leader shared.
A friend who brought her sixth-grade son to the performance expressed a similar feeling: "I learned a lot and felt a lot more from The Movement and Bullying. These young people are truly talented and inspirational!!!"
Bullying included strong language and a warning to parent, guardians and chaperones who came with students, especially those in elementary school. It is a powerful performance, yet a little bit too much (the language, not the content) for younger students to handle.
I watched with interest, as a teacher explained why they (a group of fifth-graders) would not stay for the performance. Interestingly enough, she and I attended high school together. She introduced me to the students and what happened next was a great discussion about an important subject, bullying.
They were bright, eager to engage in conversation and had something to say. One so much so that I asked if he was the group spokesperson. He said yes. A few of them had experienced being bullied.
One student described how he "snapped" once and was suspended for a few days along with the bully who picked on him. He couldn't take it any longer and fought back. We talked about what to do and say and how to control our emotions in situations like that.
He had a lot of pent-up anger and resentment that erupted the day he "snapped." The same person, from the first through the fourth grade, had bullied him. He did not tell anyone except a bus driver during that time — not his parents, administrators, or teacher.
I would like for them to write their one-act play one day. It would be just as powerful as the teen production and as eye opening, too.
After that chance meeting, I met Sophia. She was excited about "The Movement" and showed me a note written in her playbill beside one of the songs: "Love it!" And, she had the director to autograph her playbill.
I was impressed with her curiosity, about what she learned from the performance, and her focus in our conversation. I introduced her to the NCBRC costume designer, Frenchie Slade, and watched as she learned about Slade's role in the performance.
It was a priceless moment where the student was in awe, eyes fixed on the teacher and hanging on to every word. And I was caught up in their moment.
And then there was the 2-year-old I noticed while sitting in her mother's lap, both with smartphones in hand. She allowed me to pick her up and sat in my lap, showing me how to put makeup, eyelashes and lipstick on a picture on her screen.
And then she announced, "I want my mommy." I complied.
Her mother took a picture of us (while sitting in my lap walking me through the makeup session). That is when I learned she called me "uncle."
My family has expanded, once again.