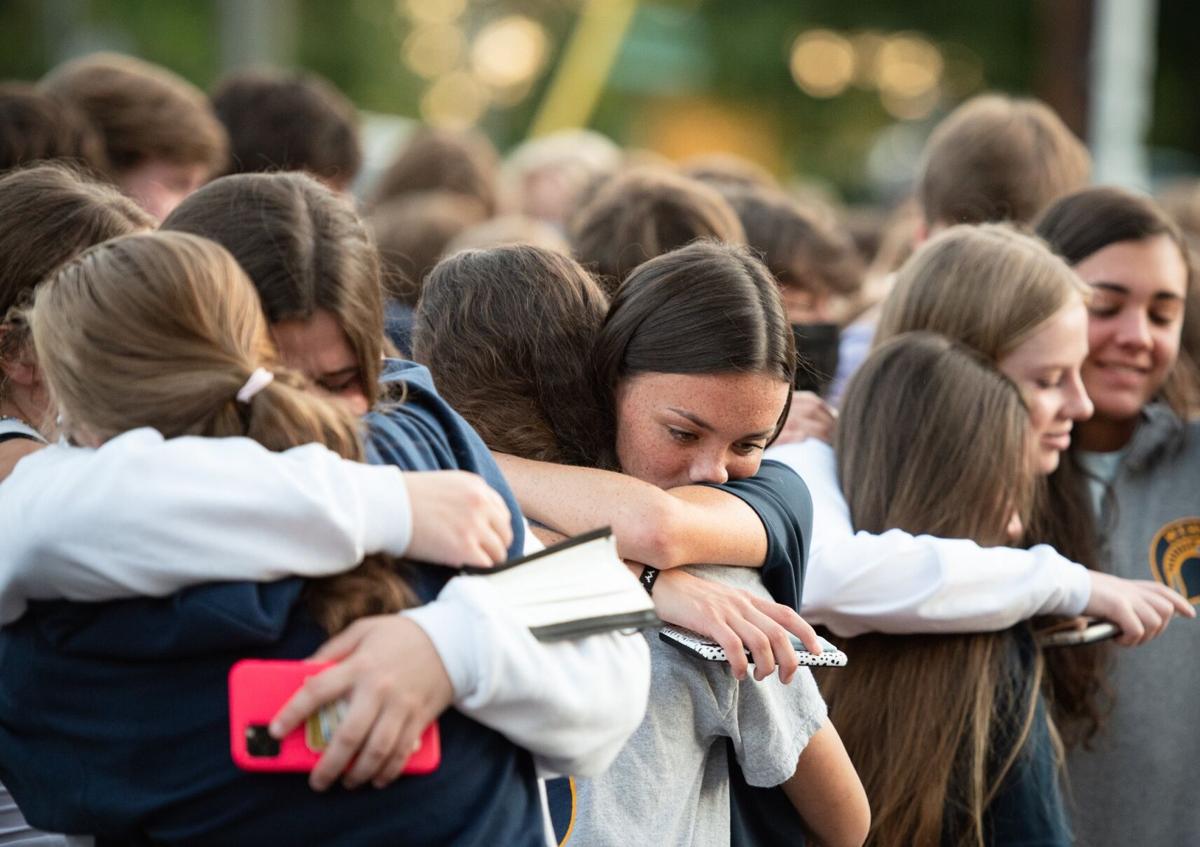 There are few people in my life who don't know that I went to Mount Tabor High School because still, even at my age, I talk about how much I loved it there. I can sing the fight song on cue if needed. At church, if I hear "Glorious Things of Thee Are Spoken," I don't hear the actual lyrics of that beautiful hymn being sung, but instead hear the lyrics of the Alma Mater in my head. You would have thought that I myself played football on the state championship team a few months ago because I was so darn excited for those kids. It was so, so fun to go to Tabor the day they headed off to the game and cheer for the blue and gold. I felt 17 again.
On April 20, 1999, my senior year, the news of Columbine broke. With no cellphones or anything else, we turned on the television in our class and watched with our mouths hanging open and tears in our eyes as that scene unfolded. How on earth could something like this happen at a school?
My graduation was a month to the day from that event, and the security that night was over the top. Would something happen? Cameron Kent — the WXII anchor and a family friend — asked if he could send a videographer and reporter with me that evening for a story about all of it. They followed me to a friend's house, where they filmed us taking photos in our caps and gowns because we couldn't wear them in or out of our ceremony. Because of what might someone try on the one-month anniversary of a horrific school shooting?
As the news broke, I turned on the television to see my sweet school swarmed by every emergency vehicle under the sun. And I quickly fell apart when I saw my dear friend Katie Paterson Allen on the screen, a Winston-Salem police officer and fellow Spartan alum, in her police gear. What was it like to respond to your own school as a police officer?
I lost it at work — where we had earlier heard screaming sirens from downtown rush past our office, just like we did months ago for the Hanes Park shooting — and had to go home to collect myself.
This has got to stop. The guns have got to stop. I feel like every single damn day it's another gun, another shooting, another school. We are becoming numb to it and that is absolutely terrifying. I never batted an eye walking through the halls of Mount Tabor, never felt unsafe. Now every single kid there on Wednesday will see things in their dreams forever, probably. We need the guns gone. We need to get mental health counseling figured out. The wait times to see providers right now are staggering and it just shouldn't be that way. We've got to mentor kids. A teenager with a gun in his or her hand might feel like an adult, but that is a child.
It's different when it's home, but we need to do better everywhere. I was sadly surprised that "only one dead" in a school shooting made the national news, but there was my beloved school on the TV. Everywhere. How terrible it is to think like this because of how often this is happening. We have to do better.
My Spartan heart is so broken, still. I fell into bed that night feeling as if I weighed 1,000 pounds because it was just too much. I don't have kids, but I want to hug each and every single kid that was at that school on Wednesday.
My Spartan heart is also really, really damn proud, though. That school and our law enforcement handled that day like a bunch of heroes. Without question. Watching it unfold on television was a nightmare, yes, but also seeing the response and the hugs between strangers and the prayer circles and all the helpers was incredible. Incredible.
But ... we still have to do better. Come, Ye Spartans. Come, all of us. We have to do better.
Rebecca McNeely, Mount Tabor High School Class of 1999, lives in Winston-Salem.