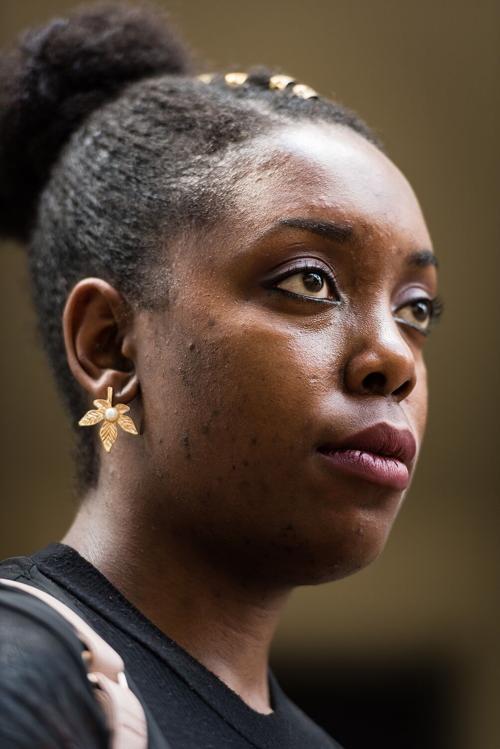 When it was her turn, Brienne read a poem.
I've been to my share of demonstrations, protests and rallies and heard a lot of powerful, sometimes angry rhetoric, but I had never heard someone say she wanted to read a poem — about her father.
John Neville, Brienne's father, died last December at the Wake Forest Baptist Medical Center after being transferred from the Forsyth County jail.
The Journal reported, "(Neville) had suffered a seizure while asleep and fallen from a top bunk bed to the concrete floor. Disoriented, he struggled with detention officers, who placed him in handcuffs and ankle restraints and moved him to another cell. Eventually, he was placed in what is known as a hog-tie position — his arms handcuffed behind his back and his legs folded up toward his buttocks."
John Neville asphyxiated in that position.
He died three days later.
Subsequently, five detention officers and a nurse were charged with involuntary manslaughter.
Over the summer, protests were staged daily at Bailey Park. More than 50 protesters were arrested. Brienne read her poem at one of the rallies.
I called her at her home in Greensboro and asked what writing poetry means to her.
"I am an empath," she told me calmly.
I had never heard the word. What did it have to do with reading a poem about her father?
Judith Orloff, a member of the UCLA Psychiatric Clinical Faculty — and an empath — has written the New York Times bestselling book on the subject, "The Empath's Survival Guide: Life Strategies for Sensitive People."
Orloff said, "(Empaths) are highly attuned to other people's moods, good and bad. They feel everything, sometimes to an extreme." They can be overwhelmed with the impact of someone else's emotions. They may "have a difficult time intellectualizing their feelings."
Brienne says simply that to be an empath is to have "so much to say but not be able to get your words out."
She said, "The death of George Floyd," which occurred five months after her father's death, "was a trigger for me." She told Michael Hewlett of the Journal that she watched only a few minutes of the cellphone footage that shocked America and galvanized demands for racial justice.
"I was struggling — so overwhelmed. I couldn't say it," she told me.
So, she wrote a poem. About her father.
Brienne wrote her first poem when she was 6 years old. She has been writing ever since. She will soon turn 30.
Judith Orloff says empaths need strategies, like time management and walks in nature, to protect their sensitivities. Brienne Neville writes poetry.
"I couldn't say feelings out loud," she said. But she can write them. "I'm better with words on paper than I am saying them."
In September, Brienne was invited to read her poetry at The Word is Out, an open mic (on Zoom now, of course) program that is sponsored by Winston-Salem Writers and the Forsyth County Public Library.
In "Lasts," the poem she read at the rally at Bailey Park and at The Word Is Out, Neville imagined that she and her four brothers and sisters were gathered around their father's hospital bed as they had gathered shortly before life supports were removed.
"Doctors don't know whether comatose patients can hear," Brienne told me. She imagined that her father could not only hear, he could speak. "Lasts" is what Brienne, who speaks her feelings in poetry, imagines her father, who could no longer speak, would say to her and her family, if he could.
Tell my children it wasn't for nothin'
And mine is intertwined in their victories ....
Take my name and spread it through the stars
Fight for the lives of those left behind those bars
And fight for the words I'll never get to say
When there's no time left
Funny, somehow we all find time to pray ....
Then, speaking her own words, Brienne wrote:
If we were made in his image, call us by our name
Say his name: John Neville
Brienne Neville is currently building her company, Connected, which will allow her to "help fellow empaths learn to hone what we call our 'super powers' of intuition and creativity and also teach parents how to help their children cope with their emotions."
I have written this piece with Brienne's permission.
We must honor courage when we see it.
Richard Groves is a former minister and educator.
Catch the latest in Opinion
Get opinion pieces, letters and editorials sent directly to your inbox weekly!