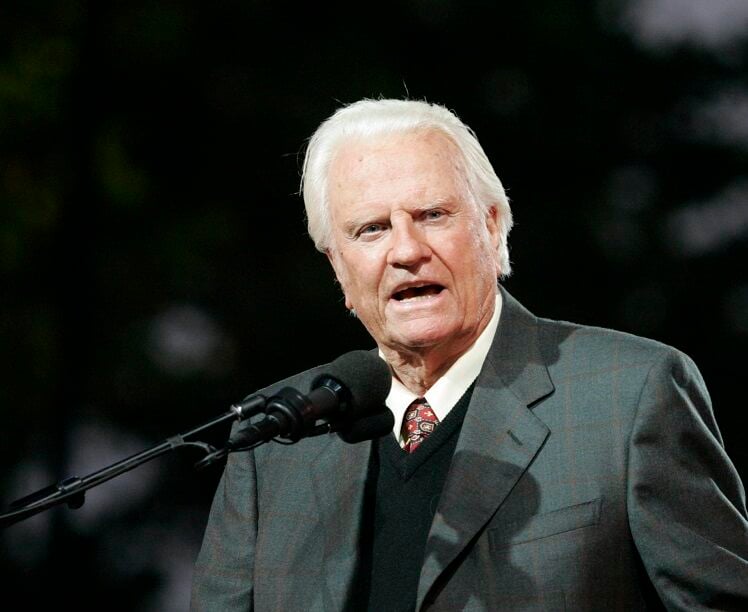 "Why can't we just ignore personal character, as long as a person does the job?'" asked evangelist Billy Graham rhetorically in his 1999 autobiography, "Just as I Am."
"Simply stated," said Graham, answering his own question, "it is because the stakes are too high and the impact on society is too far-reaching.
"Those entrusted with leadership — whatever their field — bear a special responsibility to uphold the highest standards of moral and ethical conduct, both publicly and privately.
"A leader's moral character influences the way he or she does his or her job," Graham explained.
That was once evangelical orthodoxy.
In 1998, the Southern Baptist Convention passed a resolution that "urge(d) all Americans to embrace and act on the conviction that character does count in public office, and to elect those officials and candidates who, although imperfect, demonstrate consistent honesty, moral purity and the highest character."
"Then, along comes Donald Trump," said Cal Thomas, conservative syndicated columnist and former vice president of the Moral Majority, "the antithesis of everything that evangelicals stand for — multiple affairs, crude language, you name it. And a lot of them have made a bargain that it didn't matter anymore."
In 2016, 80% of evangelicals voted for Donald Trump. Four years and 22,000 false or misleading statements later, 76% of evangelicals voted for him again.
The critical thing that happened is that evangelical leaders turned Billy Graham's moral wisdom on its ear by divorcing personal character from public character.
Jerry Falwell Jr., son of the founder of the Moral Majority, Jerry Falwell Sr., said, "It's not our job to choose the best Sunday school teacher. ... It's our job to choose who would defend and protect our nation, who would be the best president."
Robert Jeffress, pastor of the First Baptist Church of Dallas and member of Trump's faith advisory council, told New Hampshire Public Radio that "most of our members are mature enough to understand that by voting for a candidate, they're not endorsing a particular lifestyle. They're simply voting on the issues."
Some evangelical leaders were willing even to separate their political views from their religious views.
Jeffress said that he didn't want "some meek and mild leader or somebody who's going to turn the other cheek" to be president. (Let's see: "meek and mild," "turn the other cheek." Mmm. You mean Jesus, pastor?)
"I want the meanest, toughest SOB I can find to protect this nation," said Jeffress, using his not-in-the-pulpit voice. "And so that's why Trump's tone doesn't bother me."
Jerry Falwell Jr. was equally explicit. "I don't look to the teachings of Jesus for what my political beliefs should be. I don't think he wanted us to. We need somebody tough."
Jesus, who according to Christian tradition was nailed to a cross and left to die an agonizing death, was not "tough" enough for Brother Falwell. (Yes, I am aware of the irony. In August, Falwell resigned his position as president of Liberty University after allegations of a sex scandal.)
To be fair, plenty of non-evangelicals have taken the position that personal character traits are secondary to public character traits in political leaders.
Robert A. Wilson argued in the Wall Street Journal in 1996, when Bill Clinton's personal character was in question, that the test of presidential character is "not whether a president is a good family man or loyal friend. Not whether he has always told the whole truth," but whether "he can inspire us and by so doing build our faith in this nation and all it should stand for."
Fair enough. There is a legitimate debate to be had.
For evangelicals, who were largely mum through numerous ethical scandals that wracked the Trump administration, the question is whether to maintain their character-neutral stance now that a non-Trumpian administration is about to move into Washington or return to their traditional "character counts" position, sparking charges of hypocrisy.
Speaking of hypocrisy, am I the only who missed this? Three weeks before the election, Trump, "by virtue of the authority vested in (him) by the Constitution and the laws of the United States," proclaimed Oct. 18-24 as National Character Counts Week. Seriously.
Richard Groves is a former minister and educator.