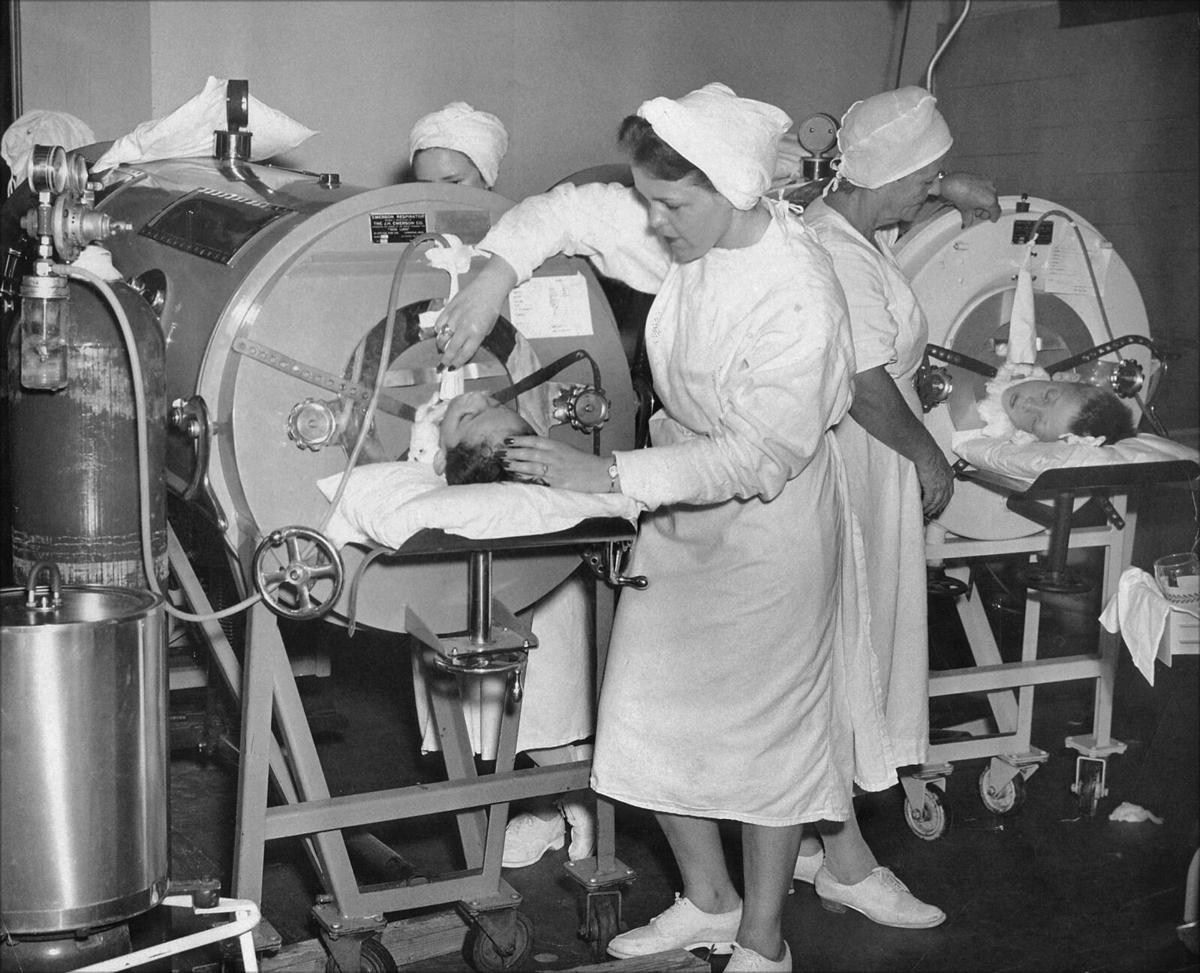 I never knew Ronnie when his legs were not splayed out from the knee or when his fingers were not frozen in place.
I never knew him when every muscle in his body did not seem as taut as a string on a violin or when his speech wasn't muffled and slurred.
I often wondered how life would have been for Ronnie if it hadn't been for polio.
Polio was the silent enemy of my childhood and youth. Its early symptoms were flu-like — sore throat, fever, tiredness, headache, a stiff neck and stomachache. But its effects could be tragic. Of the 57,628 cases reported in 1952, 3,145 died and 21,269 were left with mild to disabling paralysis.
Parents lived in fear because by 1950, the peak incidence of polio was children aged 5 to 9. And it seemed to strike most often in the summer months when children were out of school.
Writing in The Atlantic, David Oshinksy, director of the Division of Medical Humanities at New York University, described the impact of an outbreak of polio in a mid-sized city, San Angelo, Texas: "The city council voted to close theaters, bars, bowling alleys and the municipal swimming pool. ... The locals stopped handling money, and some refused to speak on the telephone, believing that germs traveled through the transmission lines."
In 1949, one of every 124 people in San Angelo contracted the virus, making it "one of the most destructive ever recorded anywhere in the world." Eighty-four children were permanently paralyzed, and 28 died.
Infantile paralysis, as it was called formally, was a terrifying mystery. No one seemed to know what caused it. Local authorities scrambled to find a preventative.
I have a clear memory of sitting in our Chevy with my parents at the drive-in theater as a truck drove among the cars spraying DDT, on the assumption that polio was spread by mosquitoes. DDT had been developed as an insecticide; it had been used effectively against malaria and typhus. Today the EPA classifies DDT as a "probable human carcinogen," but kids sometimes followed the truck, playing in the spray.
A survey found that in 1952, three years after the Soviet Union successfully exploded its first atomic bomb, the only thing Americans feared more than polio was "nuclear annihilation."
From 1939, when the National Foundation for Infantile Paralysis was founded, to 1955, the foundation spent more than half a billion dollars on polio research and polio patient care. Millions of volunteers knocked on doors and collected coins in tin cans and mason jars.
In 1954, Jonas Salk conducted a field test for a polio vaccine. Oshinsky claims that the test was "the largest public-health experiment in our history." Amazingly, the test involved almost 2 million subjects. Even more amazing, the test subjects were children. They were called polio pioneers.
On April 12, 1955, when the announcement was made that the test had been successful, church bells rang across America.
Within two years, the incidence of polio in the United States had dropped 85-90%.
The Salk vaccine and the Sabin vaccine that replaced it seven years later came too late for my friend Ronnie, just as the Moderna, Pfizer and Johnson & Johnson vaccines have come too late for more than 570,000 Americans.
When Ronnie made his way across the stage and received his high school diploma, his friends and supporters gave him an ovation. But when most of us went away to college in the fall, he stayed behind, living with his parents. He never married or had children. Or a career. He never drove a car.
I think about Ronnie sometimes, especially when I read that 25-35% of American adults say they definitely will not or probably will not be vaccinated against COVID-19.
From the outset, a significant portion of the population has resisted strategies to protect themselves and their fellow Americans against the deadly pandemic, strategies as simple as social distancing and wearing a mask, often in the name of freedom: not our freedom ... my freedom.
Incredibly, in a recent survey, 38% of respondents who said they were taking a wait-and-see approach said they would be more likely to get a vaccination if their employers gave them a $200 bonus.
Oshinsky says that "polio's conquest represented a milestone for voluntarism and public-spiritedness." Maybe that is what is missing in our slow slogging struggle with COVID-19 — public spiritedness. I prefer to call it old-fashioned patriotism.
Richard Groves is a former minister and educator.