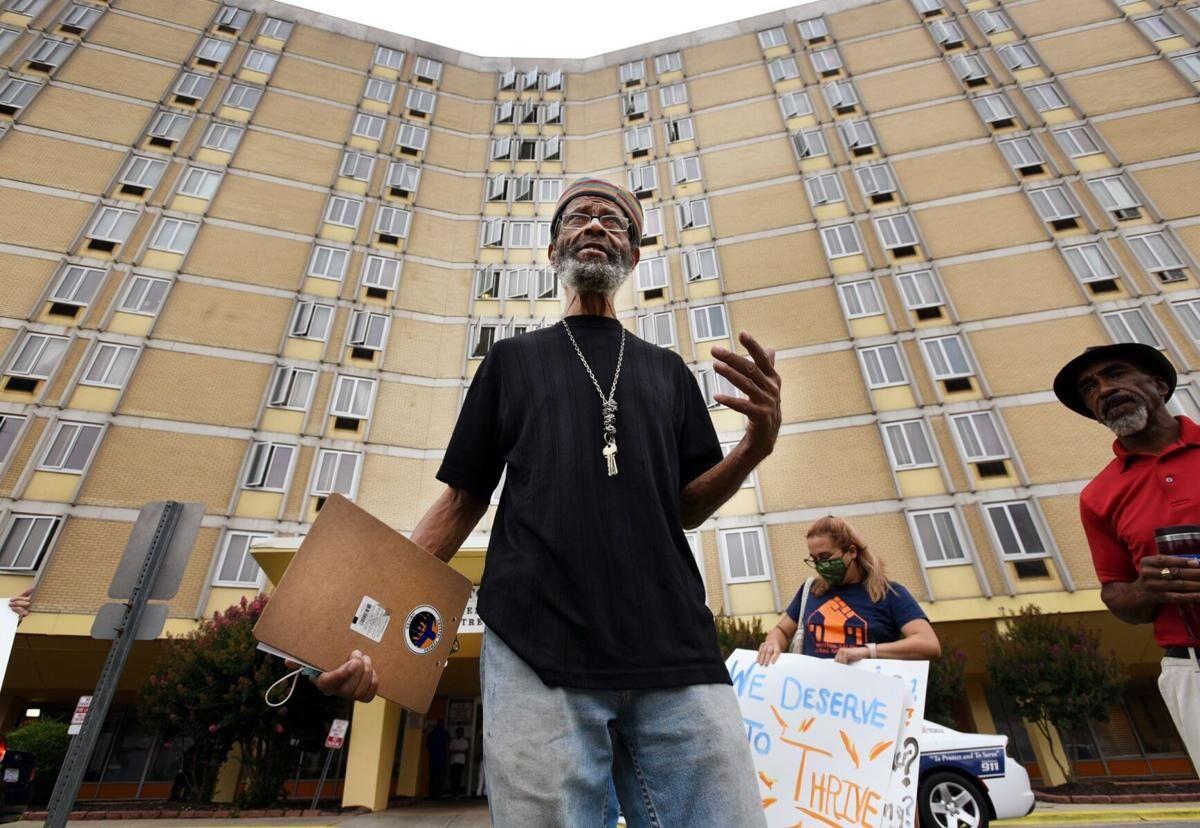 The Housing Authority of Winston-Salem (HAWS) has kept residents of Crystal Towers in limbo for three years since it put the building up for sale in 2018. If HAWS pushes the building's 200-plus residents out of their downtown homes, it will be a "textbook case of gentrification" according to City Councilman Jeff MacIntosh. This continues the trend of lower-income communities such as the African American West End and Boston Thurmond being squeezed out of the city's core. Still, HAWS keeps pushing to finalize the deal. The agency recently cleared one major hurdle when Mayor Allen Joines quietly flipped his position and threw support behind the sale.
Crystal Towers is emblematic of our city's affordable housing crisis. The city has a shortage of more than 16,000 units for families who earn less than 80% of the area median income (AMI). The majority of this housing is needed for older adults like those who live at Crystal Towers. HAWS has an estimated 8,000 families on its waiting lists for affordable housing. HAWS plans to relocate Crystal Towers residents mostly using Housing Choice Vouchers (commonly known as Section 8), but what will happen to the other families on the Section 8 waiting list if Crystal Towers residents are put at the top? They will be forced to wait even longer, as the sale of Crystal Towers would reduce the supply of affordable housing not just downtown, but across the city. And with the revenue generated from selling the building to a private developer, HAWS has stated that it will replace Crystal Towers with 90 new housing units, only 40 of which would be located downtown. It doesn't add up.
Crystal Towers was built to house the elderly and physically disabled. As HAWS Executive Director Kevin Cheshire noted, many of the residents today also face mental disabilities. Since the Fair Housing Act of 1988, younger residents with chronic mental illness and substance abuse issues have also been living in public housing designed for seniors. While Cheshire calls it "nearly impossible for (residents with mental health challenges) to adhere to the behavioral and housekeeping standards required to maintain safe and sanitary housing," a plan to force them to scatter throughout the community — instead of improving social supports at Crystal Towers — is no plan at all.
There is also not a good plan in place to address other concerns that relocation would bring. Those landlords who do accept Housing Choice Vouchers have been found to overcharge, skirt housing-quality standards and increase residential instability (Garboden, et al., 2018). Furthermore, the removal of Crystal Towers residents from downtown would dislocate them from grocery stores, the library, the bus station, parks, medical and other important services. It would also impose utility bills (which are currently included in the rent at Crystal Towers) that many will not be able to afford. These conditions can only lead to an increased risk of eviction and homelessness.
One way or another, Crystal Towers must be renovated. Indeed, residents might have to be temporarily relocated. But this is more than possible if the political will exists. The city and county have recently received more than $120 million in federal stimulus funds. The residents group Crystal Towers United (CTU) has gathered signatures from a majority of tenants there demanding that the city and county aid HAWS in paying for the estimated $7 million in repairs needed at the building. When HAWS bandied about the $7 million figure in justifying the sale of the building, it did not mention that the cost was projected over 20 years, a mere $350,000 per year to save a crucial piece of our social safety net and avoid gentrifying some of our most vulnerable residents out of downtown Winston-Salem.
We demand that HAWS do the right thing: Ask the city and county for the funding needed to save Crystal Towers as affordable housing for generations to come.
Samuel Grier is a Crystal Towers resident and leader of the residents group Crystal Towers United. Dan Rose, Ph.D., is an assistant professor of sociology at Winston-Salem State University.