If our moment of racial reckoning in Virginia has an expiration date, it will go down as Nov. 2, 2021.
That's when white grievance, as served up by Glenn Youngkin in his quest to be governor, proved to be the winning ticket as he and his fellow Republicans were propelled into statewide office by an issue spun out of whole cloth. 
In the 1970s, white parents fled to the suburbs rather than have their children sit in a classroom with Black children. Today, parents in suburban locales such as Chesterfield, Hanover, Loudoun and Stafford counties are trying to keep the history of anti-Black racism out of the classroom.
"What's the most important issue in the governor's race here in Virginia?" a man is asked.
"Getting back to the basics of teaching children. Not teaching them critical race theory," he replies. 
"And what is critical race theory?"
"Well, I'm not going to get into the specifics of it because I don't understand it that much ... but what little bit that I know I don't care for." 
The implications of the video weren't so funny after Tuesday's election.
"What does it mean when people are voting on wedge issues they don't understand?" asked University of Richmond historian Julian Maxwell Hayter.
"The Commonwealth of Virginia has undergone an unprecedented amount of change. Monuments have been removed; the death penalty has been abolished," he said, before asking: "Who didn't see there was going to be a backlash to this?"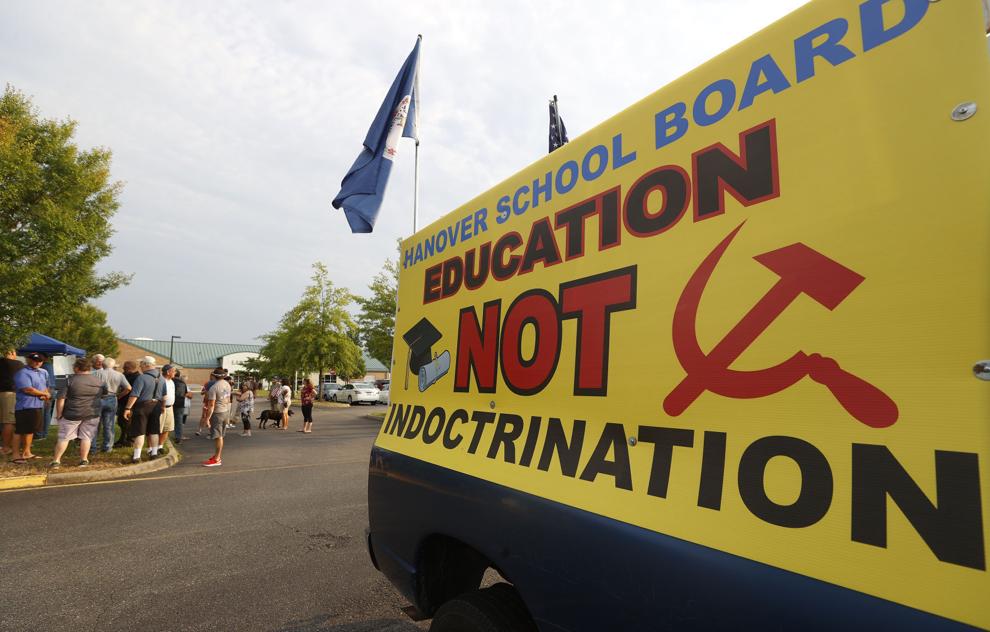 America has a long history of white backlash to Black progress. Reconstruction begat the violent white Southern "Redemption." The civil rights movement made a prophet out of President Lyndon B. Johnson, who said after signing into law the Civil Rights Act of 1964: "We (Democrats) have lost the South for a generation." (He underestimated.) Richard Nixon's "Southern Strategy" was born.
The nation's first Black president helped spawn the presidency of Donald Trump and sparked a resurgence of white supremacist groups.
During the aftermath of the 2020 protests that followed George Floyd's murder by a Minneapolis police officer, America seemed poised to push for greater social justice. But Tuesday night also saw voters reject a Minneapolis measure to overhaul policing. 
Nothing symbolizes America's about-face on race more than Trump, at the World Series in Atlanta, tomahawk chopping in support of a baseball team that refuses to renounce its racist insult of America's indigenous people. Antipathy toward Trump helped foster the illusion that Virginia had turned irrevocably blue. Tuesday, he was crowing at Youngkin's victory. 
The demise in Richmond of what would have been the only Black-owned casino in America might have been even more surprising than Terry McAuliffe's defeat. 
Cathy Hughes, founder of the Urban One media conglomerate, pitched the One Casino + Resort as a symbol of racial pride. But the casino was overwhelmingly opposed by white voters who narrowly sank it, despite its support in the heavily Black and Latino 8th and 9th districts of South Richmond.  
In hindsight, casino backers overplayed their hand. Selling Black empowerment on the backs of the Black impoverished was always going to be a complicated transaction. Mayor Levar Stoney and Black organizations such as the Richmond and Virginia NAACP and the Richmond Crusade for Voters argued that the casino would bring jobs, revenue and investment in an area of South Richmond that could use it. But a biracial group of establishment and progressive folks worked to defeat what they called an exploitative business model. 
In the aftermath of Tuesday's election, Mignonne Guy, chair of African American Studies at Virginia Commonwealth University, said white people should stop trying to save Black people and focus on saving themselves. 
Like many Black folks Wednesday, Guy was exasperated at the success of the Youngkin campaign's race-baiting, which included not only his intent to "ban" Virginia's phantom critical race theory, but his campaign ad attacking Toni Morrison's Pulitzer Prize-winning novel "Beloved." She attributed the outcome to "the unwillingness of all to fully relinquish the ideology of whiteness."
It's tragic that this election ultimately hinged on the unwillingness of white parents to have their children learn about Black history. As has been stated again and again, critical race theory, the stuff of law school curriculums, is not taught in K-12 schools in Virginia. But racial grievance has become the GOP brand, whether the subject is a nonexistent curriculum or virtually nonexistent voter fraud. 
This phony "critical race theory" issue is a metaphor for our inability to engage real problems. We've got our share: The virus, child care, economic inequality, a crumbling infrastructure, systemic racism, late-stage democracy and the existential crisis presented by climate change. We don't have the luxury of indulging in fake problems. 
Democrats, in general, seemed flat-footed and complacent as Republican enthusiasm crested into a crimson tide. The February 2019 scandals that ensnared the state's top three officeholders -- Gov. Ralph Northam and Attorney General Mark Herring (blackface) and Lt. Gov. Justin Fairfax (sexual assault allegations) -- were a harbinger of the limited shelf life of Democratic fortunes. 
Black and liberal voters in Virginia were somewhat insulated from Trumpism by having Democrats in power. Tuesday's outcome -- Democrats also lost control of the House of Delegates -- means Trumpism moves closer to our doorstep. 
Reimagining a famous quote about justice by the Rev. Martin Luther King Jr., Hayter asks: "What if the moral arc of American political development is actually a pendulum?"
Well, if you're Black in America, you'd better duck.