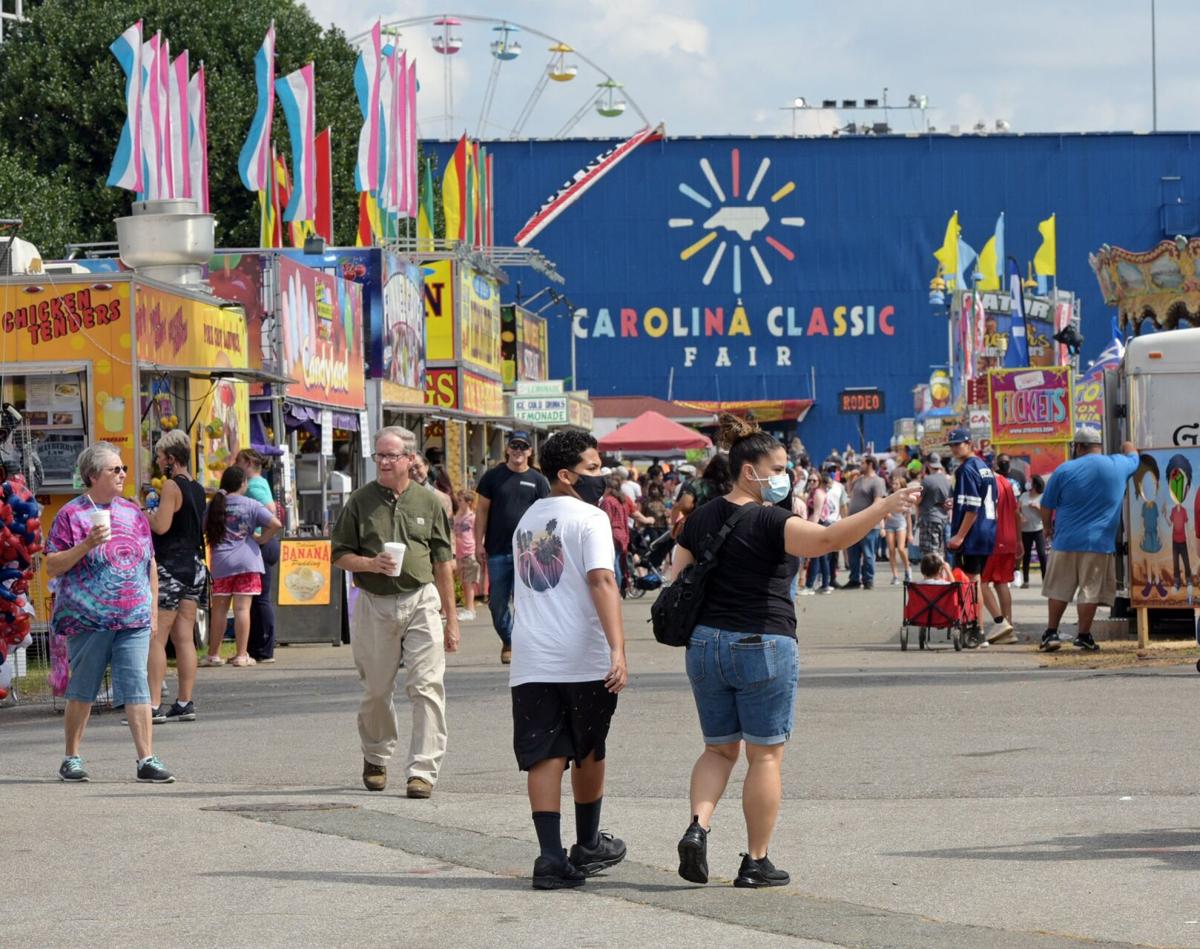 As we approach the closing weekend of the Carolina Classic Fair — Sunday will be its final day this year — we hope it will prove to have been a success, in terms of revenue generated and fun had. We're glad that organizers pushed for and officials permitted the fair this year — as medical officials pointed out, we desperately needed the "positive recreation" — though disappointed that many attendees have failed to take the proper recommended precautions to keep everyone safe from COVID. It would break the hearts of many fair supporters if this year's fair became a superspreader activity.
It would also give City Council member D.D. Adams the right to say, "I told you so."
So to those who may attend this weekend: Take care. This may be as good as it gets, in terms of public participation to prevent COVID spread, but we need not emulate the more careless among us. Keep up the precautions.
The best proof against the worst symptoms of COVID — including and especially death — is still vaccination. Nothing is 100% certain, but some things are very certain. Those who have been vaccinated can proceed with their lives with a high degree of confidence — especially if they also continue to use masks, social distancing and hand-washing when appropriate.
Because of the reluctance of the unvaccinated who enabled the delta variant, we'll likely have to keep up the safety protocols for some time to come.
October is bringing us cooler temperatures, but COVID has also come along. In Forsyth County, 12 COVID-related deaths have been confirmed by the N.C. Department of Health and Human Services — more than one a day — since the beginning of the month. As of this writing, that has contributed to the total of 525 deaths in the county since the pandemic began, and just under 50,000 positive cases. Statewide, 1.42 million North Carolinians have been infected with COVID and 16,945 have died — the vast majority unvaccinated.
Among those who died, 94 in Forsyth County were victims of re-infections. Despite what some cable TV pundits say, recovering from COVID is no guarantee that one can't catch it again.
Some seem incapable of learning from the evidence.
So: Take care. We've come this far, but we can't surrender vigilance now.
The Winston-Salem/Forsyth County school board voted last week to continue its mask mandate — and we join others in expressing dismay that three school board members voted against it. They should probably take their cues from school board member Elisabeth Motsinger, a health care professional who voted to continue the mask mandate.
And those who worry that making children wear masks amounts to "psychological abuse" should consider the abuse ravaged against a child's mind and body by COVID.
As COVID lingers, it's downright disheartening to see the violence that has been threatened against school board members in other places in response to their COVID safety protocols. These threats seem to come from parents drunk on cable TV misinformation. As a result of the fear they've generated, the National School Boards Association has asked the Biden administration to review the evidence and consider whether their threats should be considered "the equivalent to a form of domestic terrorism and hate crimes" under the USA PATRIOT Act.
Of course, some reactionary cable TV pundits and congressional members immediately twisted the facts to make it sound as if school officials were trying to enlist the Department of Justice to squelch free-speech rights.
Take care, senators: Nobody has a free-speech right to threaten violence.
We're grateful that, even among those who disagree with the school board's decisions, we've not heard of such extremism here.
Fall brings with it a plethora of activities, organized and otherwise, and many of us, weary of sitting at home, will answer the call to extend our reach. We all deserve a bit more "positive recreation." Take care.