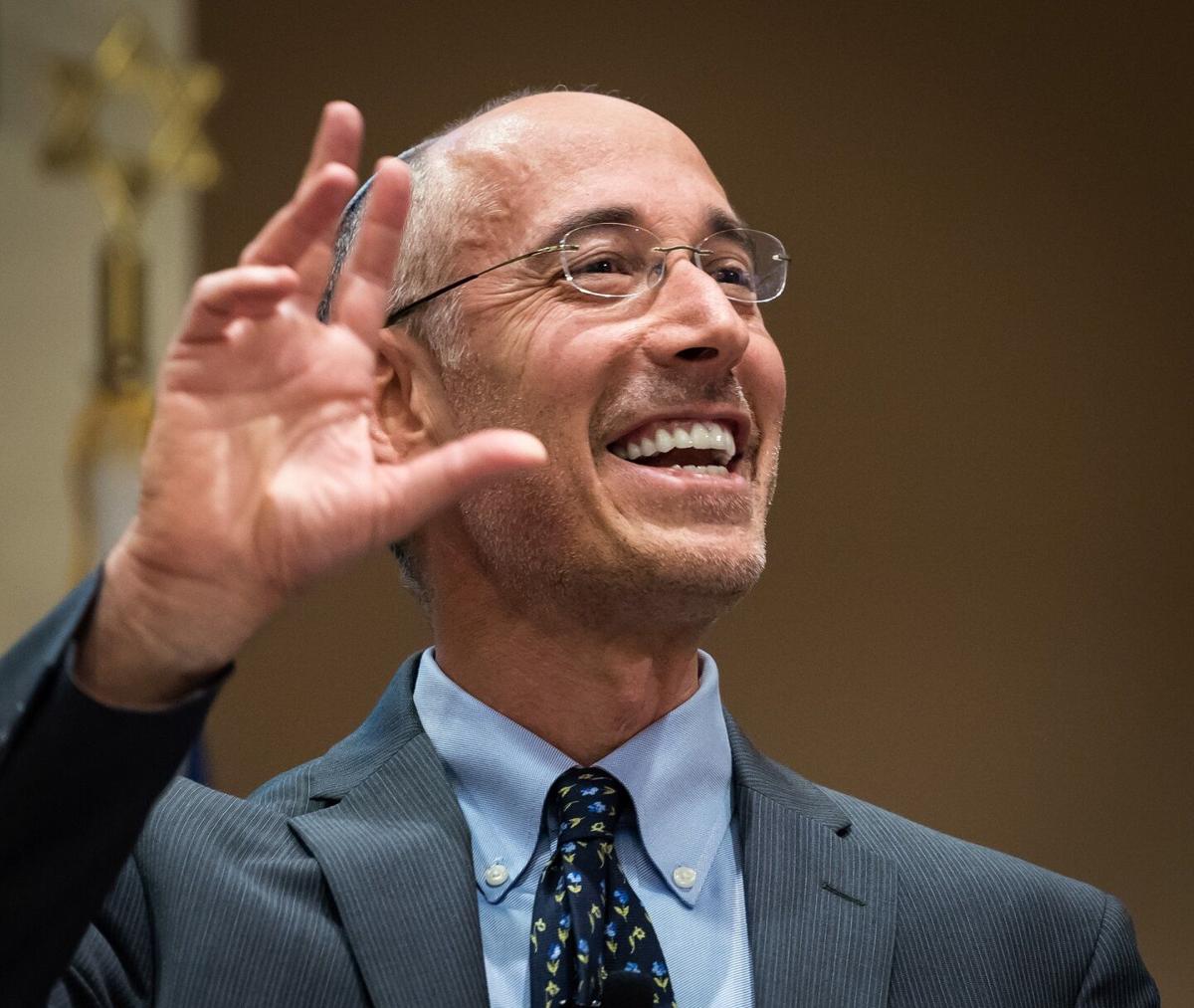 It seems like a season for goodbyes. Today we say farewell to a community pillar, Rabbi Mark Cohn of Temple Emanuel. Last week, the Journal's John Hinton reported Cohn's imminent departure from Winston-Salem. And while we're sad to see him go, we're grateful that he spent a portion of his time with us. We wish him the best in the future.
He's leaving for the best of reasons: love.
"I'm not leaving for another position," Cohn told the Journal. "I got engaged to this remarkable woman who lives in Springfield, Mass., and we want to make a life together."
The remarkable woman is Rabbi Amy Wallk Katz of Temple Beth El of Springfield, Mass. She and Cohn plan to marry in Cohn's home, San Francisco, in January 2022.
Cohn has been the spiritual leader of Temple Emanuel, Forsyth County's only synagogue, for more than 20 years. A native of the San Francisco area, he studied history at the University of California at Los Angeles and earned a master's degree in the subject from Lehigh University in Bethlehem, Pa.
He also received a master's degree in Hebrew letters from the Hebrew Union College-Jewish Institute of Religion in Cincinnati and was ordained in 1998.
He served as the assistant rabbi at Congregation Schaarai Zedek in Tampa, Fla., before moving to Winston-Salem.
"I feel very blessed to have been here as long as I have," Cohn said. "I've had the chance to make incredible partnerships in the city of Winston-Salem."
Those partnerships include many other faith leaders in the community — such as the Rev. Ginny Tobiassen, the pastor of Home Moravian Church, and Imam Khalid Griggs, the prayer leader of the Community Mosque in Winston-Salem, both of whom consider Cohn a friend.
"I feel a void with him leaving the community," Griggs said. "He's made an ... impact on the religious community as well as the social justice and environmental community here."
"He has been a wonderful friend and colleague in the faith community, full of energy and good humor," Tobiassen said of Cohn. "He is a fine scholar and very generous in answering questions about the Hebrew Scriptures and Judaism."
He joined other faith leaders on many occasions, including in 2017, to oppose former President Trump's Muslim travel ban and urge Winston-Salem to adopt a resolution declaring this to be a "welcoming city" for refugees and immigrants.
Cohn contributed guest columns to the Journal on occasion — but not often enough. He approached the issues facing our community with insight and understanding. We were richer for his contributions.
He also had to lead his congregation through some tough times, including the Sept. 11, 2001, terrorist attacks in New York City and Washington, D.C., which occurred shortly after his arrival, and outbursts of bigotry and antisemitism, sometimes expressed by disruptive cultural forces, sometimes by elected government officials.
During some of the more prominent national episodes of racism — including the massacre of nine members of the Emmanuel AME Church in Charleston, S.C., in June 2015, the white supremacist rally against Jews and Blacks in Charlottesville, Va., in August 2017, and the massacre of 11 people at a Pittsburgh synagogue in 2018 — Cohn took a stand for justice, and did so with grace and courage.
We wish Temple Emanuel success in finding a new rabbi as conscientious as Cohn. We have no doubt that he'll continue to be a force for good in the world. It seems to be in his bones. Confident of that, we say goodbye — for now. Shalom aleichem. Kol tuv.