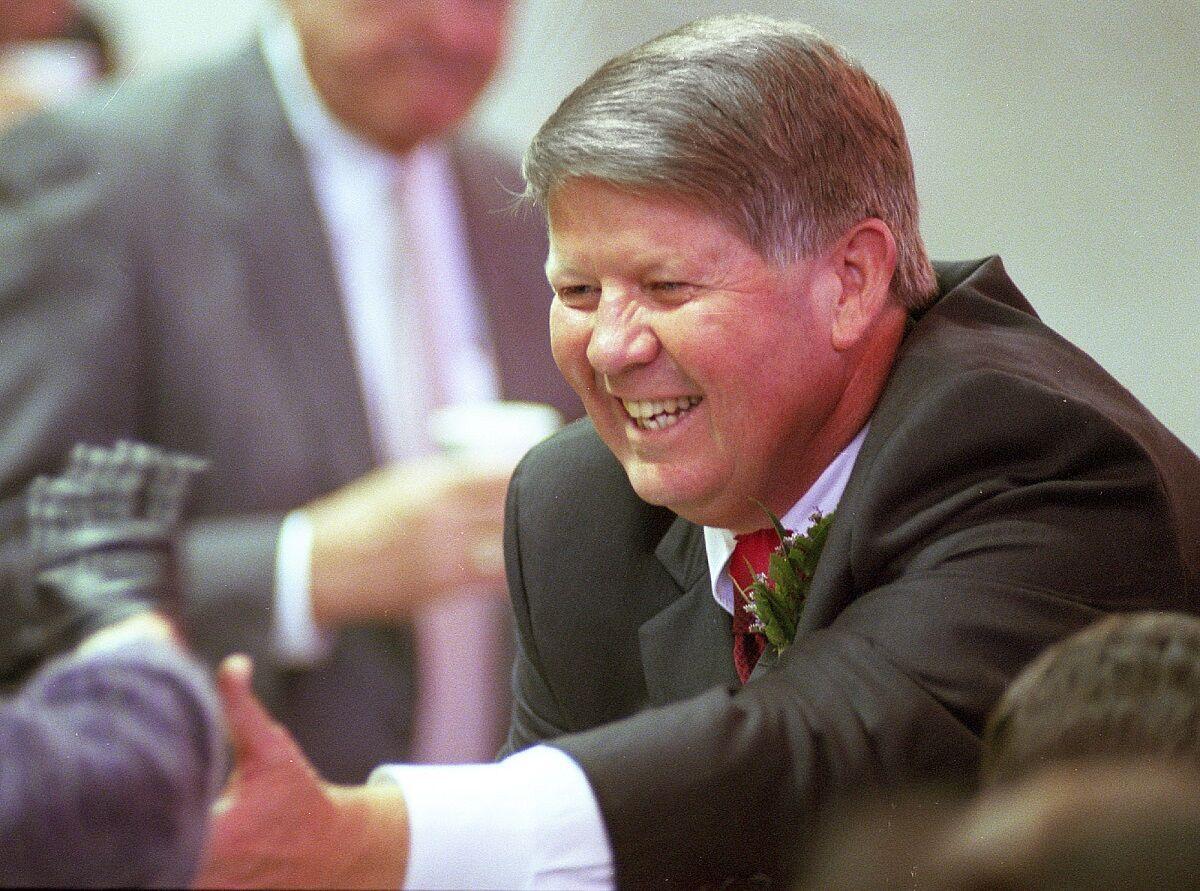 Like many in the state, we were saddened to hear about the death Monday of Marc Basnight, a well-known and highly influential former state senator and long-time Senate president pro tempore — the longest serving in state history at 18 years. An Outer Banks, Dare County Democrat, he enacted some of the most significant state legislation of our era. He was liked and respected by both Democratic and Republican legislators.
"North Carolina lost a giant today with the passing of my friend," Gov. Roy Cooper said in a news release. "His positive influence on our public universities, transportation, environment and more will be felt for decades. A man of great power and influence, his humble, common touch made everyone he met feel special ... He believed in North Carolina and its people, and our state is stronger because of him."
"Marc Basnight was one of the most effective and influential political leaders in North Carolina's history," Sen. Richard Burr said in a statement. "Marc was a powerful man, but everything he did was driven by a deep and genuine love of people that was evident to all. I always considered him to be one of my best friends. He will be missed."
Basnight began to rise in state government in the 1970s and was elected to the state Senate in 1985. He hit his stride as a legislator in the 1990s and 2000s. During his 26 years in the Senate, he deftly operated the reins of power and was often called the most powerful man in state politics.
GOP leaders complained at times that Basnight held too much power, but as Republican state Sen. Bob Steinburg said in a statement, "He utilized his position for much good, and Eastern NC, an area often neglected in budgets in the years preceding Basnight, was now securely a big part of the biennial budget discussions and ultimate appropriations. Eastern North Carolina, and in fact the entire state, will forever be grateful to him and his family for his service."
He resigned his Senate seat in early 2011, just before Republicans took power. At the time, he was already struggling with a degenerative nerve disease.
Much of our current environment was shaped by Basnight's influence, including the passage of the state lottery, the ban on smoking in restaurants and bars, improved ethics reforms and improved public education.
Though he had little formal education beyond a high school diploma, as a state senator, he became a voracious reader and an authority on the state's environment and university system. In 2000, he supported a $3.1 billion higher education bond package that was approved later in the year in a statewide referendum.
But despite his legislative accomplishments, he may be best known for his affection for his fellow North Carolinians and his desire to listen and learn from them. Every week that he drove the 190 miles from Manteo to Raleigh, he made a point of stopping to meet constituents and learn about their needs.
Basnight's family runs a popular seafood restaurant in Nags Head, Lone Cedar Café, with memorabilia on display representing Basnight's political career. Basnight can be seen in photographs with senators, governors and presidents. When travel is more feasible, it would be worth a visit.
In an age of political acrimony, it's tempting to think that the time of leaders like Basnight has passed. The truth is that we need them more than ever — leaders whose love for their constituents is obvious; who can form relationships with their political rivals; and who can work to improve life for all residents, not just those on their side of the political divide. We need to seek out and support more legislators of Basnight's caliber.