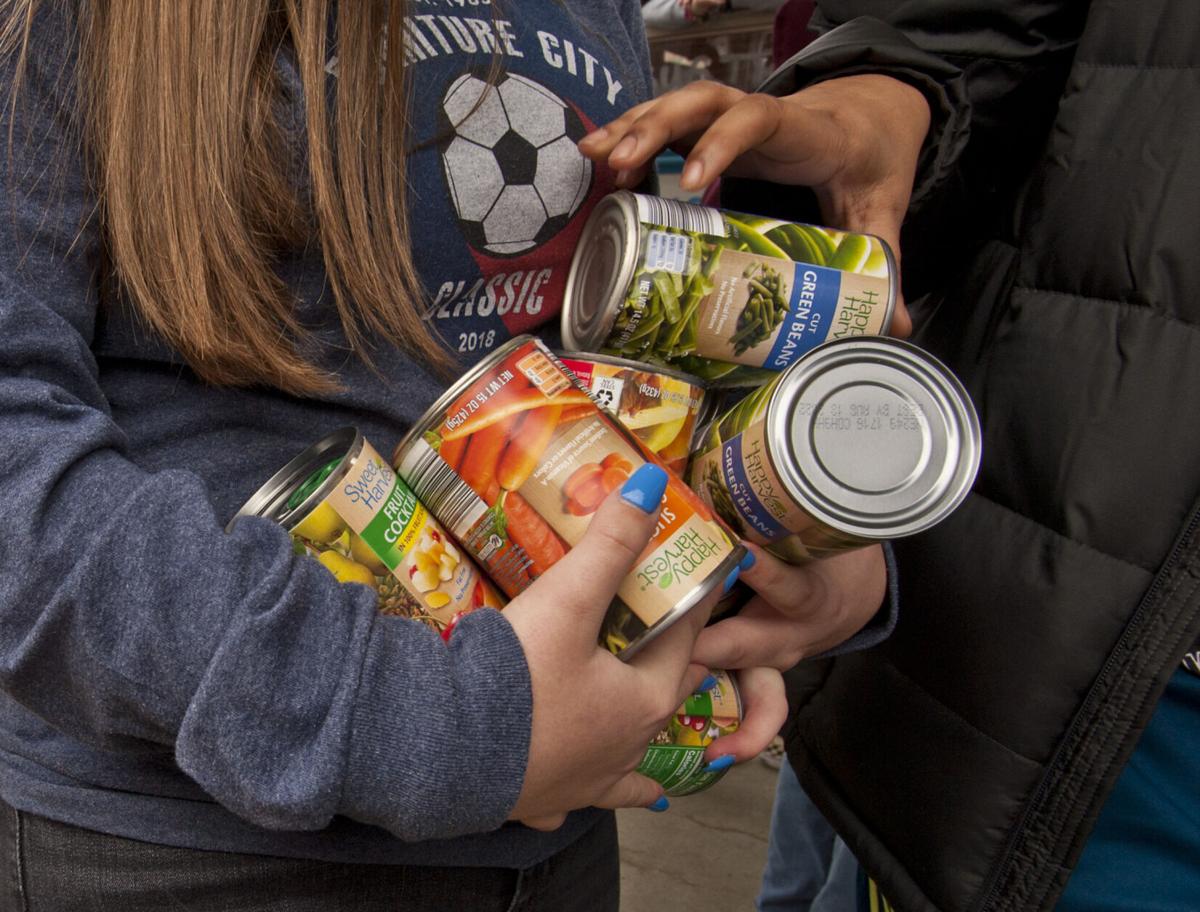 With the turkey either behind us or filling out this week's sandwiches, we've officially entered the holiday season — a time when the sun sinks low, the thermometer struggles to rise, we don our coats and scarves, and think about family, friends and other blessings — and we think about those less fortunate. Charles Dickens may have invented Ebenezer Scrooge, but he didn't invent poverty. Every winter, we find people in need who remind the better-to-do among us — which likely includes almost everyone reading these words — that sharing is both necessary and a blessing to the giver.
Officers with the Forsyth County Sheriff's Office walk the streets and see the needs. So several of them were in east Winston last week, participating in a coat and hat giveaway organized by Sgt. Dwayne Little.
After seeing the way people pile on layers of sweaters and thin jackets in the winter, Little put out the call for help and his fellow officers responded — as did Hanesbrands subsidiary Champion, which added a substantial donation of coats, gloves, hats and socks.
"What we're called to do is help the least of us," Little told the Journal's Lisa O'Donnell.
It's the first of several giveaways he's planned for this winter. For those who'd like to contribute, donation boxes are set up at the sheriff's office on Church Street.
The Twin City Bike Collective is also getting in gear for the season of giving. Its members recently gave away nearly three dozen rebuilt bicycles that they'd received as donations. The bike collective carries on the work of Mule Power, who was well-known in the community after he started rebuilding and giving away donated bikes in the 1980s.
Love Out Loud, a local Christian nonprofit, is hoping to gather 200 bikes to give away in its annual Christmas in the City program.
These are just a few examples of the many individuals and community organizations working to help the needy among us. They include established and effective organizations like the United Way and the Second Harvest Food Bank of Northwest North Carolina.
Second Harvest knows how to stretch a dollar.
Every year we stress that people often fall through the cracks through no fault of their own. That's especially true this year, when a deadly pandemic has hit our communities like a small bomb.
Last week, Gov. Roy Cooper signed a new executive order tightening the mask mandate throughout the state. Winston-Salem Mayor Allen Joines also issued a declaration that authorizes city police and fire officials to enforce the governor's order with fines and jail time — though city officials hope that will only be done as a last resort.
Initial unemployment-insurance benefit claims in North Carolina inched up last week, the U.S. Labor Department reported Thursday. "Widespread layoffs remain a serious problem for the economy," Gus Faucher, chief economist for PNC Financial Services Group, said.
Earlier this month, Gov. Roy Cooper, looking at an estimated 300,000-400,000 households that are currently unable to pay rent, signed an executive order to prevent evictions. This puts an undeniable strain on property owners and landlords, but at least they have roofs over their heads.
Some landlords have been evicting families despite a moratorium on evictions instituted by the CDC, the (Raleigh) News & Observer reported last week.
But more needs to be done.
This season provides abundant opportunities to give. We're counting on Santa's helpers to generate some good cheer and remind us all that even when life is challenging, we have blessings to count.