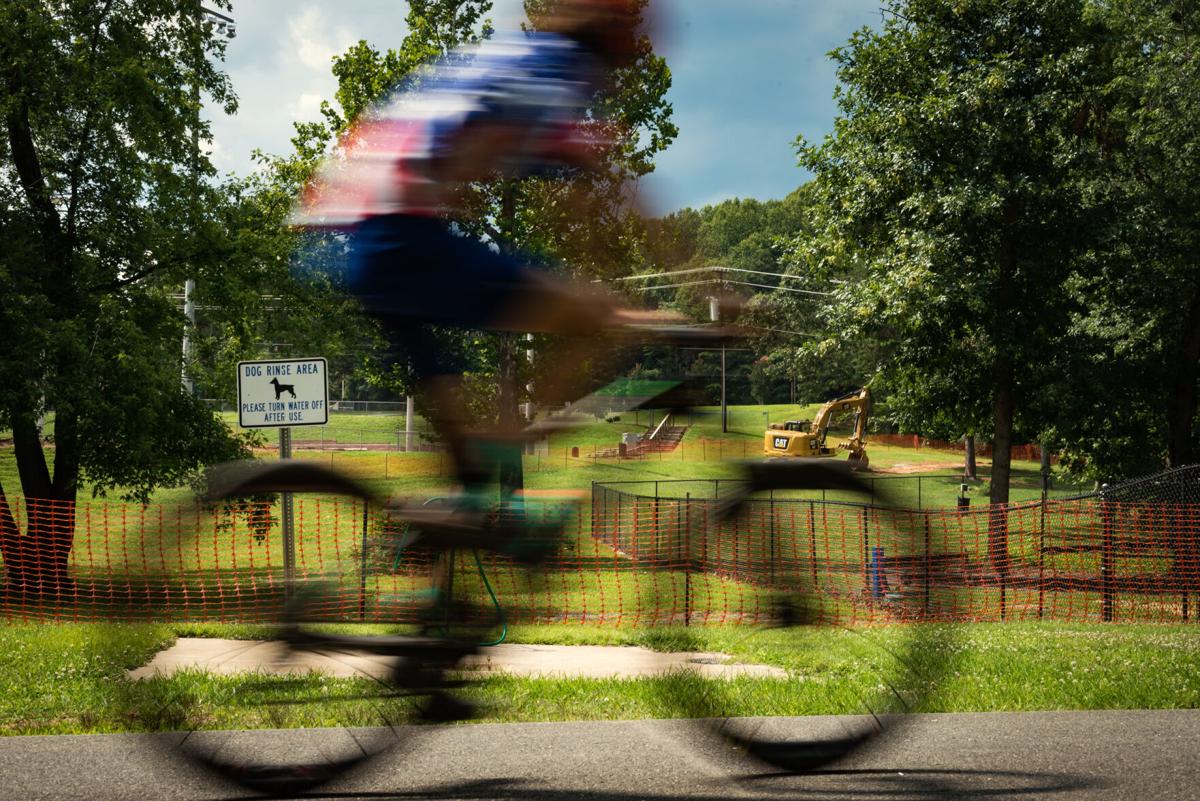 One of the underappreciated gems of Winston-Salem and Forsyth County is our extensive system of parks, full of trees, water and amenities such as developed trails, picnic shelters and sports courts. Free to enter, they make life richer for residents and likely attract visitors from nearby communities.
They also serve as selling points to transplants from other areas of the country and world. Especially in the midst of the COVID-19 pandemic, they provide needed space for recreation and relief to people who otherwise might feel they have no place to go.
So we're always glad to learn about improvements that make our parks more accessible and appealing.
One such example is Washington Park, where the city just signed a contract with a building company to work on a small part of the park as part of the city's long-range plan for park system improvement. The work is expected to begin in about a month.
Construction is scheduled for a new restroom and a new picnic shelter in the south side of Washington Park, near the playground. Another existing shelter will also be renovated. Worn asphalt paths will be repaired and the park entrance on Park Boulevard at Vintage Avenue will be refurbished.
The new construction and renovation will be influenced by designs that originated in 1932. And the new shelter will have a rustic appearance like the one there now.
A big change for the park will be the creation of a new vehicle entrance at the end of Bond Street off Broad Street.
It'll certainly be more attractive than the current narrow entrance, next to an electrical substation. But the new entrance will also pass a residential area where children play. Visitors will have to take caution.
The city's greenway trail system, which stretches from Marketplace Mall on Peters Creek Parkway all the way to Salem Lake, with connections to downtown Winston-Salem and Quarry Park, passes through Washington Park. The park is also the home to a dog park and the Gateway Nature Preserve, an educational and preservation project. The development is just one part of a 2018 park-improvement bond project approved by voters.
On the northern side of town, C.G. Hill Memorial Park on Balsom Road is expanding by 12 acres, purchased by Forsyth County to ease plans for future park development.
The land was bought from Antone J. Kajs, who will lease back four acres and continue to live there while planning for his eventual departure.
"It opens up access to Balsom Road," Kirby Robinson, the assistant director of general services for Forsyth County, told the Journal earlier this week. "It will let us get heavy equipment in to make development happen to the western part of the park."
That may sound a little threatening to people who prefer wilderness. But though the master plan for the park includes new picnic shelters and playgrounds, most of the land on the western side of the property will remain undeveloped.
The eastern side of the 185-acre site, with its fishing pond, tree-lined walking path and iconic hollow tree, now receives the most amount of pedestrian traffic.
When developing parkland, there's always the threat of overdeveloping, akin to wrapping a fence around a tree so that it can be put on display. Most residents don't want that; they still like to feel they're entering something fresh and wild when they visit, something that's not been overused.
We take our parkland from its previous residents — squirrels, birds, groundhogs, otters, foxes and deer. We've at least got to be willing to share.