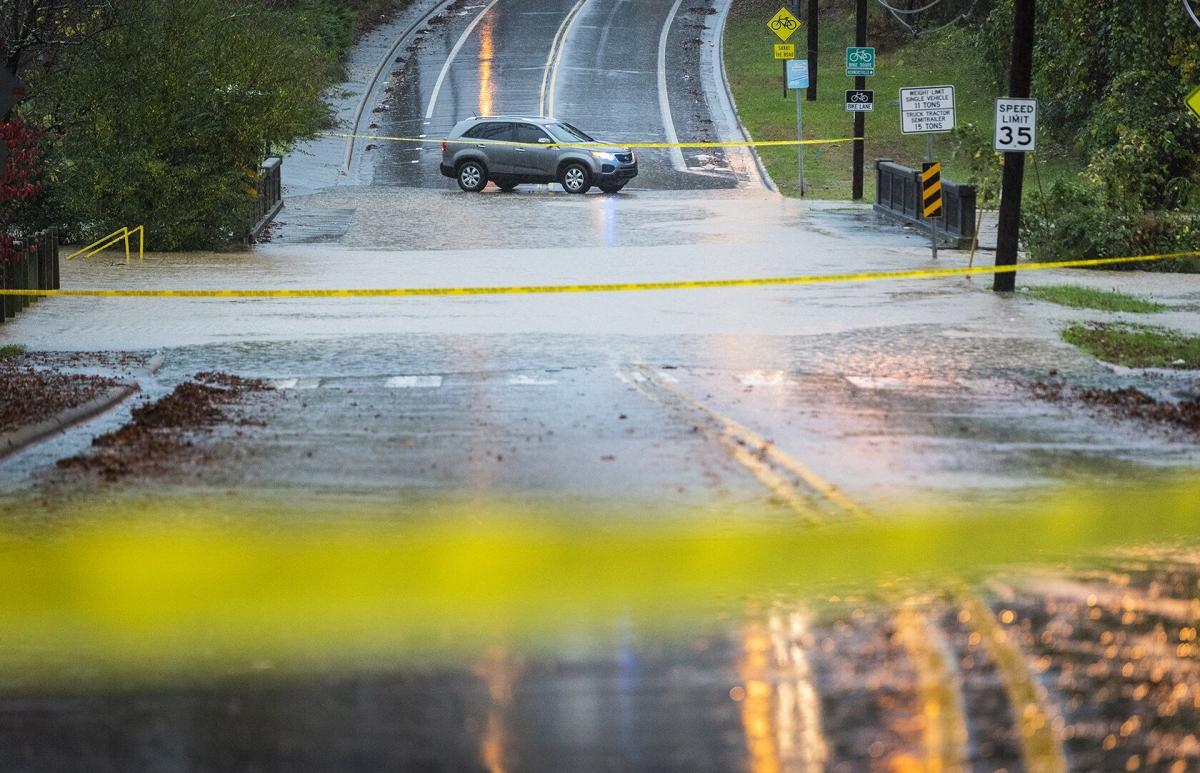 We can stand a little rain.
We did so Thursday, despite its resulting intermittent flooding in Winston-Salem and nearby parts of central and Northwest North Carolina.
The flooding was reported among some of our main thoroughfares: near the intersection of Reynolda and Yadkinville roads, where Mill Creek and the marsh at Poindexter Nature Preserve overrode their banks, and on University Parkway, which was closed for about two hours Wednesday evening. Old Greensboro Road near Fifth Street also had to be closed. And the Winston-Salem Fire Department had to help evacuate residents of Creekwood Apartments, which flooded.
A few cars sank beneath the waters, but fortunately, no injuries were reported.
A tree fell and blocked Craver School Road on Wednesday afternoon, and a retaining wall washed out on Meadowlark Road, which led to Meadowlark Middle and Elementary school students switching to remote learning, the Journal reported. The area around Brunson Elementary School also flooded, leading to more remote learning.
Up to 4 inches of rain was reported in some areas, but most received 2 to 3 inches.
Many of our greenway trails could have been used for kayaking.
The sun should come out this afternoon, helping to dry flooded basements and roads.
But our woes seem almost quaint in light of the flooding suffered by victims of Tropical Storm Eta, which landed just north of Tampa for the second time Wednesday night. It brought heavy rains, gale-force winds and flooding. More than 11,000 people in the area lost power.
At its strongest earlier in the week, Eta was nearly a Category 5 hurricane. It killed 120 people in Central American and Mexico and left hundreds more missing.
This follows Hurricane Zeta, which battered southeastern Louisiana and Mississippi at the end of October.
Meanwhile, another storm system is brewing in the Caribbean. If it strengthens, it will become the 30th named storm — Iota — of the record-breaking 2020 Atlantic hurricane season.
These storms serve as a reminder that climate change doesn't mean constant heat forever; trapping more heat and carbon in the atmosphere generates more energy there, which reacts in unexpected and dangerous ways.
Without climate change, catastrophes still occur.
With climate change, they're worse and more numerous.
We hope the incoming administration takes the problem more seriously than the outgoing administration, as it promises to do.
Despite these recent weather events, we're expecting mild temperatures and sunshine Friday afternoon, and we encourage everyone to step outside and appreciate this agreeable fall. It won't last forever.