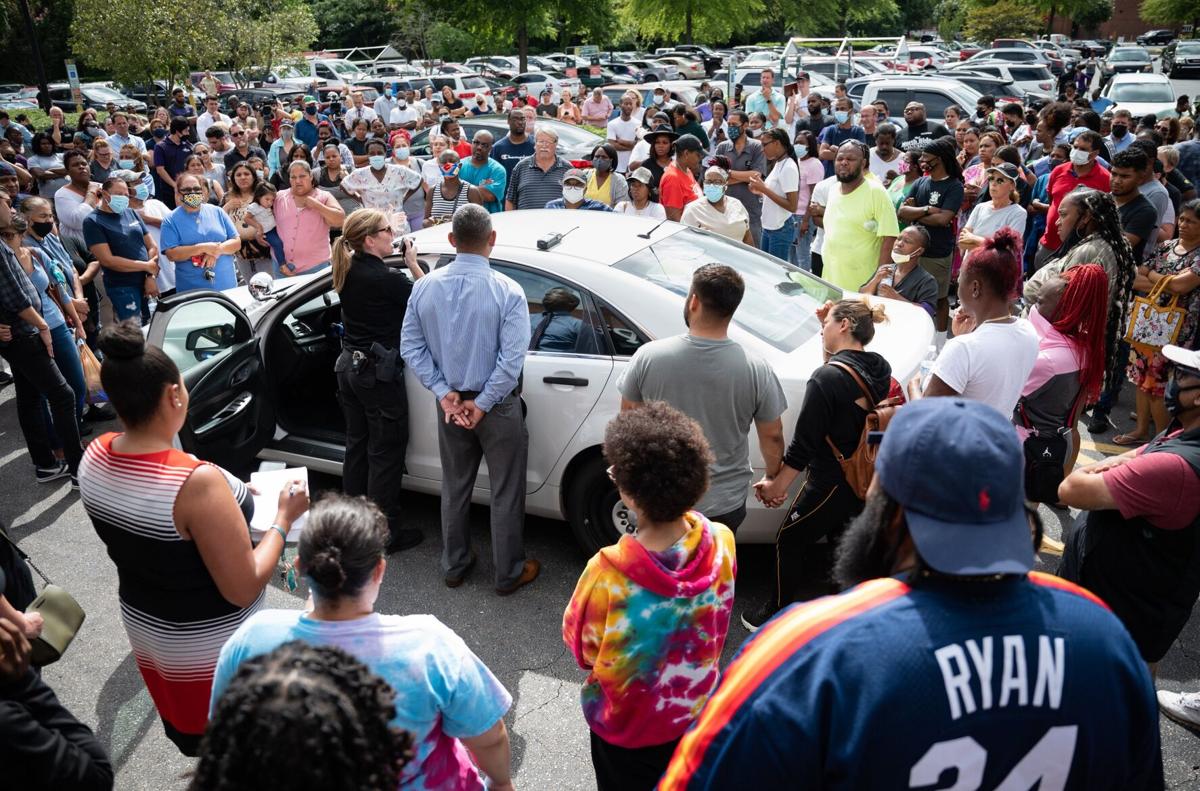 Just a moment, please, while we cry. ...
It was just a matter of time until senseless school gun violence found its way to Winston-Salem. It finally arrived on Wednesday, as a Mount Tabor High School student, William Chavis Raynard Miller Jr., was fatally shot shortly after noon at the school by a fellow student, who remains unidentified as we write.
Mount Tabor and other schools were placed on lockdown for hours while students, teachers and parents waited and worried. Social media lit up with rumors, instructions, anger and fear.
We all felt it. We still feel it.
This follows an incident in Wilmington on Monday in which another high school student was injured in a shooting. A 15-year-old there has been taken into custody and charged with attempted first-degree murder.
"This is very sad, sickening, crazy and stupid," Nasiah McKinney, a junior at Mount Tabor, said to a Journal reporter following the shooting, and it would be difficult to find a more accurate response. It's all of those things, as well as maddening.
We don't have all the details yet. The incident at Mount Tabor seems different from the indiscriminate school shootings with which we became too familiar before the coronavirus struck. More personal motives could have been at work. But all of these shootings have one thing in common: they shouldn't be happening.
Winston-Salem Police Chief Catrina Thompson and Forsyth County Sheriff Bobby Kimbrough spoke our hearts at a news conference Wednesday night:
"I met with his family … I talked with his mother," Kimbrough said. "I felt the pain, the tears of the mother, and so my concern was to console her, and my concern was to let her know that she had the full support of this entire community, all of us, all of us. Because if she is hurting, we are hurting."
"We have a mother and a family who will not be able to hug their child tonight," Thompson said.
If only we could all wrap our arms around Miller's mother.
Likewise for the family of the shooter. As Ken Raymond, president of the Forsyth County Republican Party, rightly says in a letter in today's Readers' Forum, "our community has lost two sons today."
And as Winston-Salem/Forsyth County school board member Elisabeth Motsinger wrote on Facebook, "Prayers for the young man who was so lost in his very young life that he could do such a thing."
The shooter's life, and the lives of his family, will be forever altered by this tragic incident.
Gov. Roy Cooper came to Winston-Salem on Thursday. He expressed his concern and praised our school and law enforcement officials for their quick and competent response to the crisis; rightly so.
But as unexpected as this troubling incident was, it didn't come out of nowhere, nor should it have been entirely unexpected. Contributing to such shootings is the easy access our country affords to firearms and the ability of pretty much anyone who wants a gun, for any reason, to get a gun — and the inability of so many communities to prevent that access because of those who insist on keeping those doors open.
Too much is seen through a partisan lens these days. But in this case, the more conservative among us have abetted danger by relying on gaslighting narratives and caricatures of their liberal neighbors. Liberals want to "steal our guns," they say, calls for rational gun-control legislation that respects the rights of legitimate gun owners while keeping citizens safe.
Our children are paying the price for their obstinance and their devotion to misinformed narratives.
Keeping our kids safe from bullets — or the coronavirus, for that matter — should not be a partisan issue. But it will be until we change our politics; until we take the profit motive away from politicians whose campaigns rely on NRA donations and endorsements; until we stop glorifying firearms and pretending they could be tools to stop imaginary government oppression; until we wake up from the nightmare of fear-mongering and lies that are so eagerly accepted by gullible people.
This isn't just a political problem, though; it's a societal problem as well. Where do children get the idea that the way to solve problems is with guns?
Could they be getting it from adults?
What are adults doing to model better behavior? What are we doing to teach children to be resilient, to help them mature into functioning and productive citizens?
These are all questions that deserve answers, and deserve them now — before the next child is killed by a gun.