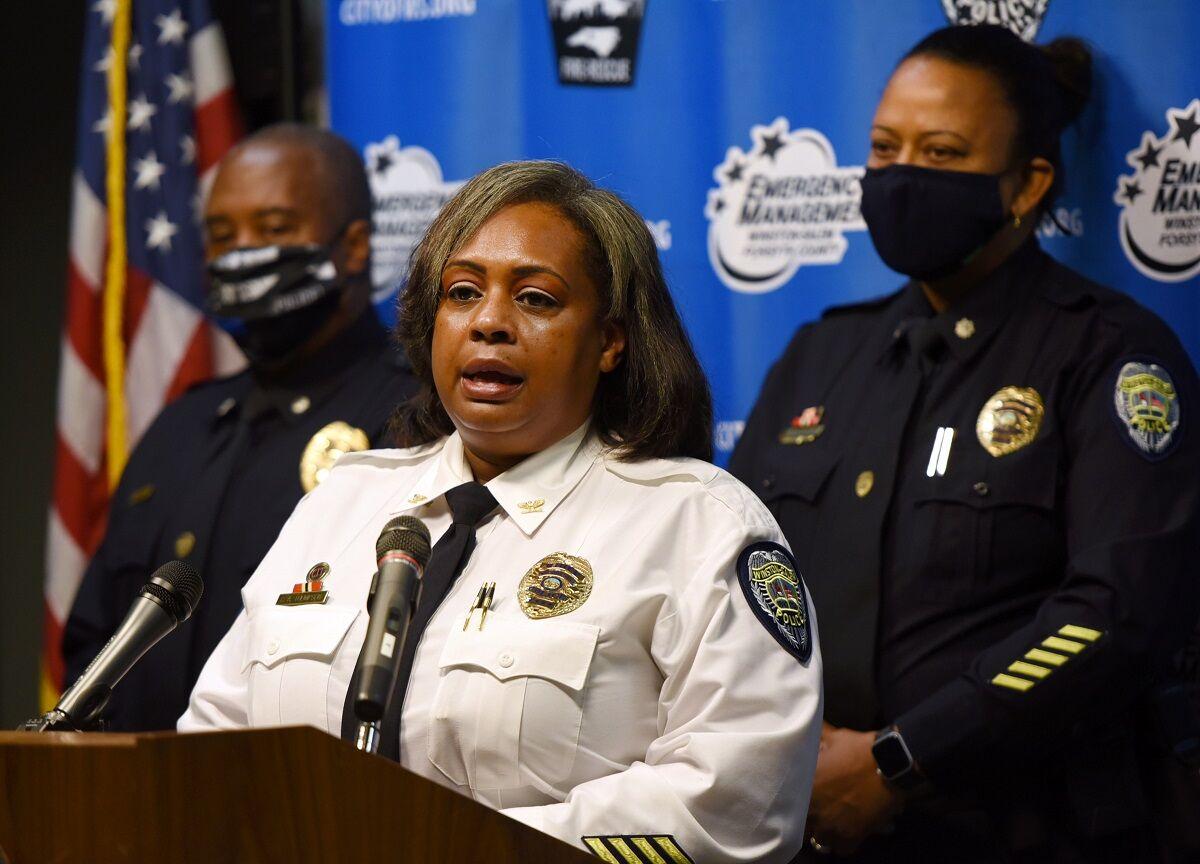 A recent incident between local police and a group of teenagers that led to a physical altercation has raised questions that must be answered.
But especially now, when everybody is under even more stress than usual because of the pandemic and the limitations it has imposed on us, everyone involved should take a deep breath, pause and wait for more information. We have confidence that the police will do what's right.
It all began on the night of Nov. 7 when Winston-Salem police responded to a report of teens trying to break into a vacant house near Hartfort Street in northwest Winston-Salem. After some verbal exchanges between a group of five teens and some officers, one of the teens was tackled in the street and taken into custody.
A video of the incident taken by Peggie Dull can be seen at journalnow.com.
During a news conference Sunday night, Winston-Salem Police Chief Catrina Thompson said that the video "looks ugly," but doesn't necessarily mean the officer violated any police policy. Thompson said an internal investigation into the incident is underway and asked the public to trust the process.
But on Monday, the Ministers' Conference of Winston-Salem and Vicinity, in concert with North Ward council member D.D. Adams, condemned the actions of the officer, five-year veteran Zacharie K. Jones.
"We are here today to call out to the powers that be to say we've had enough, and no longer will we stand for our children being violated by the same folks that we pay our taxes to, to protect us," said Bishop Todd Fulton, who co-chairs the social justice committee of the Ministers' Conference.
Adams spoke more harshly yet, saying that as a Black woman, she is "tired of us always having to come and ask, or say, or want to know how did this happen. We all know how this happens. This is racism, y'all."
We've become painfully and sadly aware that Black people in our society often do receive harsher treatment than their white counterparts in similar situations. Refusing to acknowledge the fact is naïve.
But it's not the only explanation for what occurred — especially in Winston-Salem. As we've noted before, our officers have been receiving training in de-escalation techniques since 2012, as well as annual de-escalation and implicit bias training since at least 2017.
Thompson is right that the video "looks ugly." It's obvious that everyone involved, including Jones, is under pressure.
But video shot from one point of view doesn't always tell the whole story. Thompson deserves the time to review the matter thoroughly, including from the standpoint of body camera footage shot by the officers present.
While normally we'd urge that this footage be released to the public quickly — it could do much to clear the accused officer — the fact that the girl is underage is a mitigating factor. The wishes of the families involved should be taken into consideration.
But the sooner all information becomes publicly available, the sooner the matter can be resolved.
On Sunday, Thompson tried to reassure the young girl's parents that she would do right by them. "… as your chief of police and as the mother of two teenage children, I understand your concerns," she said. "I ask that you trust me. I give you my word that we will conduct a thorough, complete investigation using facts and evidence and guided by our laws, our constitution and our departmental policy. Once that investigation is complete, we will act appropriately. You have my word."
That word goes a long way with us. It should with everyone.
This isn't the first time Thompson has had to deal with a tough situation involving an officer's behavior, but she's earned respect for being straightforward and open — as well as for working hard to earn the public's trust. She deserves time and patience to see this matter through.
Catch the latest in Opinion
Get opinion pieces, letters and editorials sent directly to your inbox weekly!