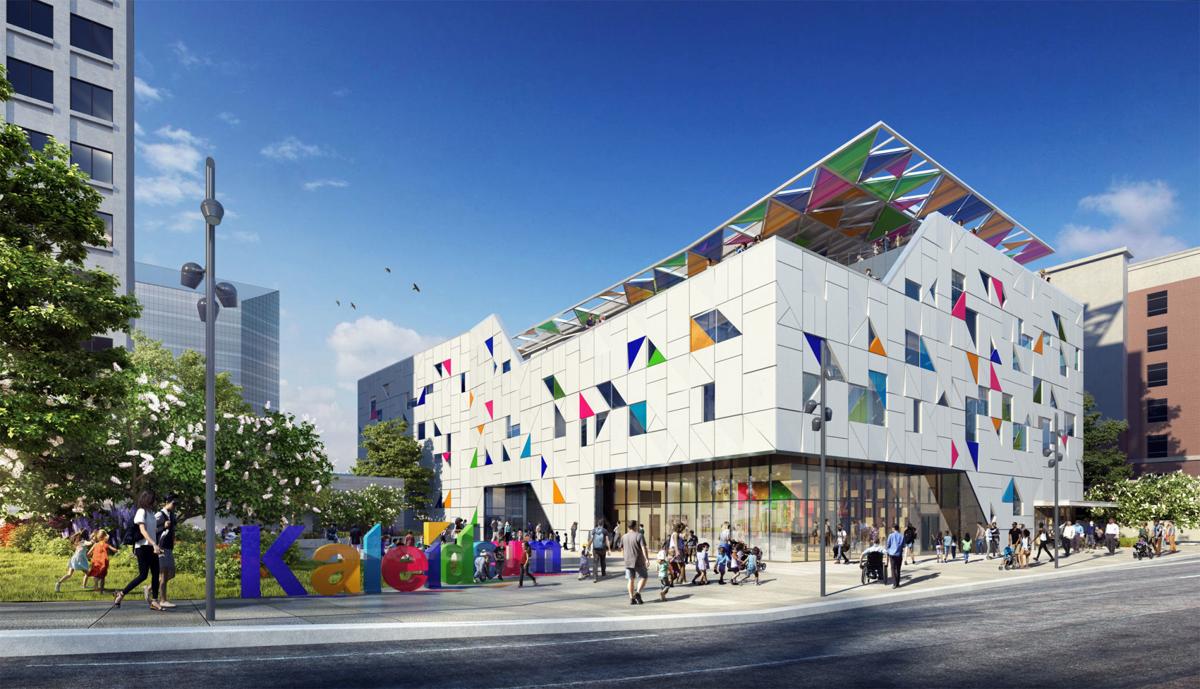 Last week, Kaleideum reaffirmed its vision for the future and its commitment to science education.
On Thursday, the organization gave a formal presentation of the design for its new science museum, to be constructed in downtown Winston-Salem. As shown below, the architectural rendering is colorful, dynamic and futuristic. We trust it'll be practical as well, able to house a variety of high-quality, interactive educational exhibits that will encourage people of all ages to be imaginative and curious about the world around them.
Composed primarily of metal and concrete panels, the geometric shapes on the building's exterior are somewhat evocative of the kaleidoscope, from which Kaleideum derives its name. The building will be five floors from top to bottom and will include a 13,000-square-foot rooftop playground.
Inside will be a variety of exhibits, a planetarium, staff offices and a café. Many of the animals currently housed inside Kaleideum North, formerly SciWorks, will be moved to the new facility when it's finished.
"One of the most exciting aspects is the multi-level rooftop exhibit experience, which provides unique opportunities for learning and play, as well as fantastic views to surrounding areas of downtown and beyond," Brad Burns, the design director at Gensler, one of the architectural firms involved in the new facility, said.
On the ground floor, windows on the perimeter of the building will provide views inside to the exhibits and access to the café.
The completion is projected to be in 2023, which gives us all more time to absorb what this facility, in the heart of downtown, could mean for our city.
Kaleideum stands to be an attraction on its own merits, for residents and visitors alike. But it's also likely to serve as an anchor or a starting point for adventures that include other downtown destinations, like the arts district, the Innovation Quarter, the (recently renamed) Truist Stadium and our Fourth Street row of restaurants.
Best of all, Kaleideum could inspire our next generation of scientists, explorers, designers and artists.
Kaleideum's presentation was given in its current headquarters on the south side of downtown, formerly the home of The Children's Museum of Winston-Salem. Everyone present — staffers, architects, Forsyth County Commissioner Don Martin and others — practiced social distancing and wore face masks. Kaleideum understands the importance of following the recommendations of scientific authorities, and set an example for all of us.
Many projects have been delayed or brought to a halt during the current pandemic, and we're sure that Kaleideum has faced challenges. But despite the economic downtrend, Forsyth County has not reneged on its commitment to invest $30.5 million in the project. Kaleideum continues its effort to raise $10 million more for its exhibits.
We're glad to see that it's still planning for the future and encouraging our children to do the same.
Catch the latest in Opinion
Get opinion pieces, letters and editorials sent directly to your inbox weekly!