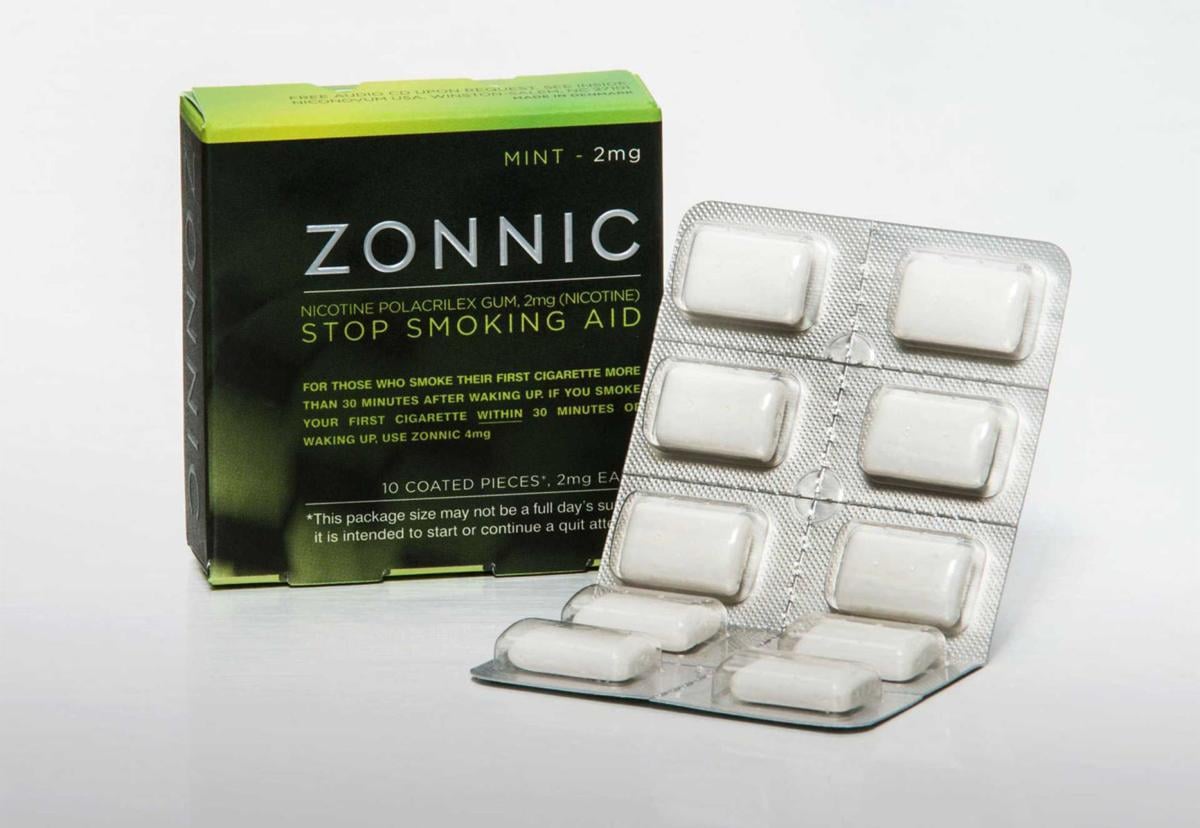 Zonnic, the nicotine-replacement therapy gum made by a Reynolds American Inc. subsidiary, has been quietly removed from the U.S. marketplace in recent months.
Reynolds confirmed Friday that Zonnic, produced by Niconovum AB, is no longer available at retail domestically, but still is being sold in Europe.
Zonnic, marketed by Niconovum USA Inc., is the first stop-smoking aid sold by a tobacco manufacturer with Food and Drug Administration approval.
The Zonnic website contains a brief message that says that "we are no longer selling these products, but we urge you to continue your stop-smoking journey using other smoking-cessation products."
The national distribution of Zonnic began in 2014. It was sold in a 10-piece pack at $3.70 each in three flavors — cinnamon, fruit and mint — and in two different nicotine levels.
At that time, analysts pondered whether it could create an intriguing sibling rivalry with Reynolds' electronic cigarette Vuse in attracting consumers wanting to eliminate or reduce nicotine consumption. Niconovum pitched Zonnic as a viable alternative to e-cigarettes on its website.
Tommy Payne, then-president of Niconovum USA, said in 2014 that Zonnic is a "great, if not the best, example of transforming tobacco and providing products in tobacco and NRT that have a well-established variety of risk."
Scott Ballin, past chairman of the Coalition on Smoking or Health, said he was not surprised by the exit of Zonnic at U.S. retail.
"Having gone the 'drug' route, it may be that Reynolds is realizing that future markets for noncombustible products lies with the (FDA's) Center for Tobacco Products, where they can take advantage of having grandfathered-in products to work with."
Gregory Conley, president of American Vaping Association, said Zonnic appeared to have limited retail success.
"This always struck me as more of a proof-of-concept exercise — to show that the FDA wouldn't stand in the way of a tobacco company trying to market a pharmaceutical product — than a serious attempt at building a product," Conley said.
"The fact is that regardless of who markets it, nicotine gum as it is produced today is neither pleasurable nor palatable for all but a tiny minority of smokers.
"It almost certainly did not help matters that American adult smokers remain dangerously misinformed about the risks of smoke-free nicotine products, which makes them less likely to use even medicinal nicotine products when quitting smoking," Conley said.
Reynolds remain innovation focused
Reynolds spokeswoman Natasha Webster said Friday that "growing next-generation products is a strategic imperative. The group is committed to significantly investing in a product pipeline."
Earlier in July, R.J. Reynolds Vapor Co. introduced Velo in 70,000 retail outlets nationwide. Velo contains no tobacco leaf or other tobacco plant matter apart from the nicotine extracted from the tobacco plant, Reynolds said.
The company already sells Camel Snus, the top-selling U.S. snus product. Snus, which became popular first in Sweden, are teabag-like pouches of pasteurized loose tobacco that users stick between their cheek and gum.
Velo is part of what British American Tobacco Plc — owner of Reynolds — calls its "modern oral portfolio" which also consists of Revel nicotine lozenges in hard and soft textures and in mint, dark mint, crema and berry flavors.
In July 2018, the latest version of Eclipse, the heat-not-burn cigarette technology once considered ahead of its time, cleared a major FDA regulatory hurdle.
BAT said FDA market authorization "clearance had been received for two substantial equivalence applications for our improved carbon-tipped tobacco heating product."
A substantial-equivalence filing is for products that either have the same characteristics as those marketed on/before Feb. 15, 2007, or have different characteristics but do not raise different questions of public health.
BAT said at that time its plan with Eclipse was to launch a test market in a small U.S. area by late 2018 with national distribution likely in 2019.
Webster said that BAT is "too close" to reporting its first-half fiscal 2019 earnings to comment on Eclipse's status.
Waiting on FDA
smoking-cessation OK
The industry, advocacy groups, analysts and adult smokers have been waiting for years for the FDA to decide on approving e-cigs and vaping devices as smoking-cessation products.
The FDA began regulating tobacco products and marketing in June 2009 by approval of Congress, but it does not have the authority to ban nicotine or tobacco.
In December 2017, six styles of Reynolds' Camel Snus entered the FDA's review process for gaining modified-risk status.
The FDA has received modified-risk applications for substantive review for 18 Camel Snus styles. The flavors are Frost, Frost Large, Mellow, Mint, Robust and Winterchill.
If any one of the applications is approved by the FDA, Reynolds would be able to market the snus styles as posing less risk for smokers who stop smoking and use the products in place of cigarettes.
"Science should determine what can be claimed or not about the use of e-cigs and NRT products," Ballin said.
"The more tobacco companies move in this direction, the more difficult it will be for tobacco-control folks and pharma to criticize these FDA approval products."
The U.S. nicotine market, "having long been among the most static in the world, is rapidly becoming one of the most dynamic," said David Sweanor, an adjunct law professor at the University of Ottawa and the author of several e-cigs and health studies.
"Cutting-edge products are becoming obsolete as quickly as was the case with mobile phones or methods of internet access.
"Corralling innovation to best meet consumer needs and policy objectives is a challenge that should be generating ever more interest," Sweanor said.