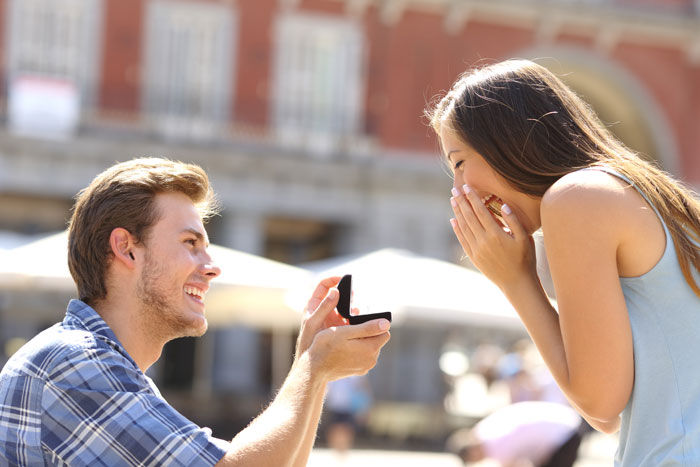 Ready to pop the big question? Here's how to find the right ring before you get down on one knee.
A diamond lasts forever. Not just that, but your beau's engagement ring (diamond or otherwise) should also be loved forever. It can be daunting to think about choosing a picture perfect ring, but with these expert tips, you'll both be saying "yes!" to a happily ever after in no time.
1. Familiarize yourself with basics, like the 4 Cs
If you're in the market for a traditional diamond engagement ring, your first step is to educate yourself with some basic terms. One of the most universal ways to describe a diamond's quality is with the 4 Cs, first created by the Gemological Insitute of America (GIA). When it comes to picking a diamond, consider:
• Color, which ranges from colorless (perfectly crystal clear) to lightly colored (yellowed)
• Clarity, ranging from flawless (void of any blemishes) to included (with noticeable flaws)
• Cut, which doesn't refer to the shape of a diamond in this case, but how well the facets in a diamond reflect light
• Carat, which refers to the diamond's weight, though it's actually perceived by how big the diamond looks
"The color and cut of the diamond are the most important of the Four C's. These 2 C's add the most value to the diamond," says Ron Clein owner of Camel Pawn and Fine Jewelry.
Once you're well-versed in diamond lingo, and the type of stone you want, you'll be ready to dive deeper into the search.
2. Find out more about what your future bride wants
The "perfect" engagement ring can mean very different things to different people. The most surefire way of making sure your future fiancée loves the ring is to go shopping together to see what styles she likes the most.
But if you want to keep up the element of surprise, you'll have to do some sleuthing yourself. Take a look at the jewelry she usually wears – is it gold or silver? More traditional and simple, or extravagant? If she has a Pinterest account, snoop around – we're betting you'll find some ring pics pinned.
And if all else fails, here's a pro tip: Talk to your girlfriend's gal pals. Round up the troops (those that can keep a secret!) and enlist friends to help find out what kind of ring she might like. Chances are, they've talked about it, or can easily slide the topic into a casual conversation. Mr. Clein recommends to "Make the occasion memorable by surprising your bride to be with her engagement ring."
3. Look for a ring that matches her unique style
Once you've zeroed in on what your future fiancée likes in an engagement ring (maybe you find out she wants a gemstone and not a diamond) it's time to shop. Check out both local, independent jewelers and bigger stores to see a wide range of styles. You'll also want to have a budget in mind, since being in the market for a $40,000 ring is very different from a $4,000 one.
Talk through what you're looking for with jewelers and take a look at all the various styles of the ring itself. The band on a ring, for example, can embody everything from vintage and antique to modern.
For something timeless, opt for the most classic diamond shape – round or brilliant cut, which according to sources like The Knot, is "far and away" the most popular diamond cut for engagement rings. Mr. Clein says "round diamonds do not go out of style and maintain their value, while new shapes may go in and out of vogue."
To find the right shape, size, and everything else for the perfect ring, turn to the expert jewelers at Camel Pawn & Fine Jewelry in Winston-Salem. The family-owned business, open since 1931, carries a variety of brand name styles and offers unrivaled customer service in helping you find that perfect ring both of you will love forever.
To start looking for the perfect ring, visit Camel Pawn & Fine Jewelry at CamelJewelers.com or call (336) 723-1057.