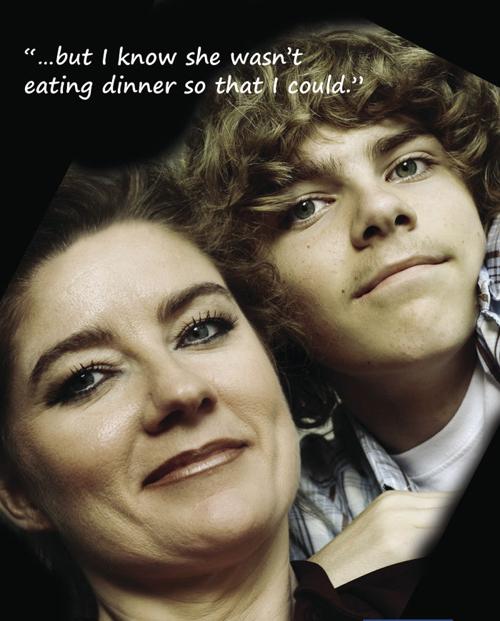 Gideon is a pretty typical middle schooler. He's bright, active and loves spending time shooting baskets with his friends. His mother, Ana, is employed in the healthcare industry and is raising Gideon on her own. She puts in long hours at work to provide for her family, pay the bills and give Gideon stability and security.
You might not expect that Ana and Gideon would be depending on the Second Harvest Food Bank network to help put food on the table this holiday season, but they are.
Like any mother, Ana wants Gideon to enjoy his childhood. "I don't want him to worry," says Ana. "I tell him it's my job to take care of us and it's his job to work hard at school and take care of his future."
But this past September, after Ana's car broke down and a doctor bill came due, Gideon could sense that all wasn't well.
"I could tell that Mom was worried. There were no snacks in the house and our dinners got really simple. Soup, cereal, sometimes just peanut butter and jelly," Gideon recalls. "By the end of the month, Mom was telling me she wasn't hungry, but I know she wasn't eating dinner so that I could."
Dinnertime should be a time for families to share about their day, not worry about food. But for families living on tight budgets, sometimes the money simply runs out trying to cover basic needs.
For Ana and Gideon, and thousands of others like them in our community, Second Harvest Food Bank of Northwest North Carolina wants to lift this burden during the holiday season to help families set their tables, so they can focus on work, school and their futures.
"With so many families in our community struggling just to make ends meet, we are counting on the compassion of a community that cares to help us make a real difference for them this holiday season," says Clyde Fitzgerald, executive director for Second Harvest Food Bank of Northwest NC. "Each and every way you choose to share the blessings of the season with families like Ana and Gideon will help feed community in so many ways."
Here are a few simply ways you can help families like Gideon and Ana and feed community this holiday season:
Give Money: Every $1.00 you give provides 7 meals!
Give Food: Food drives are a great way to raise awareness, build community and contribute to Second Harvest Food Bank's efforts to provide nutritious food for families. Find tools to help you get organized here.